Recipes From Around The World v2 Ebook
Recipes From Around The World v2
Category:
Cooking
Title:
Recipes From Around The World v2
Description:
Volume 2
Bring the exotic tastes of other countries into your home with Recipes From Around The World.
You don't have to travel the world to get a taste of international cuisine. With Recipes From Around The World, you can open your mind and treat your taste buds to a world of fine cuisine-without leaving home!
Volume 2 of Recipes From Around The World contains over 500 recipes from Australia, Africa the Middle East, the Philippines and the Caribbean. Your family and friends will love this selection of recipes which includes exotic dishes such as Caribbean Pork With Pineapple Salsa, Lebanese Baba Ghanoush, Fragrant Pork Adobo from the Philippines, Aussie Shrimp On The Barbie With Orange Ginger and South African Curried Beef Gratin.
Samples
CARIBBEAN RECIPES
Acapulco Jicama Salad

6 Servings

1/4 c cilantro,minced
2 T lime juice
2 T white wine vinegar
2 T oil
1/2 t kosher salt
1/4 t pepper
3 oranges
peeled,and sliced into 1/4"
- thick
1 avocado
peeled,pitted, and sliced
-into 1"
1 sm jicama
and sliced into 1/2",Peeled
-cubes
18 red-leaf lettuce leaves
wash,dry, and tear into
-pieces

Whisk together cilantro, lime juice, vinegar, oil, salt, and
pepper.Marinate orange slices, avocado, and jicama in lime-cilantro
vinaigrette for 30 minutes. Arrange lettuce on chilled salad plates.
Remove orange, avocado, and jicama from marinade and place on lettuce.
Basic Vinaigrette

16 Servings

Salad
1/4 c red (or white wine vinegar)
14 T oil
3 T miso
1 t kosher salt
1/2 t pepper,Freshly Ground

In a small bowl or 1-cup jar shake or whisk vinegar, oil, miso, salt,
and pepper.
Brown Lentil Salad

6 Servings

--
1 pk dried lentils,(12 oz)
1 onion,diced
3 cloves garlic,diced
4 c water
1 T parsley,Dried
1 t oregano,Dried
1 t basil,Dried
1/4 c red wine vinegar
1/2 c oil
1 t kosher salt

In a 2-quart saucepan, combine lentils, onion, garlic, the water,
parsley, oregano, and basil. Bring to a boil. Reduce heat to simmer and cook for 25 to 30 minutes. Pour into serving bowl to cool.In a small bowl whisk vinegar, oil, and salt. Pour mixture over lentils and mix well. Chill 1 hour.
OR You can order:
Recipes From Around The World v1 & v2 + Resell Rights ($9.95)
Recipes From Around The World v1 ($5.95)
Volume 2
TABLE OF CONTENTS
Volume 2
TABLE OF CONTENTS FOR AFRICAN RECIPES


Accra Banana Peanut Cake (Ghana)
African Almond Chicken (Libya) - Annette Merson
African Banana Peanut Cake
African Vegetarian Stew
Akara
Algerian Cooked Carrot Salad - Kitchen Safari
Apricot-Fig Blatjang
Atlantic Salmon On Lentils W/ Moroccan Flavors
Baked Plantain On The Shell
Bamia (Meatball And Okra Saute In Tomato Sauce)
Batata Bel Lamoun (Golden Potato Soup)
Beef Brochettes
Beef Stew (Gambia)
Beet Appetizer Salad
Berbere 2
Bissara (Fava Soup)
Blanquette De Veau(Blanquette Of Veal) Tunis
Bourek (Beef-Stuffed Pastry Rolls)
Braised Duck With Orange-And-Lime Sauce - Timelife
Brochette Of Chicken
Carrot, Orange & Radish Salad
Casbah Moroccan Restaurant
's Lamb & Okra Tagine
Chakchouka De Matin (Breakfast Sauce)
Chapatis
Charouf Bil Pisselli O Chedra (Lamb With Kishke And Peas)
Chicken Baked With Orange-Spiced Harissa Sauc
Chicken Breasts Moroccan-Style
Chicken Simmered In Smen
Chicken Stew (Doro Wat) (Ethiopia)
Chicken Tagine
Chicken With Olives And Lemon Tajine
Chicken With Pickled Lemons & Olives
Chicken-Tunisian Style Barbara Wasser's Kosher Kitchen
Choroko Sauce
Cooked Tomato & Green Pepper Salad
Couscous
Creme Caramela (Sudanese Caramel Custard)
Dessert Couscous
Diced Lemon, Onion & Parlsey Salad
Diced Pepper, Tomato & Onion Salad
Djaj Mqalli--Chicken With Lemons And Olives
Eggplant Salad La Tamu
Egusi Soup
Egyptian Chocolate Cake
Egyptian Haroset
Egyptian Kebabs
Egyptian Lentils
Egyptian Peeled Wheat Berry
Chicken And Chick-Pea Soup
Egyptian Pickled Turnips
El Ham Lahlou (Sweet Lamb For Ramadhan)
Fassoulia Beda (White Bean Stew)
Fava Bean Salad
Fish In Moroccan Charmoula Sauce
Fish Pyramid With Green Sauce - Bea Sandler
Fool Achdar (Fava Beans)
Fresh Fish Pepper Soup
Fried Plantains
Fruit Compote With Lichee Nuts
(Salady Voankazo) (Madagascar
Fufu
Ful Nabed (Egyptian Bean And Vegetable Soup)
Gemfish In Chermoula Marinade
Greens With Coconut Milk
Grilled Moroccan Lamb Sausage (Merguez)
Grilled Moroccan Spices
Hamam Mahshi (Braised Pigeons & Fireek)
Harira
Harissa Hot Chili Paste(Tunisia)
Hkatenkwan (Groundnut Stew) (Ghana)
Jollof Rice
Kitoza
Koshary (Lentils And Rice)
Kouclas Bi Ruz Moroccan Rice Dumpling
Koushari (Lentils, Macaroni And Rice In Oil)
Kusherie (Egyptian Rice And Lentils)
Lahlib Bi-Looz (Moroccan Almond Shake)
Lamb And Pear Tagine
Lamb And Sausage Couscous
Lamb Patties Moroccan Style With Harissa Sauce
Lamb With Artichokes And Preserved Lemons
Lasopy - Bea Sandler
Lentil Tagine
Lg. Moroccan Anise Bread *
Loubia Bil Luz
M'chaqub (Stuffed Matzoh)
M'loukhia (Green Soup)
M'raad (Eggplant Salad)
Mahchi (Stuffing Zucchini)
Marrakesh "Pizza" (Khboz Bishemar)
Maschi (Stuffed Tomato With Chopped Beef) - Bea Sandler
Masfouf De Tunis (Tunisian Sweet Snack)
Mayeena (Matzoh And Potato Bake)
Meat Curry
Meat On A Stick
Mediterranean Chicken Tagine
Melokhia (Egyptian Herb Soup)
Merguez Sausage
Meshoui
Mezgaldi Of Onions
Milookhiyya (Egyptian Green Herb Soup) - Arielle'srecipearch
Monrovian Coconut Pie (Liberia)
Morocan Date Cake
Moroccan Almond Rolls
Moroccan Anise Bread
Moroccan Beef Kefta On Skewer
s With Chopped Vegetable Sal
Moroccan Beef Stew
Moroccan Bread
Moroccan Brisket With Olives
Moroccan Charosets
Moroccan Chick Pea Soup
Moroccan Chicken
Moroccan Chicken Casserole
Moroccan Chicken Stew
Moroccan Chicken With Couscous
Moroccan Chicken With Olives
Moroccan Chicken With Preserved Lemons
Moroccan Cholent Dafina - Moroccan Sabbath Stew
Moroccan Couscous
Moroccan Cucumber Salad
Moroccan Date Cake
Moroccan Eggplant Salad
Moroccan Fish
Moroccan Five-Grain Pilaf
Moroccan Fruit Dessert
Moroccan Garbanzo Beans With Raisins
Moroccan Haroseth
Moroccan Harost Balls With
Dates, Raisins And Nuts
Moroccan Lamb Sausage
Moroccan Lamb With Couscous
Moroccan Lemon Chicken
Moroccan Lemon-Scented Kebobs
Moroccan Meat Stew
Moroccan Olives (A Sauce For
Anything - Like Chicken)
Moroccan Preserved Lemon Quarters
Moroccan Qudban
Moroccan Rub
Moroccan Spice-Rubbed Leg Of Lamb
Moroccan Spiced Olives
Moroccan Stew With Couscous
Moroccan Style Quinoa
Moroccan Sweet Potato Puddi
ng Topped With Meringue
Moroccan Tomato And Pepper Salad
Moroccan Vegetable Soup
Moroccan Vegetable Stew With Couscous
Moroccan-Jewish Fish Filets With Red Peppers
Moroccan-Style Salmon With Couscous
Morrocan Pastilla
Morroccan Spiced Olives
Mullah Bamyah (Okra / Ladies Fingers) - Www.Sudan.Net
M'chicha (Spinach And Groundnuts) - Bea Sandler
Nigerian Jollof Rice
Nkrakra (Beef And Vegetable Soup) (Ghana)
Orange, Lettuce, And Walnut Salad (Shlada Bel
Pastilla (Moroccan Chicken Stew)
Pea Beans Nairobi Style (M'baazi) (Kenya)
Peanut Ice Cream (Senegal)
Peanut Sauce
Peasant Pancakes - Bea Sandler
Pickled African Peaches
Pickled Lemons
Pineapple Buganda
Poulet Aux Dattes/ Chicken With Dates
Pounded Green Pepper Appetizers
Preserved Lemons
Puree Of Fava Beans
Ranonapango - Bea Sandler
Ras El Hanout (Moroccan)
Rice Pancakes
Rich Fruit Cake - Van Wyck & Barton
Roast Leg Of Lamb With Moroccan Spices
Roasted Moroccan Spiced Chicken
Sabanekh (Spinach) - Samia Abdennour
Sabanikhiyat (Turnovers, With
Spinach Filling) - Samia Abden
Sakay - Bea Sandler
Salade Egyptienne (Popular Egyptian Salad)
Salady Voankazo - Bea Sandler
Salatet Sabanekh (Spinach Salad) - Samia Abdennour
Salatet Zabady Bil Ajur (Cucum
ber/Yoghurt Salad) - Www.Sudan
Samusas
Sauce Portugaise (Portugese Sauce)
Seitan W/ Prunes & Almonds (Lahm Lhalou)
Shakshuka
Shata (Hot Spice Accompaniment) - Bea Sandler
Shorba (Puree Of Lamb Khartoum) - Bea Sandler
Shorbet Ads (Lentil Soup) - Www.Sudan.Net
Shrimp Curry (East Africa)
Shurit Ads (Lentil Soup With Ga
rlic And Cumin) - Arielle'sre
Skewered Kefta
Sliced Tomato & Onion Salad
Soup Of Chick Peas
Soupe De Pesach (Passover Soup)
South African Curried Beef Gratin - Evelyn Rose
South African Hot Chocolate Sauce - Lavanda
Spiced Rice
Spicy And Hot Tunisian Lamb Sausage
Spicy Cooked Carrot Salad From Morroco
Spinach And Groundnut Stew - Harva Hachten
Spinach Salad With Moroccan Lemon
Spinach Stew
Sweet Balls
Tagarines (Noodle Pancake)
Tagen Hamam Bil Freek (Casserole
Of Pigeon With Hulled Grain
Tagine Of Chick Peas With Aromatics
Tagine Of Chicken With Prunes And Almonds
Tagine Of Okra & Tomatoes
Tagine Of Swis Chard
Tamayya (Green Hamburgers) - Www.Sudan,Net
Taqliya (Egypt) - Samia Abdennour
Three Onion Saute
Tomato & Green Pepper Salad, Fez Style
Tomato & Pepper Relish
With Moroccan Lemons
Tomato And Pepper Relish With Moroccan Lemons
Tomato Beef And Okra (Egypt)
Tunisian Chicken
Tunisian Chickpea Soup
Tunisian Five-Spice Powder
Vary Amin Anana - Bea Sandler
Vegetable Casserole
Vegetable Stew (Vegetable Alecha) (Ethiopia)
Vermicelli And Raisins
White Beans In Swiss Chard Sauce (Tabikha B'salk)
Winter Fruit Couscous
Yam Fufu (Ghana)
Yekik Alich'a (Ethiopia)
Yemarina Yewotet Dabo (Eth
opain Honey Yeast Bread)
Yemiser Selatta (Lentil Salad)
Zimbabwe Greens
Zucchini Salad

TABLE OF CONTENTS FOR AUSTRALIAN RECIPES


Abon
Aussie Meat Pie Filling
Aussie Shrimp On The Barb
ie With Orange Ginger
Australian Chocolate Crackles
Baked Stuffed Mullet
Blender Lemon Drink
Brawn
Champagne Melon Cooler
Chile 'n' Cheese Breakfast Casserole - Sl 3/88
Chive-Mustard Potato Salad With Sausage Skewers
Cream - Australian
Dill Pickled Okra
Dopiaza (Meat And Onion Curry)
Kangaroo Tail Soup
Kori Aajadina Or Chicken Sukha
Lamingtons
Lentil Tagine
Melon Canapes
Melon Fruit Salad
Melon Meringue Nests
Melon With Yogurt And Ginger Dip
Parrot Pie
Pawpaw Seed Dressing With Parsley
Potato And Roasted Garlic Soup
Ricotta Cheese And Watermelon
Roast Loin Of Lamb
Roast Wallaby
Rockmelon Chicken
Rockmelon Salad With Orange Dressing
Sauteed Okra
Stir-Fried Kangaroo Strips With Bok Choy & Chilii Black B
Trifle


TABLE OF CONTENTS FOR CARIBBEAN RECIPES


Acapulco Jicama Salad
Basic Vinaigrette
Brown Lentil Salad
Caribbean Jerk Pork Roast
Caribbean Pork With Pineapple Salsa
Caribbean Sweet Lime Salsa
Bahamian Lobster "Buena Vista"
CARIBBEAN CHICKEN
CARIBBEAN SALAD PLATTER
Jamaican Beef Patties
JAMAICAN OXTAILS
Paella Panamanian Style
PORK CHOPS WITH BANANAS AND BACON
Huevos Habaneros (Eggs Havana Style)
CARIBBEAN BANANA DESSERT
Caribbean Grouper With Mango,
Pear And Avocado Salad (Gc)
CRABS CARRIBBEAN-STYLE
Curry Mutton or Goat
Carribean-Style Seafood Chowder
Creole Green Beans In Mustard Vinaigrette
Jamaican Jerk Chicken With Pineapple Salsa
Jambalaya (Cajun Rice & Seafood Pottage)
Jerk Chicken Fajitas With Papaya-Pineapple Salsa
Leeks In Creole Vinaigrette
Lettuce And Cilantro Salad With Jerk Dressing
Mayonnaise-Salsa Dressing
Mozzarella Salad
Mustard Vinaigrette
Orange & Radish Salad
Orange Ginger Dressing
Pepper Salad
Pepper Salad Vinaigrette
Potato-Pepper Salad
Rajma-Chana Dressing
Rajma-Chana Salat (Indian Chick-Pea & Bean Salad)
Tex-Mex Chile Salad
Trinidad Congo Pepper Salsa
Wild Duck, Creole Style


TABLE OF CONTENTS FOR FILIPINO RECIPES


"Chicken Adobo" (Ah-Doe-Boe)
Adobo Kang Kong
Adobo Pork Chops
Adobong Antigo
Adobong Isda (Fish In Tangy Sauce)
Adobong Moderno
Adobong Okra
Adobong Pusit
Ampalaya
Apricot Filling
Arroz Valenciana (Rice Casserole)
Banana Blossom Ginataan
Banana Ketchup
Banana Peanut Salad
Basic Adobo
Beef Short Ribs Adobo With Spinach
Bibingka
Bibinka (Philippine Dessert)
Bulanglang
Calderetta
Cari-Cari De Pata Y Rabo
Casa Manila's Pork Adobo
Cassava Bibingka
Chicken & Pork Adobo
Chicken Adobo (Adobong Manok)
Chicken And Pork En Adobo
Chicken Arroz Caldo (Chicken Rice Soup)
Chicken Arroz Valenciana
Chicken Dinola (Chicken Soup With Ginger & Ve
Chicken Soup With Mongo Beans
Chicken Tinola
Chinese Steamed Siopao
Dad's Chicken Adobo
Dinuguan > Galing Galing
Dipping Sauce For Lumpia
Easy Lumpia With Dipping Sauce
Eggplant Adobo
Eva's Lumpia
Family Style Pansit (Noodles With Pork And Shrimp)
Filipino Breakfast Steaks
Filipino Garlic Vinegar Sauce
Filipino Pork
Filipino Rice
Filipino Sweet And Sour Sauce
Fillipino Fried Rice
Fragrant Pork Adobo
Fresh Lumpia
Fried Chicken Manong Style
Fried Lumpia
Ginataan Rice With Corn
Ginataang Talong
Grilled Chicken Adobo
Halo-Halo
Heart Of Palm Rolls For Lumpia From _eafc_
Hot And Sour Shrimp With Watercress And Walnu
Inihaw Na Bangus (Grilled Milkfish)
Kare-Kare> Filipino Ox-Tail Stew
Lechon
Long Rice With Shrimp (Pancit Luglug)
Longganisa (Filipino Sausages) Seasoning
Lumpia Shanghai
Lumpia With Sweet Potatoes
Lumpia Wrapper
Manila Clams With Black Bean And Ginger Sauce
Marinade For Bbq Chicken And Pork Ribs
Menudo Recipe
Menudong Goto
Misua
Monggo
Monkey Meat
Nalagang Manok (Chicken Soup)
Paksiw Na Isda (Boiled Pickled Fish And Vegetables)
Pan De Sal
Pancit Canton
Pancit Guisado
Pianono
Pickled Pork Snouts (Kilawin)
Poncit
Pork Tabungao (White Squash With Pork)
Puerco Adobado
Radish Pickles
Sans Rival (Cake Without A Rival)
Sawsawang Kamatis (Tomato Dip Or Salsa)
Sinigang Na Baboy (Pork In Sour Broth)
Siopao
Sopa De Maiz (Filipino Corn Soup)
Spicy Soy Dipping Sauce
Stewed Dog (Wedding Style)
Stuffed Frogs
The Bicol Express
Tikoy > Fried Mochiko Strips
Tortang Tagalog
Vinegared Lettuce
Wwalang Kaparis [sans Rival]


TABLE OF CONTENTS FOR MIDDLE EASTERN RECIPES


Lebanese Cabbage Rolls
Abgushte Miveh (Dried Fruit Soups)
Almond Falafel
Alo-Balo Polo (Steamed Rice With Sour Cherrie
Arkayagan Abour (Meatball Soup)
Ash Sak (Lamb & Spinach Soup With Meatballs)
Ash-E Jow (Iranian Barley Soup)
Ashe Anƒr (Pomegranate Soup)
Ashe Mƒst (Hot Yogurt Soup)
Ashe Reshte (Noodle Soup)
Baked Guavas Stuffed With Mushrooms & Olives
Baked Kibbeh
Baked Leeks
Beef Kibbe Patties
Beet Relish (Kuchundooria) Turkey
Best: Tahini Dip And Dressing
Biram Ruzz (Molded Baked Rice With Chicken)
Borƒni Bƒdemjƒn (Eggpl
ant Hors D'oeuvre)
Borƒni Chogondar (Beet Hors D'oeuvre)
Borƒni Esfƒnƒj (Spinach Hors D'oeuvre)
Borƒni Gƒrch (Mushroom Hors D'oeuvre)
Broad Bean Soup (Fool Nabed)
Bulgur Meatballs (Keftede)
Casserole Of Veal( Dana Tas Etli Kebabi)Turkey
Chawarma > Lebanese Steak
Chelo Seebzamini (Steamed Ri
ce With Saffron Potatoes)
Chicken Shiwarma
Chicken Sumac > The Yemenite C
ookbook By Zion Levi & Hani
Coponata
Couscous And Veal
Domatorizo Pilafi (Tomato Pilaf)
Eggplant Puree (Hunjar Bege
ndi - Sultan's Delight)
Elbasan Tavasi
Falafel
Ff Baba Ghanoush
Ghaime Bademjune (Persian Chicken)
Green Peppers With Eggs And Cheese
Halek (Fruit And Nut Mix For Passover)
Hamam Mahshi (Braised Pigeons With Crushed (S
Harissa
Haroseth Para Pesach (Passover Haroseth)
Hummus (Manton)
Hummus With Sun-Dried
Tomatoes And Cilantro
Hunkar Begendi (Roasted Eggplant Puree)
Iranian Vegetable Stew; Ghormeh Sabzi
Israeli Burekas (Pronounced Buh-Ray-Kahs)
Isreali Lentils And Rice
Kebseh
Kibbe (Baked)
Kizarmis Patlican (Fried Eggplant With Green
Kukuye Sabzi (Herb Omelet)
Lebanese Baba Ghanoush > Jeff Smith
Lebanese Rice Pilaf > Jeff Smith
Lebanese Yogurt And Cucumber
Salad (Leban) > Jeff Smith
Lentil And Tomato Soup (Shawrbat `adas Maa Ba
Lentil And Vermicelli Soup (Shawrbat `adas Ma
Live Hummus
Marilyn's Persian Rice
Mjaddra (Lentils With Rice)
Mouhammara
Mujaddara
Musakka'a (Baked Eggplan
t, Tomato & Chick Pea
Mƒst Va Khiƒr (Yogurt With Cucumbers)
Nƒzkhƒtun (Eggplant Caviar)
Okra And Lamb Stew > Jeff Smith
Oznei Haman Or Hamantaschen (Cookies With (See Dirs))
Pastirma ( Preserved Meat With Spicy Sauce)
Patlican Imam Bayildi > Rose Dosti, Adapted
Persian Abgusht
Persian Quince Stew (Khoresh-E Beh)
Pesto Hummus
Pickled Lemons
Pilav (Steamed Sauted Rice)
Red Chicken A La Touran
Reshmi Kabab
Saffron Shortbread (Sfoof) Lebanese
Sfeeha (Baked Lamb Pies)
Shoubra (Vegetable Soup)
Skordalia (Garlic An
Potato Sauce)
Soupe Mƒst Va Khiƒr (Cold Yogurt Soup)
Spiced Vegetable Pasties
Stuffed Grape Leaves
Sufganiyot (Israeli Doughnuts)
Syrian Sausage In Pita
Syrian Wheat Pudding
Tabouleh > Jeff Smith
Tabouli (Bulgur Wheat Salad)
Tah Chin (Yogurt, Lamb And Rice)
Tomato And Chickpea Soup (Hasa Al-Tomatat Maa
Tu B'shevat Fruitcake
Turkish Imam Biayeldi
Turkish Menemen
Turkish Mussels With Garlic & Walnut Sauce
Turkish Spicy Turkish Eggs
Tzatziki Sauce
Vegetable Soup (Hasa Al-Khadr)
Yemenite Meat Loaf (Halabi Kebab)
Yemiser Selatta (Lentil Salad)
Yogurt Sauce For Seekh Kabobs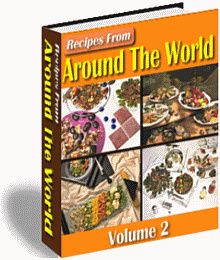 Site owner:
Put the rating form on your site!
Listing wrong or need to be updated?
Modify it.
Cooking Package!
114 Cooking ebooks Click here to see the full list of these ebooks
(total value $710.95)
Buy Now
just for $30.95
$680
off
Silver Package!
Any 100 ebooks from 2000+ titles Click here to see the full list of these ebooks
Buy Now
just for $29.95
Gold Package!
Get full access to 2000+ ebooks Click here to see the full list of these ebooks
Buy Now
just for $49.95
Mistake found?
Select spelling error with your mouse and press Esc