Recipes From Around The World v1 Ebook
Recipes From Around The World v1
Category:
Cooking
Title:
Recipes From Around The World v1
Description:
Volume 1
Bring the exotic tastes of other countries into your home with Recipes From Around The World.

You don't have to travel the world to get a taste of international cuisine. With Recipes From Around The World, you can open your mind and treat your taste buds to a world of fine cuisine-without leaving home!

In volume one of Recipes From Around The World you will find over 500 tasty recipes from Germany, Greece, Ireland, France and Russia. Tasty recipes like, Galantine Of Chicken from France, Greek Stifado With Feta Cheese Crust, Esterhazy Rostbraten (Beef Sirloin A La Esterhazy) from Germany, Real Irish Stew and Basturma (Georgian Pomegranate Marinated Grilled Lamb) from Russia.
Samples:
Russian Recipes
Russian Kulich

1/2 t saffron
1/2 c glazed fruits,Sliced(cherries,pineapple, citrus)
1/2 c raisins
3 pk dry yeast
2 T light brown sugar
1/4 c dark rum
1 c almonds (toasted &,Sliced-coarsely,chopped)
1 c flour,Sifted
1/4 c milk,scalded & cooled to-lukewarm
3/4 c (1 1/2 stick),Unsalted-butter
1 c light brown sugar
1 t anise extract
1 t almond extract
3 egg yolks
1 c whipping cream,half & half-or table cream
4 5 c. flour
3 egg whites
egg white frosting
1 stiffly egg white,Beaten
2 c powdered sugar
1 t vanilla (or almond extract)

Soak saffron in rum an hour or more. Combine fruits, raisins and
almonds with 1 cup flour. Set aside. Dissolve yeast with milk and
2 tablespoons sugar. Allow to stand 5-10 minutes. In electric
mixer, cream butter and sugar until smooth. Add extracts, yolks and
warm cream. Beat in yeast mixture. Add 4 cups flour and beat until
smooth and elastic, adding additional flour as necessary. Place in
oiled bowl, turning to coat top of dough. Cover with plastic wrap
and a towel wrung out in cold water. Allow to rise in warm place
until doubled. Punch down dough. Turn out onto lightly floured board
and knead in floured fruits and nuts, saffron and rum. If dough
becomes sticky. Add flour, 1/4 cup at a time. Beat egg whites until
stiff. Fold into dough with metal scraper or spatula. Sprinkle with a
bit more flour. Thoroughly oil 2 (2 pound) coffee cans. Cut and oil
waxed paper circles to fit bottom of cans. Fill each can halfway with
dough. Moisten fingers and pat tops smooth. Cover with waxed paper
and allow to rise in warm place in warm place until double reaches no
higher than top edge of cans. Bake at 375 degrees for 20 minutes.
Turn down heat to 325 degrees and bake 40 minutes. Cool 10 minutes.
Turn out of can by using long thin knife to loosen. Frost while still warm.
Adjapsandali (Mixed Vegetable Saute)

1 Servings

2 (1 lb) eggplants,cut into
-1-in cub,es
1 t salt
3 T corn oil
2 md (1 cup) onions,chopped
1 lb potatoes,peeled & cut into
-1/2-in,cubes
1 lb ripe tomatoes,peeled & cut
-into 1/,2-in cubes
2 carrots,grated
1/4 c fresh coriander,chopped
4 cloves garlic,chopped fine
1 t salt,or to taste
1/4 t pepper

1. Mix eggplant cubes w/1 ts salt & let stand for 1/2 hr. Rinse
pieces under cold water & press out liquid gently. Set aside. 2. Heat
oil in a pan, add onions, & mix for a moment. Cover the pan & cook
over low heat for 5 mins. Add eggplants, potatoes, tomatoes, &
carrots. Mix well & cover; continue to cook over low heat for 20
mins. Add coriander, garlic, remaining ts salt, and pepper. Cover &
cook for 10 mins more. Serve hot or at room temp, or refrigerate &
serve cold. Serves 6 w/other dishes.
TABLE OF CONTENTS
Volume 1
TABLE OF CONTENTS FOR FRENCH RECIPES
Baked Tomatoes With Proven?§ale Stuffing
Blender Hollandaise
Brioches
Cabbage Stuffed With Proven?§ale Stuffing
Cervelles En Matelote
Chicken Marengo
Chocolate Mint Mousse
Choucroute Garnie
Cooked Meat Croquettes
Country Terrine
Creamy Chestnut Soup
Croutons
Franconia Root Vegetables
Fresh Fruit Compote
Galantine Of Chicken
Ginger Beurre Blanc
Gratin Of Melting Potatoes
Herbed Brown Butter
Home Made French Dressing
Herb Roasted New Potatoes
Madeira Cream Sauce
Mango Bombe
Leeks Vinaigrette (Poireaux En Salade)
Plain Omelet
Plain Omelet With Cheese
Parfait Torte
Plain Omelet With Onion
Plain Omelet With Potato And Onion
Plain Omelet With Ham
Potato-Onion Soup With Arugula
Proven?§ale Stuffing
Plain Omelet With Spinach And Sour Cream
Rice, Mushroom And Cheese Croquettes
Roasted Eggplant, Tomato And Olive Quiche
Quiche Lorraine
Saut?©ed Lamb Medallions With Red Wine And Fresh Mint
Savory Butter
Sauce Bearnaise
Shirred Eggs
Smoked-Fish P?¢t?© Canap?©s
Scalloped Potatoes
Spanish Omelet
Spinach And Parmesan Croquettes
Sole And Salmon Rolls With Ginger Beurre Blanc
Spring Vegetable Blanquette
Timbales Of Glazed Carrots
Split Pea Soup
Ungodly Chocolate Truffles
Veal Chops In Cream (Côte De Veau Flamb?©es À La Crème)
Trish's Simplified Coq Au Vin
Venison Stew
Vinaigrette
Vegetable Cassoulet
Wild Mushroom Sauce
Vinaigrette Marinade
TABLE OF CONTENTS FOR GERMAN RECIPES
A Different Sauerbraten
Aepfelkratzet (Apple Scramble)
Alkovendressing
Almond Crescent Cookies
Altdeutsche Brotchen (Quickbread)
Anise Seed Cookies
Apfelkraut (German Homade Apple Syrup)
Apfelpfannkuchen (Apple Pancakes)
Apfelschaum (Apple Mousse)
Apfelstrudel (Apple Strudel)
Apple And Cream Kuchen
Apple And Rum Custard Cake
Apple Lokshen (Noodle) Kugel (Sweet)
Aunt Hannah's Lebkuchen
Ausgezogenes Mehlmus
Austrian Apricot Balls (Marillenknoedel)
Baeckeofe - Alsace
Baked Spinach With Cheese - Uberbackener Spinat Mit Kase
Baltic German Beet Relish
Bamberger Krautbraten (Bramberger Meat & Cabbage Casserol
Baptismal Pot (German)
Barische Leberknoedelsuppe (Bavarian Liver Dumplings)
Barvarian Potato Salad
Barvarian Sausage Salad
Barvarian Veal
Baslerleckerli
Batter Fried Sage Leaves (Salbey Zu Backen)
Bauernfruhstuck (Farmers Breakfast)
Bavarian Herb Soup (Krautlsuppe)
Bavarian Pork Chops - Md (Microwave, Diet)
Bavarian Potato Salad
Bavarian Roast Suckling Pig
Bavarian Vanilla Cream
Bayerisch Kraut
Bayerische Erdbeercreme (Strawberry Barvarian)
Bayerische Vanillecreme (Bavarian Vanilla Cream)
Bayerischer Mit Spargel (Barvarian Veal With Asparagus)
Bayerischer Wurstsalat (Barvarian Sausage Salad)
Bayerischer Wurstsalat (Barvarian Sausage Sal
Bayrischer Kartoffelsalat (Barvarian Potato S
Bayrischer Kartoffelsalat (Bavarian Potato Salad)
Bee Sting (Bienenstich)
Beef Rolls
Beef Soup With Liver Balls
Beef Strips And Carrots
Berghoff Ragout (Ragout A La Berghof)
Berliner Ballen (Berlin Bales)
Bienenstich
Biersuppe (Beer Soup)
Birnensuppe (Pear Soup)
Biskuitstreifle
Bitter Ballen
Black Bread #1
Blitz Kuchen
Blueberry Kuchen
Bobbie's Original German Stollen
Bodebiremus - Kartoffelmus (Potato Mush)
Boiled Red Cabbage
Braetknoedel (Ground Meat Dumplings)
Braised Knuckles Of Pork With Apples
Braised Red Cabbage
Bramberger Meat And Cabbage
Bratwurst In Beer, Berlin Style
Braune Bohnen (Green Beans In Gravy)
Braune Einbrenne (Brown Gravy)
Braune Zucker Platzchen (Brown Sugar Cookies)
Brennsuppe (Flour Soup)
Brotknoedel (Bread Dumplings)
Brussels Sprouts In Beer
Butter Or Sugar Cake On A Baking Sheet
Butterkuchen (Butter Cake)
Cassibowle
Celery Root Salad (Selleriesalat)
Cheese Strata
Cheesecake Germania
Cherry Desert Meeresburg
Chestnut Torte
Chicken And Country Ham Deep Dish Pie (Moravian)
Chicken And German Noodle Soup
Chicken Fricassee (Huhnerfrikassee)
Chocolate Amazons (Schokoladen Amazonen)
Chocolate Filled Kuchen
Choucroute Garnie
Christmas Borscht
Cinnamon Kuchen
Classic German Burgers
Coffee Cake (Kaffee Kuchen)
Crisp German Meatballs
Crispy Porkroast With Basilsauce
Croatian Or Bavarian Cabbage Salad
Crumb Cake
Cucumber And Potato Soup
Cucumber Relish Salad
Curd Cheese (German Quark, Austrian Topfen)
Czech Kolachke
Daetscher
Dampfnudle (Yeast Dumplings)
Damson Cheese (Zwetschgenmus)
Der Gefuellte Schweinebauch (Stuffed Pork Belly)
Deutsches Beefsteak (German Beefsteaks)
Dodd's Lebkuchen
Dortmund-Lindenhorst Pfefferpotthast
Dr. Oetker's Rouladen
Dr. Oetker's Sauerbraten
Dutch Bloemen Sprits (Chocolate And Cinnamon Flowers)
Dutch Boterkoeken [butter Cake]
Eiergerstensuppe (Egg-Dough Drop Soup)
Eierschwaemme (Mushrooms With Scrambled Eggs)
Eing'saets Mus (Saebrei)
Eingemachtes Kalbsfleisch (Veal In Gravy)
Erbsenpuree (Yellow Split-Pea Puree)
Erdbeer Bowle (Strawberry Wine Punch)
Essig Krautersauce
Esterhazy Rostbraten (Beef Sirloin A La Esterhazy)
Falscher Hase (False Hare (German Meatloaf))
False Hare (German Meatloaf)
Feines Buttergebaeck (Fancy Butter Cookies)
Fennel Au Gratin With Citrus Crust
Feuerzangenbowle
Filled Berlin Doughnuts - Bismarks
Filled Mini Cucumbers
Fladle Uberbacken (Swabian Pancakes)
Flaedle
Franfurter Kranz (Frankfurt Crown Cake)
Frankfurt Crown Cake
Frankfurter Bohnensuppe (Bean Soup With Frank
Frankfurter Gruene Soesse (Frankfurt Green Sauce)
Frankfurter Sausage
Frankfuter Bohnensuppe (Bean Soup With Frankfurter
Fruchtsalat Mit Nussen (Fruit Salad With Nuts)
Fruechte Brot
Fruit Cake (An Old German Recipe)
Fruit Kuchen
Fruit Torte
Fruit Tzimmes
Fruited Icebox Cookies (Fruchtplatzchen)
Gaisburger Marsch (Hot-Pot With Beef, Spaetzle, Potatoes)
Galatorboureko
Gebackenes Euter (Fried Cow's Udder)
Gedunstetes Weisskraut (Skillet Cabbage)
Gefuellte Flaedle - Pfannkuchen (Filled Crepe
Gefuellte Maultaschen
Gefuellte Tauben (Stuffed Pigeons)
Gefullt Krautroladen (Stuffed Cabbage Rolls)
Gefullte Kalbsbrust (Stuffed Veal Breast)
Gegrillte Bratwurst (Grilled Bratwurst)
Gekochtes Schweinefleisch - Kesselfleisch
Geschmorte Rindfleisch (Beef Stew With Wine)
Gewurzplatzchen (Spice Cookies)
Gewurzte Schweinsrippchen, Braised Spicy Spareribs
Gingersnap Pot Roast
Glitscher
Gluehwein
Goetta
Gold Cake (Gelb Kuchen)
Goulash Soup [gulyassuppe]
Green-Bean Salad
Grilled Herb Schnitzel
Grilled Turkeylegs
Gross-Suppe (Semolina Soup)
Gruiben (Cracklings)
Gruibenknoedel (Cracklings Dumplings)
Gruibensalat (Crackling Salad)
Grundstock Nudelteig (Basic Pasta Dough)
Grune Bohnen Mit Birner
Grune Bohnen Mit Dill (Grean Beans With Dill)
Grunkohlsuppe (Kale And Potato Soup)
Gugelhupf
Gulaschsuppe (Goulash Soup)
Gulyassuppe
Gurkensalat (Cucumber Relish Salad)
Hackbraten (Falscher Has)
Haebernes Mus (Oatmeal Mush)
Ham With Noodles (Schinkennudeln)
Hamburg Sour Soup
Hammelsuppe (Mutton Soup)
Haselnuss Halbmonde
Haselnussmakronen
Haselnusstorte (Hazelnut Torte)
Hasenoehrle (Rabbit Ears)
Hasenpfeffer (Braised Hare In Red Wine)
Hochrippe Und Sauerkraut (Spareribs And Sauer
Hoernchen
Holderkuechle (Elderberry Fritters)
Holdermus (Elderberry Mush)
Holderschmarren (Elderberry Scramble)
Hot Dutch Potato Salad
Hot German Bean Salad
Hot German Potato Salad
Hot German Rice Salad
Jaeger Eintopf (Hunter's Stew)
Jaegerschnitzel
James Beards High Rise German Pancakes
Jan's German Apple Cake - Pjxg05a
Janet's Christmas Stollen
Jean's Sauerkraut Hotdish
Kaesekuchen (Cheesecake)
Kaesetorte (Cheesetorte)
Kaesmus - Rallenmus (Cheese Mush)
Kaessuppe (Cheese Soup)
Kalbsbries Imperial (Sweetbreads With Paprika Sauce)
Kalbsbrust Mit Krauterfullung (Veal Breast/He
Kalbsschnitzel Mit Feinen Gemusen (Veal Round
Kalbsschnitzel Mit Joghurt (Veal Steaks With
Kalte Ente (Cold Duck)
Kalter Kartoffelsalat (Cold Potato Salad)
Kapernschnitzel (Veal Cutlets With Capers)
Kapuska (Sauerkraut) And Kielbasa
Kartaeuserkloesse (Carthusian Dumplings)
Kartoffelklosse (Potato Dumplings)
Kartoffelknoedel (Potato Dumplings)
Kartoffelkratzet - Kartoffelschmarren
Kartoffelloibla (Swabian Croquettes)
Kartoffelpfannkuchen (Potato Pancakes)
Kascaron
Kasespatzle (Spaetzle Cheese Noodles)
Katzeng'schrei (Caterwauling)
Kekstorte (German Cookie Cake)
Kirsch-Schnitzel (Veal Cutlets With Cherry Sauce)
Klossel Suppe (Dumpling Soup)
Klossel Und Sauerkraut (Dumplings And Sauerkraut)
Knoepfle- Oder Spaetzleteig (Basic Spaetzle Dough)
Koenigsberger Klops (German Meat Balls)
Kohl Westfalisch (Westphalian Cabbage)
Konigsberg Meatballs
Kraeuterbutter
Kraeuterfladen - Waehe (Swabian Pizza)
Kratzet - Mehlkratzet - Duranand
Kraut Burgers
Krautfleisch - Pork Casserole W/ Cabbage
Krautlsuppe (Bavarian Herb Soup)
Kuchen
Kuemmelkartoffel (Caraway Potatoes)
Kugelhof
Kurbisbrai Mit Kase
Leber Und Bratwurst Auflauf (Liver & Sausage Casserole)
Leberknoedel (Liver Dumplings)
Lebkuchen (German Honey Cakes)
Lebkuchen (Spice Bars)
Linzer Squares & Thumbprints
Lubecker Schwalbenester - Swallownests From Lubeck
Mandelbrot (Almond Squares)
Marinated Potato Salad - Bph
Marinierte Toamten (Marinated Tomatoes)
Marzipan (Candies)
Meat And Cabbage (Old German Recipe)
Mohn Kuchen
Mohren
Mohren Mit Geschnetzeltern (Beef Strips And Ca
Mojhy Apples
Mom's German Meatballs
Mom's German Potato Salad
Nuernberger Rostbratwuerste
Nurnberg Roast Leg Of Pork
Nusskipferl (Nut Crescents)
Oatmeal-Banana Lebkuchen
Obsttorte (Fruit Torte)
Ochsenschwanzsuppe (Ox Tail Soup)
Ofennudle (Rohrnudle)
Pfeffernuesse (Pepper Nut Cookies)
Pfeffernusse
Pfitzauf
Pflaumenkuchen (Plum Cake)
Pilze In Sahnesosse (Mushrooms In Cream Sauce)
Plunder Flechten
Plunder Hornchen
Polnische Jaegertopf (Polish Hunter's Casserole)
Pork Chops In Onion Sauce
Pork Hocks (Schweinshaxe)
Pot Roast With Sour Cream Sauce-German Style
Potato And Cucumber Soup-Gurken Und Kartoffel
Ragout A La Berghof
Rahm-Fleckle (Sweet Or Sour Cream Dumplings)
Rahmapfelkuchen (Apple And Rum Custard Cake)
Raspberry-Almond Linzer Cookies
Raspberry-Blueberry Kuchen
Real German Potato Salad From Brigitte Sealin
Red Cabbage
Red-Beet Salad
Reis Und Rindfleisch Ballen (Rice-Beef Balls)
Rheinischer Sauerbraten (Rhenish Stewed Pickled Beef)
Rhubarb Streusel Pie
Rindergulasch (Beef Goulash)
Rinderrouladen (Beef Rolls)
Rohrmus Mit Aepfeln Oder Gruiben(Apple Or Crackling Mush)
Rosenkohl In Bier Gedunstet (Brussels Sprouts In Beer)
Rostbraten Mit Pilzfulle (Beef Roast With Mush
Rote Rubensalat (Red-Beet Salad)
Roter Press-Sack (Red Head Cheese)
Rotkrautsalat (Red Cabbage Salad)
Rouladen Of Beef
Ruehrkuchen (Stirred Cake)
Rye Bread
Salatmarinade
Sandtortchen (Sand Tarts)
Sarazener (Saracen)
Satarasch
Sauerampfersuppe (Sorrel Soup)
Sauerbraaten & Potato Dumplings
Sauerbraten (Sweet Sour Beef)
Sauerbraten Klopse (Sauerbraten Meatballs)
Sauerbraten W/Sweet & Sour Cabbage
Sauerfleisch (Boeuf A La Mode)
Sauerkraut Salad With Yogurt Dressing
Sauerkraut Soup
Sauerkrautsalat Mit Schinken (Sauerkraut Salad With Ham)
Sauerkrautsalat Mit Schinken (Sauerkraut Sala
Saure Kartoffel (Saure Raedle, Eingemachte Ka
Saurebraten & Ginger
Scheiterhaufen (Log Pyre)
Schinken Rolle (Ham Loaf)
Schinkenspeck > German Bacon
Schledderles-Suppe (Schlettersuppe)
Schlesisches Himmelreich (Silesian Pork)
Schnecken
Schneiderflecklesuppe
Schnittbohnensalat (Green-Bean Salad)
Schokoladenpretzel (Chocolate Pretzels)
Schwaemme (Mushrooms)
Schwalbennester (Barvarian Veal)
Schweinekoteletts In Saurer Sahnesosse (Baked
Schweines Mit Bodabire And Aepfel
Schweineschnitzel
Schweinsmedallions Mit Sommermajoran (Pork Cutlets W/Marj
Semmelkratzet (Semmelschmarren)
Senfgurken > Oskar Marti
Spaetzle Noodles
Spargel In Weisser Sosse (White Asparagus In
Spatzle (Spaetzle Noodles)
Speckkartoffel (Potatoes With Bacon)
Speckknoedel (Austrian Bacon Dumplings)
Speckpfannekuchen
Speckzelten (Speckplatz)
Springerle German Christmas Cookies
Spritzgeback (Spritz Cookies)
Steaks Esterhazy
Stir-Fry Springdish (Roergebakken Lenteschotel)
Streusel Kuchen
Streuselkuchen (Crumb Cake)
Surbraten (Corned Pork)
Suss-Saures Kartoffelgemuse (Sweet-And-Sour Potatoes)
Thueringer Kloesse
Tomatensalat (Tomato Salad)
Tomato Salad
Topfenkuchen
Tropfkrapfen (Drop Donuts)
Two Bean Soup
Uberbackener Spinat Mit Kase (Baked Spinach With Cheese)
Vanilla-Nut "Wolfzahne"
Veal Breast With Herb Stuffing
Veal Chop With Puree Of Apple Spaetzle
Veal Cutlets With Capers
Veal Cutlets With Cherry Sauce
Veal Rounds With Vegatables
Veal Steaks
Veal With Sheeps Cheese (German)
Vegetable Medley (Leipziger Allerlei)
Venetian Veal Pie
Wasserschnalle
Weiche Lebkuche Mit Tschaklett (Chocolate Gingerbread)
Weihnacht Plaetzchen (Christmas Cookies)
Weiner Saft Gulasch (Viennese Beef Goulash)
Weiner Schnitzel
Weinkuechle (Wine Fritters)
Weintraubentorte (Grape Torte)
Weisse Bohnensuppe (White Bean Soup)
Wespennester - Wefzgeneschter (Wasp Nests)
Westphalian Cabbage
Westphalian Leg Of Lamb
White Asparagus In White Sauce
White Bean Soup
Wiener Schnitzel
Wiener Zollen (Cookies)
Wild Pig On Sauerkraut
Wirsingroellchen (Savoy Cabbage Rolls)
Wurstsalat (Sausage Salad)
Yellow Split-Pea Puree
Zucchini-Kuchen (Zucchini Cake)
Zwei-Bohnenensuppe (Two Bean Soup)
Zwetschgendatsche (Damson Plum Tart)
Zwetschgendatschi
Zwiebelkuchen (Onion Pie)
TABLE OF CONTENTS FOR GREEK RECIPES
Adreana's Greek Pasta Salad
Bastilla
Bear Steaks With Greek Seasonings
Braised Lamb Shanks In Lemon-Dill Sauce
Bulghur Pilaf
B?©chamel-Coated Fried Chicken
Cabbage Salad
Chiles & Garlic In Oil
Couscous
Cucumbers Stuffed With Feta
Fried Beer Batter-Coated Strawberries
Fried Cinnamon Pastries With Honey Glaze
Fried Swordfish With Mediterranean Spices
Ganza
Greek Easter Lamb Or Kid
Greek Meatballs With Mint
Greek Salad
Greek Stifado With Feta Cheese Crust
Greek Walnut Cake
Green Bean Salad With Feta-Walnut Mimosa
Grilled/Chilled Tuna With Tangerines
Lamb And White Bean Rago?"t
Lima Bean Plaki
Pork Chops With Apples In Cider Sauce
Rice Pilaf
Roasted Chicken With Lemon-Parsley Sauce
Stuffed Grape Leaves
Whole Stuffed Leg Of Lamb
TABLE OF CONTENTS FOR IRISH RECIPES
Ardshane House Irish Stew
Baby Carrots And Onions In Cream (Irish)
Baked Parsnips Irish Style
Basic Irish Sausages
Beacan Bruithe (Baked Mushrooms) [irish]
Black Pudding (Irish)
Boiled Collar Of Bacon With Creamy Mustard Sauce
Boxty (Potato Griddle Cakes) (Irish)
Braised Celery (Irish)
Bunratty
Cabbage And Bacon (Irish)
Champ
Colonial Goose
Country Cork Irish Stew
County Cork Irish Stew
Dijon-Glazed Corned Beef
Dressed Cabbage (Irish)
Dublin Sunday Corned Beef And Cabbage
Emerald Isle Cooler
Fresh Pea Soup (Irish)
Irish Beef In Guinness
Irish Brogue
Irish Coffee No. 2
Irish Handshake
Irish Hot Pot
Irish Lamb Stew
Irish Loin Of Pork
Irish Spring
Irish Stew
Kale With Cream (Irish)
Kidney Soup (Irish)
Lois'irish Stew
Low Calorie Irish Colcannon
Oatmeal Bacon Pancakes (Irish)
Parsnip Cakes (Irish)
Rashers (Bacon), Eggs, Sausage And Tomato
Real Irish Stew
Savory Red Cabbage And Red Potatoes
Shamrock
Shannon Cream
Shannon Dove
Sorrel Soup (Irish)
Steak And Guinness Pie (Irish)
Tom Moore's Irish Stew Casserole
Trimlestown Roast Sirloin (Irish)
White Onion Soup (Irish)
TABLE OF CONTENTS FOR RUSSIAN RECIPES
Russian Kulich
Adjapsandali (Mixed Vegetable Saute)
Armenian Lentil Soup
Babki With Custard Filling [similar To Italian Pusties]
Baklazhan /Chopped Eggplant With Mayonnaise
Baklazhannaya Ikra (Eggplant Caviar Odessa Style)
Basturma (Georgian Pomegranate Marinated Grilled Lamb)
Beef Stroganov
Beet Kvas
Beet Pkhali
Blinchaty Pirog
Blini With Three Caviars
Bliny
Borsch
Botvinia <cold, Green Vegetable Soup W/ Fish>
Bulitsikov's Eels
Burakovyi Kvas (Fermented Beet Juice)
Cabbage W/ Smoked Meats
Carrot Babka
Caviar Patrijani (Georgian Caviar)
Ceregi
Chakapuli (Lamb And Plums In Herb Sauce)
Charkhali (Beet And Coriander Pickle)
Cherry Vareniki (Cherry Dumplings)
Chicken Gorky
Chicken Kiev
Chicken Kotletki With Sour Cream Sauce
Chikhirtma (Coriander-Flavored Onion Soup)
Chrov Plav
Circassian Chicken
Cossack Braised Lamb]
Cossack Chicken & Mushrooms
Cossack Dill Pickles
Cossack Roast
Cucumber Dill Salad
Deruny (Ukrainian Potato Pancakes)
Didivs'ka Iushka (Grandfather Soup)
Dnepro Chicken Stew
Eggplant Pkhali
Forshmak
Fruited Rice W/ Mushrooms & Almonds
Georgian Cheese Pastries
Georgian Chicken [adam's Iga Circular, March 1998]
Georgian Fruit Buns
Georgian Potato Soup
Georgian Spitted Chicken With Plum Sauce
Givech / Mixed Vegetable Caviar
Golubtsi
Gozinaki (Walnut & Honey Crunch)
Green Borscht
Grzyby W Smietanie (Mushrooms With Sour Cream)
Gutap - Kazakh Deep-Fried Herb Fritters
Halvah
Hearty Russian Beet Soup
Homemade Sausage With Onions
Hot Cranberry Kissel
Kalduni (Russian Dumplings)
Kalduni A La Hongroise (Russian Dumplings In Sauce)
Kalduni With Stroganoff-Style Sauce (Russian Dumplings)
Kartofli Kazmag / Potato Crust
Kartopliana Nachynka (Potato-Cheese Filling For Varenyky)
Katami Satsabeli Baga (Duck In Georgian Walnut Sauce)
Kazakh Chai
Kazakiye Riz - Kazkah Rice
Khachapuri (Cheese Pie)
Khachapuri (Georgian Cheese Pie)
Khalia - Georgian Spicy Beef Stew
Khrustiki
Khvorost (Filhozes)
Kievian Bosrcht
Kirghiz Baked Beef
Kirsov's Pudding
Kishke (Stuffed Derma)
Kishmish Vashli Tolma
Kletsky - Apple Dumplings
Kolachki
Kotlety Pozharskie
Kotlety Tsiplenokovo Po-Kievski (Chicken Kiev)
Kotmis Satsivi
Krestianskiy Zavtrak (Peasant Breakfast)
Kugelis Potato Pudding
Kulich
Kumpanskiey.
Kurinoye File So Smorchkani(Stuffed Chicken Breast W/More
Kuritsa S Paprikoy (Chicken Paprikash)
Kvasivka Selians'ka - Tart Village Soup
Kwerstkhi Nigozee Satsabelly (Egg Salad In Walnut Sauce)
Lamb Soup With Chestnuts, Quince, And Prunes /Parcha Bozb
Lamb Stew W/ Chestnuts & Pomegranates
Lamb Stewed W/Beans
Lamb, Raisin, & Bean Polov
Lemon Kvas
Liula-Kebab
Lobio Soup (Red Bean Soup)
Lobio Tkemali (Red Beans W/Tamarind And Balsamic Vinegar)
Luk Marinovannyi
Machynka Z Hrybiv (Mushroom Filling)
Makovyi Knysh (Poppy Seed Roll)
Makvlis Supi (Blackberry Soup)
Malinnik
Mamy Nugat (Mother's Nougat)
Medianyky (Honey Cookies)
Medivnyk (Traditional Honey Bread)
Milk Soup W/ Vegetables "Molochuna W/ Morkviou Ta Kalusti
Mixed Meat Soup - Solyanka Sbornaya Mysnaya
Mocha Honey Cream Torte
Mrybova Pidlyva (Mushroom Gravy)
Myasnoya Kharcho (Lamb, Herbs, & Rice Soup)
Nachinyonaya Forel (Stuffed Trout)
Nachynka Z Kapusty (Cabbage Filling For Varen
Okroshka
Omelet Cu Brinza Si Ciapa Verde (Omelet W/Cheese & Onions
Omelet Cu Brinza Si Ciapa Verde (Omelet W/Che
Orikhova Masa (Walnut Filling)
Pampushky (Raised Doughnuts With Filling)
Parcha Bozbash - Lamb Soup W/ Chestnuts, Quin
Pashka
Pashtet Iz Pachonki
Patrijani (Stuffed Fried Eggplant)
Pchali (Herb Fritters)
Pelmeni (Siberian Meat Stuffed Dumplings)
Phali (Young Beets Leaves In Walnut Sauce)
Pilav Limon
Pineapple Squares (Annanasa Keturkampai)
Pirohy (Porusynykovi) "Russian-Style."
Piroshki
Pisni Holubts (Meatless Cabbage Rolls)
Pisnyi Borsch (Meatless Beet Soup)
Pisznyi Borscht
Plov S Mindalyom, Izyumom I Apelsinovoy Tsedroy/ Pilaf
Pokhlyobka Mushroom & Barley Soup
Pokhlyobka-Barley & Mushroom Soup
Polish Babka
Pork And Mushroom Stroganoff
Potato Kugel
Potted Beef With Mushrooms
Pressed Cheese
Pumpkin, Rice And Apricots
Pyrizhky (Baked Turnovers)
Radishes With Sour Cream
Ramen Chicken Salad
Rasputin's Codfish Soup
Recipe For Pierogies
Ribnoye Kharcho (Salmon & Walnut Soup)
Romee (Cornmeal Mush)
Rozha Z Tsukrom (Rose Preserve)
Ruby Red Borscht - Sl 7/83
Sabzi Piez
Samarkand Lamb
Satsabeli Bazha (Poultry In Walnut Sauce)
Schchi (Russian Sauerkraut Soup)
Selyodka Pod Ukropnym Sousom
Selyodka S Gorchichnoi Pripavoi
Selyodska V Smetane
Setsamandi (Kharcho) (Lamb, Rice & Herb Gruel)
Shashlyk:
Shchi (Cabbage Soup)
Shilaplavi (Rice Pilaf)
Shredded Chicken Salad With Cilantro
Siberian Huskies (Russian Dumplings With Cabbage)
Siberian Pelmeni (Meat-Filled Noodles)
Soko (Mushroom Barbecue)
Soko Kwerstkhi (Mushroom And Eggs)
Solyanka (Beef, Herbs, & Pickles In Tomato Sauce)
Sous Proven'cal
Stewed Lamb/Mutton - Tushenaya Barinina
Studynyna Rybiacha (Fish In Aspic)
Svyokla V Tomatnom Souse
Sweet Onion Salad
Syr I Chesnok Pod Mayonem
Syrniki With Potato
Tabaka (Cinnamon-Orange Marinade)
Tart Kebab Sauce
Tblisi Beef & Mushrooms
Tolma (Stuffed Cabbage With Lamb)
Tomatnyi Sous - Russian Tomato Sauce
Tourlu
Turkey Kiev
Ukha (Clear Salmon Soup)
Varenikas
Vareniki (Ukrainian Filled Dumplings)
Varya Tabaka (Crisp-Fried Cornish Game Hen)
Veal Stew W/ Cherries
Veprove S Krenem (Piquant Pork With Horseradi
Veranecki (Pillows)
Vereshchaka - Pork And Beetroot Casserole
Village Soup
Vospapur (Armenian Lentil And Spinach Soup)
Vryonoye Miaso Po-Russki (Boiled Beef Russian
Vushka (Little Ear Dumplings)
Vushka Or Pilminy
White Bean Salad
Yutangza (Steamed Cilantro Buns)
Zaphulis Tolma (Summer Vegetables, Stuffed)
Zaporozhste Yogurt Chicken
Zesty Eggplant Slices (Skhtorats)
Zhul'yen Kurinyi V Kokotnitsakh
Zyleone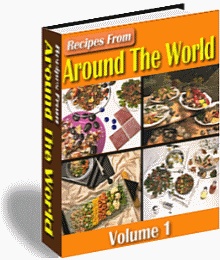 Site owner:
Put the rating form on your site!
Listing wrong or need to be updated?
Modify it.
Cooking Package!
114 Cooking ebooks Click here to see the full list of these ebooks
(total value $710.95)
Buy Now
just for $30.95
$680
off
Silver Package!
Any 100 ebooks from 2000+ titles Click here to see the full list of these ebooks
Buy Now
just for $29.95
Gold Package!
Get full access to 2000+ ebooks Click here to see the full list of these ebooks
Buy Now
just for $49.95
Mistake found?
Select spelling error with your mouse and press Esc