Recipes From Around The World v1 & v2 Ebook
Recipes From Around The World v1 & v2
Category:
Cooking
,
Food
Title:
Recipes From Around The World v1 & v2
Description:
Bring the exotic tastes of other countries into your home with Recipes From Around The World.
You don't have to travel the world to get a taste of international cuisine. With Recipes From Around The World, you can open your mind and treat your taste buds to a world of fine cuisine-without leaving home!

In volume one of Recipes From Around The World you will find over 500 tasty recipes from Germany, Greece, Ireland, France and Russia. Tasty recipes like, Galantine Of Chicken from France, Greek Stifado With Feta Cheese Crust, Esterhazy Rostbraten (Beef Sirloin A La Esterhazy) from Germany, Real Irish Stew and Basturma (Georgian Pomegranate Marinated Grilled Lamb) from Russia.

Volume 2 of Recipes From Around The World contains over 500 recipes from Australia, Africa the Middle East, the Philippines and the Caribbean. Your family and friends will love this selection of recipes which includes exotic dishes such as Caribbean Pork With Pineapple Salsa, Lebanese Baba Ghanoush, Fragrant Pork Adobo from the Philippines, Aussie Shrimp On The Barbie With Orange Ginger and South African Curried Beef Gratin.

Packed with more than 1000 tantalizing recipes from far away lands, the 2 volume Recipes From Around The World set lets you serve and satisfy even the most sophisticated of cravings with inspired meals created fast and easy. Order your copies today!
Samples:
French Recipes
Baked Tomatoes With Proven?§ale Stuffing

4 Servings

4 md tomatoes - unpeeled,cored,
-pulp removed
1 T olive oil
3/4 c onions,Chopped
2 cloves garlic,minced
2 1/2 T fresh parsley,Chopped
2 t fresh basil,Chopped
1 1/2 t fresh thyme,Chopped
1/2 t salt
1/4 t black pepper
3/4 c bread crumbs
1/4 c plus 2 tablespoons Parmesan
-cheese

Heat the oven to 375F. Core tomatoes and scoop the insides out to
leave whole shells.
Heat skillet with oil to medium heat and saut onion and garlic for
about 3 minutes. Stir in tomato, herbs and seasonings. Saut for about 4 minutes or until wetness evaporates. Remove from heat and stir in breadcrumbs and cup measure of the Parmesan cheese. Reserve the rest of the cheese for later.
Stuff the tomatoes with the mixture and sprinkle evenly with the
remaining measure of Parmesan cheese.
Bake for about 15 minutes.
Blender Hollandaise

10 Servings

4 egg yolks
1 1/2 T lemon juice
1/4 t salt
ds cayenne pepper (or white)
-pepper
1 T water,boiling
1/2 c butter,hot but not brown

Put yolks, lemon juice and seasonings in blender. Heat butter and
water separately, taking great care not to burn the butter. Blend egg mixture on high for about half a minute, then with blender still on high, add boiling water and half of the butter, very slowly and in a steady stream, then the rest of the butter can be added more quickly. The heat from the boiling water and the hot butter should cook the yolks and create a satin- smooth mixture. Serve immediately or keep warm in a bowl set in another bowl of hot water.
Yields: 1 1/4 cups
Brioches

12 Servings

2 1/4 c flour,Sifted
1/2 c milk
to lukewarm (or 105 to)
-Heated
- 115 de
1 pk active dry yeast
1 T sugar
3 egg yolks
1 whole egg
6 T butter,melted and cooled

In a large mixing bowl, place flour. Make a well in the center and
pour in the 1/2 cup milk. Sprinkle yeast and sugar over milk, stir, and let stand until foamy (about 5 minutes). With 2 spoons stir together liquid and dry ingredients. Cover with a tea towel and let stand in a warm place until mixture bubbles and rises slightly (about 25 minutes).
Mix in egg yolks and butter. Add lukewarm milk, a little at a time,
until a workable dough is formed. With a wooden spoon, work dough until smooth and shiny, (5-10 minutes). Cover with a tea towel and set in a warm place to rise until doubled in bulk (1 to 1 1/2 hours). Preheat oven to 400 degrees. Punch down dough.
With a teaspoon scoop out pieces of dough about the size of an egg and form them into balls. Place balls well spaced on an ungreased baking sheet. Crack the whole egg into a small bowl and beat well; brush tops of balls. Let stand in a warm place 15 to 20 minutes, then brush with egg again. Place in oven and immediately reduce oven temperature to 375 degrees. Bake until golden (20 to 25 minutes). Let cool on a wire rack.
AFRICAN RECIPES
Accra Banana Peanut Cake (Ghana)

1 1/4 c butter,softened
2 c sugar
4 eggs,beaten
4 c flour
1/4 c cake flour
1 t salt
4 t baking powder
1/2 t baking soda
8 bananas,mashed
1/2 c peanuts,coarsely chopped
1/2 c sugar
1 t cinnamon

In a large bowl, cream together the butter and sugar. Add the eggs
and beat to combine. In a separate bowl, stir together the flour, salt,
baking powder, and Baking soda. Stir the flour mixture into the butter
mixture alternately with the bananas and peanuts.
Pour the batter into the prepared pan and bake for 30 minutes, or until
a wooden skewer inserted in the center comes out clean. Remove from the oven and allow to cool on a wire rack.
Stir together the 1/2 cup sugar and cinnamon. Sprinkle the sugar
mixture over the top of the cake as soon as you remove it from the oven.
Makes 1 - 9x13 cake
African Almond Chicken (Libya)

4 Servings

3 lbs. whole chicken
1 pk peas,Frozen
2 c chicken stock
1 T sherry
1/2 c almonds,chopped
1 c celery,diced
salt,to taste
3 tbls. vegetable oil

Boil chicken in water until tender - about 30 minutes. Take out and
set aside to cool. Save 2 cups of the chicken stock. Debone the cooled
chicken oil. Then add the celery, peas, chicken stock, almonds, salt and sherry.
Simmer 10 minutes. Thicken sauce with 2 tbls. cornstarch mixed in ¼ cup water. Add to sauce and bring to a boil until it thickens. Serve with
noodles or a bowl of steaming rice.
African Banana Peanut Cake

8 Servings

2 c all-purpose flour
2 t baking powder
1/4 t salt
1/4 t baking soda
2/3 c butter (or margarine)
-softened
3/4 c sugar
2 eggs
4 lg very ripe bananas
--peeled and mashed,about 2
- cups
1 c salted peanuts,coarsely
-chopped,divided

Combine flour, baking powder, salt and baking soda. Cream softened
butter and sugar until light and fluffy; beat in eggs.
Add dry ingredients alternately with mashed bananas just until combined; stir in 1/2 cup chopped peanuts. Scrape butter into well-greased 9" 5" loaf pan; sprinkle top evenly with remaining chopped peanuts.
Bake in 350 degree F. oven 60 to 65 minutes or until toothpick inserted in center comes out clean. Cool in pan on wire rack for 10 minutes; turn out of pan and cool completely. Wrap in plastic wrap or foil. Cake is best if served next day.
Yields - 4 cups or 6 to 8 servings.
TABLE OF CONTENTS
Volume 1
TABLE OF CONTENTS FOR FRENCH RECIPES
Blender Hollandaise
Baked Tomatoes With Proven?§ale Stuffing
Brioches
Cervelles En Matelote
Cabbage Stuffed With Proven?§ale Stuffing
Chicken Marengo
Choucroute Garnie
Chocolate Mint Mousse
Cooked Meat Croquettes
Creamy Chestnut Soup
Country Terrine
Croutons
Fresh Fruit Compote
Franconia Root Vegetables
Galantine Of Chicken
Gratin Of Melting Potatoes
Ginger Beurre Blanc
Herbed Brown Butter
Herb Roasted New Potatoes
Home Made French Dressing
Madeira Cream Sauce
Leeks Vinaigrette (Poireaux En Salade)
Mango Bombe
Plain Omelet
Parfait Torte
Plain Omelet With Cheese
Plain Omelet With Onion
Plain Omelet With Ham
Plain Omelet With Potato And Onion
Potato-Onion Soup With Arugula
Plain Omelet With Spinach And Sour Cream
Proven?§ale Stuffing
Rice, Mushroom And Cheese Croquettes
Quiche Lorraine
Roasted Eggplant, Tomato And Olive Quiche
Saut?©ed Lamb Medallions With Red Wine And Fresh Mint
Sauce Bearnaise
Savory Butter
Shirred Eggs
Scalloped Potatoes
Smoked-Fish P?¢t?© Canap?©s
Spanish Omelet
Sole And Salmon Rolls With Ginger Beurre Blanc
Spinach And Parmesan Croquettes
Spring Vegetable Blanquette
Split Pea Soup
Timbales Of Glazed Carrots
Ungodly Chocolate Truffles
Trish's Simplified Coq Au Vin
Veal Chops In Cream (Côte De Veau Flamb?©es À La Crème)
Venison Stew
Vegetable Cassoulet
Vinaigrette
Wild Mushroom Sauce
Vinaigrette Marinade
TABLE OF CONTENTS FOR GERMAN RECIPES
Aepfelkratzet (Apple Scramble)
A Different Sauerbraten
Alkovendressing
Altdeutsche Brotchen (Quickbread)
Almond Crescent Cookies
Anise Seed Cookies
Apfelpfannkuchen (Apple Pancakes)
Apfelkraut (German Homade Apple Syrup)
Apfelschaum (Apple Mousse)
Apple And Cream Kuchen
Apfelstrudel (Apple Strudel)
Apple And Rum Custard Cake
Aunt Hannah's Lebkuchen
Apple Lokshen (Noodle) Kugel (Sweet)
Ausgezogenes Mehlmus
Baeckeofe - Alsace
Austrian Apricot Balls (Marillenknoedel)
Baked Spinach With Cheese - Uberbackener Spinat Mit Kase
Bamberger Krautbraten (Bramberger Meat & Cabbage Casserol
Baltic German Beet Relish
Baptismal Pot (German)
Barvarian Potato Salad
Barische Leberknoedelsuppe (Bavarian Liver Dumplings)
Barvarian Sausage Salad
Baslerleckerli
Barvarian Veal
Batter Fried Sage Leaves (Salbey Zu Backen)
Bavarian Herb Soup (Krautlsuppe)
Bauernfruhstuck (Farmers Breakfast)
Bavarian Pork Chops - Md (Microwave, Diet)
Bavarian Roast Suckling Pig
Bavarian Potato Salad
Bavarian Vanilla Cream
Bayerische Erdbeercreme (Strawberry Barvarian)
Bayerisch Kraut
Bayerische Vanillecreme (Bavarian Vanilla Cream)
Bayerischer Wurstsalat (Barvarian Sausage Salad)
Bayerischer Mit Spargel (Barvarian Veal With Asparagus)
Bayerischer Wurstsalat (Barvarian Sausage Sal
Bayrischer Kartoffelsalat (Bavarian Potato Salad)
Bayrischer Kartoffelsalat (Barvarian Potato S
Bee Sting (Bienenstich)
Beef Soup With Liver Balls
Beef Rolls
Beef Strips And Carrots
Berliner Ballen (Berlin Bales)
Berghoff Ragout (Ragout A La Berghof)
Bienenstich
Birnensuppe (Pear Soup)
Biersuppe (Beer Soup)
Biskuitstreifle
Black Bread #1
Bitter Ballen
Blitz Kuchen
Bobbie's Original German Stollen
Blueberry Kuchen
Bodebiremus - Kartoffelmus (Potato Mush)
Braetknoedel (Ground Meat Dumplings)
Boiled Red Cabbage
Braised Knuckles Of Pork With Apples
Bramberger Meat And Cabbage
Braised Red Cabbage
Bratwurst In Beer, Berlin Style
Braune Einbrenne (Brown Gravy)
Braune Bohnen (Green Beans In Gravy)
Braune Zucker Platzchen (Brown Sugar Cookies)
Brotknoedel (Bread Dumplings)
Brennsuppe (Flour Soup)
Brussels Sprouts In Beer
Butterkuchen (Butter Cake)
Butter Or Sugar Cake On A Baking Sheet
Cassibowle
Cheese Strata
Celery Root Salad (Selleriesalat)
Cheesecake Germania
Chestnut Torte
Cherry Desert Meeresburg
Chicken And Country Ham Deep Dish Pie (Moravian)
Chicken Fricassee (Huhnerfrikassee)
Chicken And German Noodle Soup
Chocolate Amazons (Schokoladen Amazonen)
Choucroute Garnie
Chocolate Filled Kuchen
Christmas Borscht
Classic German Burgers
Cinnamon Kuchen
Coffee Cake (Kaffee Kuchen)
Crispy Porkroast With Basilsauce
Crisp German Meatballs
Croatian Or Bavarian Cabbage Salad
Cucumber And Potato Soup
Crumb Cake
Cucumber Relish Salad
Czech Kolachke
Curd Cheese (German Quark, Austrian Topfen)
Daetscher
Damson Cheese (Zwetschgenmus)
Dampfnudle (Yeast Dumplings)
Der Gefuellte Schweinebauch (Stuffed Pork Belly)
Dodd's Lebkuchen
Deutsches Beefsteak (German Beefsteaks)
Dortmund-Lindenhorst Pfefferpotthast
Dr. Oetker's Sauerbraten
Dr. Oetker's Rouladen
Dutch Bloemen Sprits (Chocolate And Cinnamon Flowers)
Eiergerstensuppe (Egg-Dough Drop Soup)
Dutch Boterkoeken [butter Cake]
Eierschwaemme (Mushrooms With Scrambled Eggs)
Eingemachtes Kalbsfleisch (Veal In Gravy)
Eing'saets Mus (Saebrei)
Erbsenpuree (Yellow Split-Pea Puree)
Essig Krautersauce
Erdbeer Bowle (Strawberry Wine Punch)
Esterhazy Rostbraten (Beef Sirloin A La Esterhazy)
False Hare (German Meatloaf)
Falscher Hase (False Hare (German Meatloaf))
Feines Buttergebaeck (Fancy Butter Cookies)
Feuerzangenbowle
Fennel Au Gratin With Citrus Crust
Filled Berlin Doughnuts - Bismarks
Fladle Uberbacken (Swabian Pancakes)
Filled Mini Cucumbers
Flaedle
Frankfurt Crown Cake
Franfurter Kranz (Frankfurt Crown Cake)
Frankfurter Bohnensuppe (Bean Soup With Frank
Frankfurter Sausage
Frankfurter Gruene Soesse (Frankfurt Green Sauce)
Frankfuter Bohnensuppe (Bean Soup With Frankfurter
Fruechte Brot
Fruchtsalat Mit Nussen (Fruit Salad With Nuts)
Fruit Cake (An Old German Recipe)
Fruit Torte
Fruit Kuchen
Fruit Tzimmes
Gaisburger Marsch (Hot-Pot With Beef, Spaetzle, Potatoes)
Fruited Icebox Cookies (Fruchtplatzchen)
Galatorboureko
Gedunstetes Weisskraut (Skillet Cabbage)
Gebackenes Euter (Fried Cow's Udder)
Gefuellte Flaedle - Pfannkuchen (Filled Crepe
Gefuellte Tauben (Stuffed Pigeons)
Gefuellte Maultaschen
Gefullt Krautroladen (Stuffed Cabbage Rolls)
Gegrillte Bratwurst (Grilled Bratwurst)
Gefullte Kalbsbrust (Stuffed Veal Breast)
Gekochtes Schweinefleisch - Kesselfleisch
Gewurzplatzchen (Spice Cookies)
Geschmorte Rindfleisch (Beef Stew With Wine)
Gewurzte Schweinsrippchen, Braised Spicy Spareribs
Glitscher
Gingersnap Pot Roast
Gluehwein
Gold Cake (Gelb Kuchen)
Goetta
Goulash Soup [gulyassuppe]
Grilled Herb Schnitzel
Green-Bean Salad
Grilled Turkeylegs
Gruiben (Cracklings)
Gross-Suppe (Semolina Soup)
Gruibenknoedel (Cracklings Dumplings)
Grundstock Nudelteig (Basic Pasta Dough)
Gruibensalat (Crackling Salad)
Grune Bohnen Mit Birner
Grunkohlsuppe (Kale And Potato Soup)
Grune Bohnen Mit Dill (Grean Beans With Dill)
Gugelhupf
Gulyassuppe
Gulaschsuppe (Goulash Soup)
Gurkensalat (Cucumber Relish Salad)
Haebernes Mus (Oatmeal Mush)
Hackbraten (Falscher Has)
Ham With Noodles (Schinkennudeln)
Hammelsuppe (Mutton Soup)
Hamburg Sour Soup
Haselnuss Halbmonde
Haselnusstorte (Hazelnut Torte)
Haselnussmakronen
Hasenoehrle (Rabbit Ears)
Hochrippe Und Sauerkraut (Spareribs And Sauer
Hasenpfeffer (Braised Hare In Red Wine)
Hoernchen
Holdermus (Elderberry Mush)
Holderkuechle (Elderberry Fritters)
Holderschmarren (Elderberry Scramble)
Hot German Bean Salad
Hot Dutch Potato Salad
Hot German Potato Salad
Jaeger Eintopf (Hunter's Stew)
Hot German Rice Salad
Jaegerschnitzel
Jan's German Apple Cake - Pjxg05a
James Beards High Rise German Pancakes
Janet's Christmas Stollen
Kaesekuchen (Cheesecake)
Jean's Sauerkraut Hotdish
Kaesetorte (Cheesetorte)
Kaessuppe (Cheese Soup)
Kaesmus - Rallenmus (Cheese Mush)
Kalbsbries Imperial (Sweetbreads With Paprika Sauce)
Kalbsschnitzel Mit Feinen Gemusen (Veal Round
Kalbsbrust Mit Krauterfullung (Veal Breast/He
Kalbsschnitzel Mit Joghurt (Veal Steaks With
Kalter Kartoffelsalat (Cold Potato Salad)
Kalte Ente (Cold Duck)
Kapernschnitzel (Veal Cutlets With Capers)
Kartaeuserkloesse (Carthusian Dumplings)
Kapuska (Sauerkraut) And Kielbasa
Kartoffelklosse (Potato Dumplings)
Kartoffelkratzet - Kartoffelschmarren
Kartoffelknoedel (Potato Dumplings)
Kartoffelloibla (Swabian Croquettes)
Kascaron
Kartoffelpfannkuchen (Potato Pancakes)
Kasespatzle (Spaetzle Cheese Noodles)
Kekstorte (German Cookie Cake)
Katzeng'schrei (Caterwauling)
Kirsch-Schnitzel (Veal Cutlets With Cherry Sauce)
Klossel Und Sauerkraut (Dumplings And Sauerkraut)
Klossel Suppe (Dumpling Soup)
Knoepfle- Oder Spaetzleteig (Basic Spaetzle Dough)
Kohl Westfalisch (Westphalian Cabbage)
Koenigsberger Klops (German Meat Balls)
Konigsberg Meatballs
Kraeuterfladen - Waehe (Swabian Pizza)
Kraeuterbutter
Kratzet - Mehlkratzet - Duranand
Krautfleisch - Pork Casserole W/ Cabbage
Kraut Burgers
Krautlsuppe (Bavarian Herb Soup)
Kuemmelkartoffel (Caraway Potatoes)
Kuchen
Kugelhof
Leber Und Bratwurst Auflauf (Liver & Sausage Casserole)
Kurbisbrai Mit Kase
Leberknoedel (Liver Dumplings)
Lebkuchen (Spice Bars)
Lebkuchen (German Honey Cakes)
Linzer Squares & Thumbprints
Mandelbrot (Almond Squares)
Lubecker Schwalbenester - Swallownests From Lubeck
Marinated Potato Salad - Bph
Marzipan (Candies)
Marinierte Toamten (Marinated Tomatoes)
Meat And Cabbage (Old German Recipe)
Mohren
Mohn Kuchen
Mohren Mit Geschnetzeltern (Beef Strips And Ca
Mom's German Meatballs
Mojhy Apples
Mom's German Potato Salad
Nurnberg Roast Leg Of Pork
Nuernberger Rostbratwuerste
Nusskipferl (Nut Crescents)
Obsttorte (Fruit Torte)
Oatmeal-Banana Lebkuchen
Ochsenschwanzsuppe (Ox Tail Soup)
Pfeffernuesse (Pepper Nut Cookies)
Ofennudle (Rohrnudle)
Pfeffernusse
Pflaumenkuchen (Plum Cake)
Pfitzauf
Pilze In Sahnesosse (Mushrooms In Cream Sauce)
Plunder Hornchen
Plunder Flechten
Polnische Jaegertopf (Polish Hunter's Casserole)
Pork Hocks (Schweinshaxe)
Pork Chops In Onion Sauce
Pot Roast With Sour Cream Sauce-German Style
Ragout A La Berghof
Potato And Cucumber Soup-Gurken Und Kartoffel
Rahm-Fleckle (Sweet Or Sour Cream Dumplings)
Raspberry-Almond Linzer Cookies
Rahmapfelkuchen (Apple And Rum Custard Cake)
Raspberry-Blueberry Kuchen
Red Cabbage
Real German Potato Salad From Brigitte Sealin
Red-Beet Salad
Rheinischer Sauerbraten (Rhenish Stewed Pickled Beef)
Reis Und Rindfleisch Ballen (Rice-Beef Balls)
Rhubarb Streusel Pie
Rinderrouladen (Beef Rolls)
Rindergulasch (Beef Goulash)
Rohrmus Mit Aepfeln Oder Gruiben(Apple Or Crackling Mush)
Rostbraten Mit Pilzfulle (Beef Roast With Mush
Rosenkohl In Bier Gedunstet (Brussels Sprouts In Beer)
Rote Rubensalat (Red-Beet Salad)
Rotkrautsalat (Red Cabbage Salad)
Roter Press-Sack (Red Head Cheese)
Rouladen Of Beef
Rye Bread
Ruehrkuchen (Stirred Cake)
Salatmarinade
Sarazener (Saracen)
Sandtortchen (Sand Tarts)
Satarasch
Sauerbraaten & Potato Dumplings
Sauerampfersuppe (Sorrel Soup)
Sauerbraten (Sweet Sour Beef)
Sauerbraten W/Sweet & Sour Cabbage
Sauerbraten Klopse (Sauerbraten Meatballs)
Sauerfleisch (Boeuf A La Mode)
Sauerkraut Soup
Sauerkraut Salad With Yogurt Dressing
Sauerkrautsalat Mit Schinken (Sauerkraut Salad With Ham)
Saure Kartoffel (Saure Raedle, Eingemachte Ka
Sauerkrautsalat Mit Schinken (Sauerkraut Sala
Saurebraten & Ginger
Schinken Rolle (Ham Loaf)
Scheiterhaufen (Log Pyre)
Schinkenspeck > German Bacon
Schlesisches Himmelreich (Silesian Pork)
Schledderles-Suppe (Schlettersuppe)
Schnecken
Schnittbohnensalat (Green-Bean Salad)
Schneiderflecklesuppe
Schokoladenpretzel (Chocolate Pretzels)
Schwalbennester (Barvarian Veal)
Schwaemme (Mushrooms)
Schweinekoteletts In Saurer Sahnesosse (Baked
Schweineschnitzel
Schweines Mit Bodabire And Aepfel
Schweinsmedallions Mit Sommermajoran (Pork Cutlets W/Marj
Senfgurken > Oskar Marti
Semmelkratzet (Semmelschmarren)
Spaetzle Noodles
Spatzle (Spaetzle Noodles)
Spargel In Weisser Sosse (White Asparagus In
Speckkartoffel (Potatoes With Bacon)
Speckpfannekuchen
Speckknoedel (Austrian Bacon Dumplings)
Speckzelten (Speckplatz)
Spritzgeback (Spritz Cookies)
Springerle German Christmas Cookies
Steaks Esterhazy
Streusel Kuchen
Stir-Fry Springdish (Roergebakken Lenteschotel)
Streuselkuchen (Crumb Cake)
Suss-Saures Kartoffelgemuse (Sweet-And-Sour Potatoes)
Surbraten (Corned Pork)
Thueringer Kloesse
Tomato Salad
Tomatensalat (Tomato Salad)
Topfenkuchen
Two Bean Soup
Tropfkrapfen (Drop Donuts)
Uberbackener Spinat Mit Kase (Baked Spinach With Cheese)
Veal Breast With Herb Stuffing
Vanilla-Nut "Wolfzahne"
Veal Chop With Puree Of Apple Spaetzle
Veal Cutlets With Cherry Sauce
Veal Cutlets With Capers
Veal Rounds With Vegatables
Veal With Sheeps Cheese (German)
Veal Steaks
Vegetable Medley (Leipziger Allerlei)
Wasserschnalle
Venetian Veal Pie
Weiche Lebkuche Mit Tschaklett (Chocolate Gingerbread)
Weiner Saft Gulasch (Viennese Beef Goulash)
Weihnacht Plaetzchen (Christmas Cookies)
Weiner Schnitzel
Weintraubentorte (Grape Torte)
Weinkuechle (Wine Fritters)
Weisse Bohnensuppe (White Bean Soup)
Westphalian Cabbage
Wespennester - Wefzgeneschter (Wasp Nests)
Westphalian Leg Of Lamb
White Bean Soup
White Asparagus In White Sauce
Wiener Schnitzel
Wild Pig On Sauerkraut
Wiener Zollen (Cookies)
Wirsingroellchen (Savoy Cabbage Rolls)
Yellow Split-Pea Puree
Wurstsalat (Sausage Salad)
Zucchini-Kuchen (Zucchini Cake)
Zwetschgendatsche (Damson Plum Tart)
Zwei-Bohnenensuppe (Two Bean Soup)
Zwetschgendatschi
Zwiebelkuchen (Onion Pie)
TABLE OF CONTENTS FOR GREEK RECIPES
Bastilla
Adreana's Greek Pasta Salad
Bear Steaks With Greek Seasonings
Bulghur Pilaf
Braised Lamb Shanks In Lemon-Dill Sauce
B?©chamel-Coated Fried Chicken
Chiles & Garlic In Oil
Cabbage Salad
Couscous
Fried Beer Batter-Coated Strawberries
Cucumbers Stuffed With Feta
Fried Cinnamon Pastries With Honey Glaze
Ganza
Fried Swordfish With Mediterranean Spices
Greek Easter Lamb Or Kid
Greek Salad
Greek Meatballs With Mint
Greek Stifado With Feta Cheese Crust
Green Bean Salad With Feta-Walnut Mimosa
Greek Walnut Cake
Grilled/Chilled Tuna With Tangerines
Lima Bean Plaki
Lamb And White Bean Rago?"t
Pork Chops With Apples In Cider Sauce
Roasted Chicken With Lemon-Parsley Sauce
Rice Pilaf
Stuffed Grape Leaves
Whole Stuffed Leg Of Lamb
TABLE OF CONTENTS FOR IRISH RECIPES
Baby Carrots And Onions In Cream (Irish)
Ardshane House Irish Stew
Baked Parsnips Irish Style
Beacan Bruithe (Baked Mushrooms) [irish]
Basic Irish Sausages
Black Pudding (Irish)
Boxty (Potato Griddle Cakes) (Irish)
Boiled Collar Of Bacon With Creamy Mustard Sauce
Braised Celery (Irish)
Cabbage And Bacon (Irish)
Bunratty
Champ
Country Cork Irish Stew
Colonial Goose
County Cork Irish Stew
Dressed Cabbage (Irish)
Dijon-Glazed Corned Beef
Dublin Sunday Corned Beef And Cabbage
Fresh Pea Soup (Irish)
Emerald Isle Cooler
Irish Beef In Guinness
Irish Coffee No. 2
Irish Brogue
Irish Handshake
Irish Lamb Stew
Irish Hot Pot
Irish Loin Of Pork
Irish Stew
Irish Spring
Kale With Cream (Irish)
Lois'irish Stew
Kidney Soup (Irish)
Low Calorie Irish Colcannon
Parsnip Cakes (Irish)
Oatmeal Bacon Pancakes (Irish)
Rashers (Bacon), Eggs, Sausage And Tomato
Savory Red Cabbage And Red Potatoes
Real Irish Stew
Shamrock
Shannon Dove
Shannon Cream
Sorrel Soup (Irish)
Tom Moore's Irish Stew Casserole
Steak And Guinness Pie (Irish)
Trimlestown Roast Sirloin (Irish)
White Onion Soup (Irish)
TABLE OF CONTENTS FOR RUSSIAN RECIPES
Adjapsandali (Mixed Vegetable Saute)
Russian Kulich
Armenian Lentil Soup
Baklazhan /Chopped Eggplant With Mayonnaise
Babki With Custard Filling [similar To Italian Pusties]
Baklazhannaya Ikra (Eggplant Caviar Odessa Style)
Beef Stroganov
Basturma (Georgian Pomegranate Marinated Grilled Lamb)
Beet Kvas
Blinchaty Pirog
Beet Pkhali
Blini With Three Caviars
Borsch
Bliny
Botvinia <cold, Green Vegetable Soup W/ Fish>
Burakovyi Kvas (Fermented Beet Juice)
Bulitsikov's Eels
Cabbage W/ Smoked Meats
Caviar Patrijani (Georgian Caviar)
Carrot Babka
Ceregi
Charkhali (Beet And Coriander Pickle)
Chakapuli (Lamb And Plums In Herb Sauce)
Cherry Vareniki (Cherry Dumplings)
Chicken Kiev
Chicken Gorky
Chicken Kotletki With Sour Cream Sauce
Chrov Plav
Chikhirtma (Coriander-Flavored Onion Soup)
Circassian Chicken
Cossack Chicken & Mushrooms
Cossack Braised Lamb]
Cossack Dill Pickles
Cucumber Dill Salad
Cossack Roast
Deruny (Ukrainian Potato Pancakes)
Dnepro Chicken Stew
Didivs'ka Iushka (Grandfather Soup)
Eggplant Pkhali
Fruited Rice W/ Mushrooms & Almonds
Forshmak
Georgian Cheese Pastries
Georgian Fruit Buns
Georgian Chicken [adam's Iga Circular, March 1998]
Georgian Potato Soup
Givech / Mixed Vegetable Caviar
Georgian Spitted Chicken With Plum Sauce
Golubtsi
Green Borscht
Gozinaki (Walnut & Honey Crunch)
Grzyby W Smietanie (Mushrooms With Sour Cream)
Halvah
Gutap - Kazakh Deep-Fried Herb Fritters
Hearty Russian Beet Soup
Hot Cranberry Kissel
Homemade Sausage With Onions
Kalduni (Russian Dumplings)
Kalduni With Stroganoff-Style Sauce (Russian Dumplings)
Kalduni A La Hongroise (Russian Dumplings In Sauce)
Kartofli Kazmag / Potato Crust
Katami Satsabeli Baga (Duck In Georgian Walnut Sauce)
Kartopliana Nachynka (Potato-Cheese Filling For Varenyky)
Kazakh Chai
Khachapuri (Cheese Pie)
Kazakiye Riz - Kazkah Rice
Khachapuri (Georgian Cheese Pie)
Khrustiki
Khalia - Georgian Spicy Beef Stew
Khvorost (Filhozes)
Kirghiz Baked Beef
Kievian Bosrcht
Kirsov's Pudding
Kishmish Vashli Tolma
Kishke (Stuffed Derma)
Kletsky - Apple Dumplings
Kotlety Pozharskie
Kolachki
Kotlety Tsiplenokovo Po-Kievski (Chicken Kiev)
Krestianskiy Zavtrak (Peasant Breakfast)
Kotmis Satsivi
Kugelis Potato Pudding
Kumpanskiey.
Kulich
Kurinoye File So Smorchkani(Stuffed Chicken Breast W/More
Kvasivka Selians'ka - Tart Village Soup
Kuritsa S Paprikoy (Chicken Paprikash)
Kwerstkhi Nigozee Satsabelly (Egg Salad In Walnut Sauce)
Lamb Stew W/ Chestnuts & Pomegranates
Lamb Soup With Chestnuts, Quince, And Prunes /Parcha Bozb
Lamb Stewed W/Beans
Lemon Kvas
Lamb, Raisin, & Bean Polov
Liula-Kebab
Lobio Tkemali (Red Beans W/Tamarind And Balsamic Vinegar)
Lobio Soup (Red Bean Soup)
Luk Marinovannyi
Makovyi Knysh (Poppy Seed Roll)
Machynka Z Hrybiv (Mushroom Filling)
Makvlis Supi (Blackberry Soup)
Mamy Nugat (Mother's Nougat)
Malinnik
Medianyky (Honey Cookies)
Milk Soup W/ Vegetables "Molochuna W/ Morkviou Ta Kalusti
Medivnyk (Traditional Honey Bread)
Mixed Meat Soup - Solyanka Sbornaya Mysnaya
Mrybova Pidlyva (Mushroom Gravy)
Mocha Honey Cream Torte
Myasnoya Kharcho (Lamb, Herbs, & Rice Soup)
Nachynka Z Kapusty (Cabbage Filling For Varen
Nachinyonaya Forel (Stuffed Trout)
Okroshka
Omelet Cu Brinza Si Ciapa Verde (Omelet W/Che
Omelet Cu Brinza Si Ciapa Verde (Omelet W/Cheese & Onions
Orikhova Masa (Walnut Filling)
Parcha Bozbash - Lamb Soup W/ Chestnuts, Quin
Pampushky (Raised Doughnuts With Filling)
Pashka
Patrijani (Stuffed Fried Eggplant)
Pashtet Iz Pachonki
Pchali (Herb Fritters)
Phali (Young Beets Leaves In Walnut Sauce)
Pelmeni (Siberian Meat Stuffed Dumplings)
Pilav Limon
Pirohy (Porusynykovi) "Russian-Style."
Pineapple Squares (Annanasa Keturkampai)
Piroshki
Pisnyi Borsch (Meatless Beet Soup)
Pisni Holubts (Meatless Cabbage Rolls)
Pisznyi Borscht
Pokhlyobka Mushroom & Barley Soup
Plov S Mindalyom, Izyumom I Apelsinovoy Tsedroy/ Pilaf
Pokhlyobka-Barley & Mushroom Soup
Pork And Mushroom Stroganoff
Polish Babka
Potato Kugel
Pressed Cheese
Potted Beef With Mushrooms
Pumpkin, Rice And Apricots
Radishes With Sour Cream
Pyrizhky (Baked Turnovers)
Ramen Chicken Salad
Recipe For Pierogies
Rasputin's Codfish Soup
Ribnoye Kharcho (Salmon & Walnut Soup)
Rozha Z Tsukrom (Rose Preserve)
Romee (Cornmeal Mush)
Ruby Red Borscht - Sl 7/83
Samarkand Lamb
Sabzi Piez
Satsabeli Bazha (Poultry In Walnut Sauce)
Selyodka Pod Ukropnym Sousom
Schchi (Russian Sauerkraut Soup)
Selyodka S Gorchichnoi Pripavoi
Setsamandi (Kharcho) (Lamb, Rice & Herb Gruel)
Selyodska V Smetane
Shashlyk:
Shilaplavi (Rice Pilaf)
Shchi (Cabbage Soup)
Shredded Chicken Salad With Cilantro
Siberian Pelmeni (Meat-Filled Noodles)
Siberian Huskies (Russian Dumplings With Cabbage)
Soko (Mushroom Barbecue)
Solyanka (Beef, Herbs, & Pickles In Tomato Sauce)
Soko Kwerstkhi (Mushroom And Eggs)
Sous Proven'cal
Studynyna Rybiacha (Fish In Aspic)
Stewed Lamb/Mutton - Tushenaya Barinina
Svyokla V Tomatnom Souse
Syr I Chesnok Pod Mayonem
Sweet Onion Salad
Syrniki With Potato
Tart Kebab Sauce
Tabaka (Cinnamon-Orange Marinade)
Tblisi Beef & Mushrooms
Tomatnyi Sous - Russian Tomato Sauce
Tolma (Stuffed Cabbage With Lamb)
Tourlu
Ukha (Clear Salmon Soup)
Turkey Kiev
Varenikas
Varya Tabaka (Crisp-Fried Cornish Game Hen)
Vareniki (Ukrainian Filled Dumplings)
Veal Stew W/ Cherries
Veranecki (Pillows)
Veprove S Krenem (Piquant Pork With Horseradi
Vereshchaka - Pork And Beetroot Casserole
Vospapur (Armenian Lentil And Spinach Soup)
Village Soup
Vryonoye Miaso Po-Russki (Boiled Beef Russian
Vushka Or Pilminy
Vushka (Little Ear Dumplings)
White Bean Salad
Zaphulis Tolma (Summer Vegetables, Stuffed)
Yutangza (Steamed Cilantro Buns)
Zaporozhste Yogurt Chicken
Zhul'yen Kurinyi V Kokotnitsakh
Zesty Eggplant Slices (Skhtorats)
Zyleone
Volume 2
TABLE OF CONTENTS FOR AFRICAN RECIPES


African Almond Chicken (Libya) - Annette Merson
Accra Banana Peanut Cake (Ghana)
African Banana Peanut Cake
Akara
African Vegetarian Stew
Algerian Cooked Carrot Salad - Kitchen Safari
Atlantic Salmon On Lentils W/ Moroccan Flavors
Apricot-Fig Blatjang
Baked Plantain On The Shell
Batata Bel Lamoun (Golden Potato Soup)
Bamia (Meatball And Okra Saute In Tomato Sauce)
Beef Brochettes
Beet Appetizer Salad
Beef Stew (Gambia)
Berbere 2
Blanquette De Veau(Blanquette Of Veal) Tunis
Bissara (Fava Soup)
Bourek (Beef-Stuffed Pastry Rolls)
Brochette Of Chicken
Braised Duck With Orange-And-Lime Sauce - Timelife
Carrot, Orange & Radish Salad
's Lamb & Okra Tagine
Casbah Moroccan Restaurant
Chakchouka De Matin (Breakfast Sauce)
Charouf Bil Pisselli O Chedra (Lamb With Kishke And Peas)
Chapatis
Chicken Baked With Orange-Spiced Harissa Sauc
Chicken Simmered In Smen
Chicken Breasts Moroccan-Style
Chicken Stew (Doro Wat) (Ethiopia)
Chicken With Olives And Lemon Tajine
Chicken Tagine
Chicken With Pickled Lemons & Olives
Choroko Sauce
Chicken-Tunisian Style Barbara Wasser's Kosher Kitchen
Cooked Tomato & Green Pepper Salad
Creme Caramela (Sudanese Caramel Custard)
Couscous
Dessert Couscous
Diced Pepper, Tomato & Onion Salad
Diced Lemon, Onion & Parlsey Salad
Djaj Mqalli--Chicken With Lemons And Olives
Egusi Soup
Eggplant Salad La Tamu
Egyptian Chocolate Cake
Egyptian Kebabs
Egyptian Haroset
Egyptian Lentils
Chicken And Chick-Pea Soup
Egyptian Peeled Wheat Berry
Egyptian Pickled Turnips
Fassoulia Beda (White Bean Stew)
El Ham Lahlou (Sweet Lamb For Ramadhan)
Fava Bean Salad
Fish Pyramid With Green Sauce - Bea Sandler
Fish In Moroccan Charmoula Sauce
Fool Achdar (Fava Beans)
Fried Plantains
Fresh Fish Pepper Soup
Fruit Compote With Lichee Nuts
Fufu
(Salady Voankazo) (Madagascar
Ful Nabed (Egyptian Bean And Vegetable Soup)
Greens With Coconut Milk
Gemfish In Chermoula Marinade
Grilled Moroccan Lamb Sausage (Merguez)
Hamam Mahshi (Braised Pigeons & Fireek)
Grilled Moroccan Spices
Harira
Hkatenkwan (Groundnut Stew) (Ghana)
Harissa Hot Chili Paste(Tunisia)
Jollof Rice
Koshary (Lentils And Rice)
Kitoza
Kouclas Bi Ruz Moroccan Rice Dumpling
Kusherie (Egyptian Rice And Lentils)
Koushari (Lentils, Macaroni And Rice In Oil)
Lahlib Bi-Looz (Moroccan Almond Shake)
Lamb And Sausage Couscous
Lamb And Pear Tagine
Lamb Patties Moroccan Style With Harissa Sauce
Lasopy - Bea Sandler
Lamb With Artichokes And Preserved Lemons
Lentil Tagine
Loubia Bil Luz
Lg. Moroccan Anise Bread *
M'chaqub (Stuffed Matzoh)
M'raad (Eggplant Salad)
M'loukhia (Green Soup)
Mahchi (Stuffing Zucchini)
Maschi (Stuffed Tomato With Chopped Beef) - Bea Sandler
Marrakesh "Pizza" (Khboz Bishemar)
Masfouf De Tunis (Tunisian Sweet Snack)
Meat Curry
Mayeena (Matzoh And Potato Bake)
Meat On A Stick
Melokhia (Egyptian Herb Soup)
Mediterranean Chicken Tagine
Merguez Sausage
Mezgaldi Of Onions
Meshoui
Milookhiyya (Egyptian Green Herb Soup) - Arielle'srecipearch
Morocan Date Cake
Monrovian Coconut Pie (Liberia)
Moroccan Almond Rolls
Moroccan Beef Kefta On Skewer
Moroccan Anise Bread
s With Chopped Vegetable Sal
Moroccan Bread
Moroccan Beef Stew
Moroccan Brisket With Olives
Moroccan Chick Pea Soup
Moroccan Charosets
Moroccan Chicken
Moroccan Chicken Stew
Moroccan Chicken Casserole
Moroccan Chicken With Couscous
Moroccan Chicken With Preserved Lemons
Moroccan Chicken With Olives
Moroccan Cholent Dafina - Moroccan Sabbath Stew
Moroccan Cucumber Salad
Moroccan Couscous
Moroccan Date Cake
Moroccan Fish
Moroccan Eggplant Salad
Moroccan Five-Grain Pilaf
Moroccan Garbanzo Beans With Raisins
Moroccan Fruit Dessert
Moroccan Haroseth
Dates, Raisins And Nuts
Moroccan Harost Balls With
Moroccan Lamb Sausage
Moroccan Lemon Chicken
Moroccan Lamb With Couscous
Moroccan Lemon-Scented Kebobs
Moroccan Olives (A Sauce For
Moroccan Meat Stew
Anything - Like Chicken)
Moroccan Qudban
Moroccan Preserved Lemon Quarters
Moroccan Rub
Moroccan Spiced Olives
Moroccan Spice-Rubbed Leg Of Lamb
Moroccan Stew With Couscous
Moroccan Sweet Potato Puddi
Moroccan Style Quinoa
ng Topped With Meringue
Moroccan Vegetable Soup
Moroccan Tomato And Pepper Salad
Moroccan Vegetable Stew With Couscous
Moroccan-Style Salmon With Couscous
Moroccan-Jewish Fish Filets With Red Peppers
Morrocan Pastilla
Mullah Bamyah (Okra / Ladies Fingers) - Www.Sudan.Net
Morroccan Spiced Olives
M'chicha (Spinach And Groundnuts) - Bea Sandler
Nkrakra (Beef And Vegetable Soup) (Ghana)
Nigerian Jollof Rice
Orange, Lettuce, And Walnut Salad (Shlada Bel
Pea Beans Nairobi Style (M'baazi) (Kenya)
Pastilla (Moroccan Chicken Stew)
Peanut Ice Cream (Senegal)
Peasant Pancakes - Bea Sandler
Peanut Sauce
Pickled African Peaches
Pineapple Buganda
Pickled Lemons
Poulet Aux Dattes/ Chicken With Dates
Preserved Lemons
Pounded Green Pepper Appetizers
Puree Of Fava Beans
Ras El Hanout (Moroccan)
Ranonapango - Bea Sandler
Rice Pancakes
Roast Leg Of Lamb With Moroccan Spices
Rich Fruit Cake - Van Wyck & Barton
Roasted Moroccan Spiced Chicken
Sabanikhiyat (Turnovers, With
Sabanekh (Spinach) - Samia Abdennour
Spinach Filling) - Samia Abden
Salade Egyptienne (Popular Egyptian Salad)
Sakay - Bea Sandler
Salady Voankazo - Bea Sandler
Salatet Zabady Bil Ajur (Cucum
Salatet Sabanekh (Spinach Salad) - Samia Abdennour
ber/Yoghurt Salad) - Www.Sudan
Sauce Portugaise (Portugese Sauce)
Samusas
Seitan W/ Prunes & Almonds (Lahm Lhalou)
Shata (Hot Spice Accompaniment) - Bea Sandler
Shakshuka
Shorba (Puree Of Lamb Khartoum) - Bea Sandler
Shrimp Curry (East Africa)
Shorbet Ads (Lentil Soup) - Www.Sudan.Net
Shurit Ads (Lentil Soup With Ga
Skewered Kefta
rlic And Cumin) - Arielle'sre
Sliced Tomato & Onion Salad
Soupe De Pesach (Passover Soup)
Soup Of Chick Peas
South African Curried Beef Gratin - Evelyn Rose
Spiced Rice
South African Hot Chocolate Sauce - Lavanda
Spicy And Hot Tunisian Lamb Sausage
Spinach And Groundnut Stew - Harva Hachten
Spicy Cooked Carrot Salad From Morroco
Spinach Salad With Moroccan Lemon
Sweet Balls
Spinach Stew
Tagarines (Noodle Pancake)
Of Pigeon With Hulled Grain
Tagen Hamam Bil Freek (Casserole
Tagine Of Chick Peas With Aromatics
Tagine Of Okra & Tomatoes
Tagine Of Chicken With Prunes And Almonds
Tagine Of Swis Chard
Taqliya (Egypt) - Samia Abdennour
Tamayya (Green Hamburgers) - Www.Sudan,Net
Three Onion Saute
Tomato & Pepper Relish
Tomato & Green Pepper Salad, Fez Style
With Moroccan Lemons
Tomato Beef And Okra (Egypt)
Tomato And Pepper Relish With Moroccan Lemons
Tunisian Chicken
Tunisian Five-Spice Powder
Tunisian Chickpea Soup
Vary Amin Anana - Bea Sandler
Vegetable Stew (Vegetable Alecha) (Ethiopia)
Vegetable Casserole
Vermicelli And Raisins
Winter Fruit Couscous
White Beans In Swiss Chard Sauce (Tabikha B'salk)
Yam Fufu (Ghana)
Yemarina Yewotet Dabo (Eth
Yekik Alich'a (Ethiopia)
opain Honey Yeast Bread)
Zimbabwe Greens
Yemiser Selatta (Lentil Salad)
Zucchini Salad


TABLE OF CONTENTS FOR AUSTRALIAN RECIPES


Aussie Meat Pie Filling
Abon
Aussie Shrimp On The Barb
Australian Chocolate Crackles
ie With Orange Ginger
Baked Stuffed Mullet
Brawn
Blender Lemon Drink
Champagne Melon Cooler
Chive-Mustard Potato Salad With Sausage Skewers
Chile 'n' Cheese Breakfast Casserole - Sl 3/88
Cream - Australian
Dopiaza (Meat And Onion Curry)
Dill Pickled Okra
Kangaroo Tail Soup
Lamingtons
Kori Aajadina Or Chicken Sukha
Lentil Tagine
Melon Fruit Salad
Melon Canapes
Melon Meringue Nests
Parrot Pie
Melon With Yogurt And Ginger Dip
Pawpaw Seed Dressing With Parsley
Ricotta Cheese And Watermelon
Potato And Roasted Garlic Soup
Roast Loin Of Lamb
Rockmelon Chicken
Roast Wallaby
Rockmelon Salad With Orange Dressing
Stir-Fried Kangaroo Strips With Bok Choy & Chilii Black B
Sauteed Okra
Trifle


TABLE OF CONTENTS FOR CARIBBEAN RECIPES


Basic Vinaigrette
Acapulco Jicama Salad
Brown Lentil Salad
Caribbean Pork With Pineapple Salsa
Caribbean Jerk Pork Roast
Caribbean Sweet Lime Salsa
CARIBBEAN CHICKEN
Bahamian Lobster "Buena Vista"
CARIBBEAN SALAD PLATTER
JAMAICAN OXTAILS
Jamaican Beef Patties
Paella Panamanian Style
Huevos Habaneros (Eggs Havana Style)
PORK CHOPS WITH BANANAS AND BACON
CARIBBEAN BANANA DESSERT
Pear And Avocado Salad (Gc)
Caribbean Grouper With Mango,
CRABS CARRIBBEAN-STYLE
Carribean-Style Seafood Chowder
Curry Mutton or Goat
Creole Green Beans In Mustard Vinaigrette
Jambalaya (Cajun Rice & Seafood Pottage)
Jamaican Jerk Chicken With Pineapple Salsa
Jerk Chicken Fajitas With Papaya-Pineapple Salsa
Lettuce And Cilantro Salad With Jerk Dressing
Leeks In Creole Vinaigrette
Mayonnaise-Salsa Dressing
Mustard Vinaigrette
Mozzarella Salad
Orange & Radish Salad
Pepper Salad
Orange Ginger Dressing
Pepper Salad Vinaigrette
Rajma-Chana Dressing
Potato-Pepper Salad
Rajma-Chana Salat (Indian Chick-Pea & Bean Salad)
Trinidad Congo Pepper Salsa
Tex-Mex Chile Salad
Wild Duck, Creole Style


TABLE OF CONTENTS FOR FILIPINO RECIPES


Adobo Kang Kong
"Chicken Adobo" (Ah-Doe-Boe)
Adobo Pork Chops
Adobong Isda (Fish In Tangy Sauce)
Adobong Antigo
Adobong Moderno
Adobong Pusit
Adobong Okra
Ampalaya
Arroz Valenciana (Rice Casserole)
Apricot Filling
Banana Blossom Ginataan
Banana Peanut Salad
Banana Ketchup
Basic Adobo
Bibingka
Beef Short Ribs Adobo With Spinach
Bibinka (Philippine Dessert)
Calderetta
Bulanglang
Cari-Cari De Pata Y Rabo
Cassava Bibingka
Casa Manila's Pork Adobo
Chicken & Pork Adobo
Chicken And Pork En Adobo
Chicken Adobo (Adobong Manok)
Chicken Arroz Caldo (Chicken Rice Soup)
Chicken Dinola (Chicken Soup With Ginger & Ve
Chicken Arroz Valenciana
Chicken Soup With Mongo Beans
Chinese Steamed Siopao
Chicken Tinola
Dad's Chicken Adobo
Dipping Sauce For Lumpia
Dinuguan > Galing Galing
Easy Lumpia With Dipping Sauce
Eva's Lumpia
Eggplant Adobo
Family Style Pansit (Noodles With Pork And Shrimp)
Filipino Garlic Vinegar Sauce
Filipino Breakfast Steaks
Filipino Pork
Filipino Sweet And Sour Sauce
Filipino Rice
Fillipino Fried Rice
Fresh Lumpia
Fragrant Pork Adobo
Fried Chicken Manong Style
Ginataan Rice With Corn
Fried Lumpia
Ginataang Talong
Halo-Halo
Grilled Chicken Adobo
Heart Of Palm Rolls For Lumpia From _eafc_
Inihaw Na Bangus (Grilled Milkfish)
Hot And Sour Shrimp With Watercress And Walnu
Kare-Kare> Filipino Ox-Tail Stew
Long Rice With Shrimp (Pancit Luglug)
Lechon
Longganisa (Filipino Sausages) Seasoning
Lumpia With Sweet Potatoes
Lumpia Shanghai
Lumpia Wrapper
Marinade For Bbq Chicken And Pork Ribs
Manila Clams With Black Bean And Ginger Sauce
Menudo Recipe
Misua
Menudong Goto
Monggo
Nalagang Manok (Chicken Soup)
Monkey Meat
Paksiw Na Isda (Boiled Pickled Fish And Vegetables)
Pancit Canton
Pan De Sal
Pancit Guisado
Pickled Pork Snouts (Kilawin)
Pianono
Poncit
Puerco Adobado
Pork Tabungao (White Squash With Pork)
Radish Pickles
Sawsawang Kamatis (Tomato Dip Or Salsa)
Sans Rival (Cake Without A Rival)
Sinigang Na Baboy (Pork In Sour Broth)
Sopa De Maiz (Filipino Corn Soup)
Siopao
Spicy Soy Dipping Sauce
Stuffed Frogs
Stewed Dog (Wedding Style)
The Bicol Express
Tortang Tagalog
Tikoy > Fried Mochiko Strips
Vinegared Lettuce
Wwalang Kaparis [sans Rival]


TABLE OF CONTENTS FOR MIDDLE EASTERN RECIPES


Abgushte Miveh (Dried Fruit Soups)
Lebanese Cabbage Rolls
Almond Falafel
Arkayagan Abour (Meatball Soup)
Alo-Balo Polo (Steamed Rice With Sour Cherrie
Ash Sak (Lamb & Spinach Soup With Meatballs)
Ashe Anƒr (Pomegranate Soup)
Ash-E Jow (Iranian Barley Soup)
Ashe Mƒst (Hot Yogurt Soup)
Baked Guavas Stuffed With Mushrooms & Olives
Ashe Reshte (Noodle Soup)
Baked Kibbeh
Beef Kibbe Patties
Baked Leeks
Beet Relish (Kuchundooria) Turkey
Biram Ruzz (Molded Baked Rice With Chicken)
Best: Tahini Dip And Dressing
Borƒni Bƒdemjƒn (Eggpl
Borƒni Chogondar (Beet Hors D'oeuvre)
ant Hors D'oeuvre)
Borƒni Esfƒnƒj (Spinach Hors D'oeuvre)
Broad Bean Soup (Fool Nabed)
Borƒni Gƒrch (Mushroom Hors D'oeuvre)
Bulgur Meatballs (Keftede)
Chawarma > Lebanese Steak
Casserole Of Veal( Dana Tas Etli Kebabi)Turkey
Chelo Seebzamini (Steamed Ri
Chicken Shiwarma
ce With Saffron Potatoes)
Chicken Sumac > The Yemenite C
Coponata
ookbook By Zion Levi & Hani
Couscous And Veal
Eggplant Puree (Hunjar Bege
Domatorizo Pilafi (Tomato Pilaf)
ndi - Sultan's Delight)
Falafel
Elbasan Tavasi
Ff Baba Ghanoush
Green Peppers With Eggs And Cheese
Ghaime Bademjune (Persian Chicken)
Halek (Fruit And Nut Mix For Passover)
Harissa
Hamam Mahshi (Braised Pigeons With Crushed (S
Haroseth Para Pesach (Passover Haroseth)
Hummus With Sun-Dried
Hummus (Manton)
Tomatoes And Cilantro
Iranian Vegetable Stew; Ghormeh Sabzi
Hunkar Begendi (Roasted Eggplant Puree)
Israeli Burekas (Pronounced Buh-Ray-Kahs)
Kebseh
Isreali Lentils And Rice
Kibbe (Baked)
Kukuye Sabzi (Herb Omelet)
Kizarmis Patlican (Fried Eggplant With Green
Lebanese Baba Ghanoush > Jeff Smith
Lebanese Yogurt And Cucumber
Lebanese Rice Pilaf > Jeff Smith
Salad (Leban) > Jeff Smith
Lentil And Vermicelli Soup (Shawrbat `adas Ma
Lentil And Tomato Soup (Shawrbat `adas Maa Ba
Live Hummus
Mjaddra (Lentils With Rice)
Marilyn's Persian Rice
Mouhammara
Musakka'a (Baked Eggplan
Mujaddara
t, Tomato & Chick Pea
Nƒzkhƒtun (Eggplant Caviar)
Mƒst Va Khiƒr (Yogurt With Cucumbers)
Okra And Lamb Stew > Jeff Smith
Pastirma ( Preserved Meat With Spicy Sauce)
Oznei Haman Or Hamantaschen (Cookies With (See Dirs))
Patlican Imam Bayildi > Rose Dosti, Adapted
Persian Quince Stew (Khoresh-E Beh)
Persian Abgusht
Pesto Hummus
Pilav (Steamed Sauted Rice)
Pickled Lemons
Red Chicken A La Touran
Saffron Shortbread (Sfoof) Lebanese
Reshmi Kabab
Sfeeha (Baked Lamb Pies)
Skordalia (Garlic An
Shoubra (Vegetable Soup)
Potato Sauce)
Spiced Vegetable Pasties
Soupe Mƒst Va Khiƒr (Cold Yogurt Soup)
Stuffed Grape Leaves
Syrian Sausage In Pita
Sufganiyot (Israeli Doughnuts)
Syrian Wheat Pudding
Tabouli (Bulgur Wheat Salad)
Tabouleh > Jeff Smith
Tah Chin (Yogurt, Lamb And Rice)
Tu B'shevat Fruitcake
Tomato And Chickpea Soup (Hasa Al-Tomatat Maa
Turkish Imam Biayeldi
Turkish Mussels With Garlic & Walnut Sauce
Turkish Menemen
Turkish Spicy Turkish Eggs
Vegetable Soup (Hasa Al-Khadr)
Tzatziki Sauce
Yemenite Meat Loaf (Halabi Kebab)
Yogurt Sauce For Seekh Kabobs
Yemiser Selatta (Lentil Salad)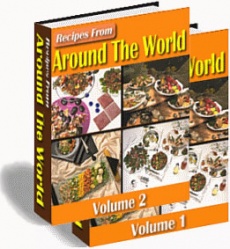 Site owner:
Put the rating form on your site!
Listing wrong or need to be updated?
Modify it.
Cooking Package!
114 Cooking ebooks Click here to see the full list of these ebooks
(total value $710.95)
Buy Now
just for $30.95
$680
off
Food Package!
41 Food ebooks Click here to see the full list of these ebooks
(total value $262.85)
Buy Now
just for $28.95
$233
off
Silver Package!
Any 100 ebooks from 2000+ titles Click here to see the full list of these ebooks
Buy Now
just for $29.95
Gold Package!
Get full access to 2000+ ebooks Click here to see the full list of these ebooks
Buy Now
just for $49.95
Mistake found?
Select spelling error with your mouse and press Esc