Real World Sustainability Ebook
Real World Sustainability
Category:
Home
,
Nonfiction
Title:
Real World Sustainability
Author:
Andy MacDonald
Description:
Our Responsibility Reduce, Re-use and Recycle


We see the effects everywhere we look. Rain forests are being decimated; land fills choking the landscape; polluted lakes, rivers and oceans. And we won't even discuss global warming.

The planet is systematically being destroyed at all levels. Yes, as a society we are finally beginning to address some of the problems with regard to big business. But that doesn't mean we can ignore the situation individually.

Many people ask what difference can one person make? Singularly they feel that their efforts couldn't amount to much when looking at the problem on a global scale. But what we do personally does have an impact.

As a society, we have to believe that what we do individually does make a difference. Multiply the efforts of one by the thousands, hundreds of thousands and even millions of people on earth and together we can make a difference.

It may be the most blatant form of optimism but we must believe that if people "knew better" they would "do better." And, therein lies the problem. Regardless of the headlines most of us just don't know where to begin.

That's where "Real World Sustainability" comes in. You can consider it a primer for everything you need to know about how to do your part. While your mantra should become "Reduce, Re-use and Recycle" you must have a roadmap to get you from here to there.

"Real World Sustainability" does just that.
Is your home a sustainable residence? Discover how to audit your home
Not sure of the definitions Reduce, Re-use and Recycle? See Chapter One
What about cleaning products? The good, bad and ugly
What can't be recycled? This is a shocker!
What is "natural" or "organic?" This one will surprise you
Listen, we aren't here to preach, merely to inform. Again, we believe that when people know better they will do better and that applies to you because you are reading this page. Don 't adopt the "let Harry do it' syndrome.

We are all in this mess together. It didn't happen overnight and we can't cure the planet over night. But assume responsibility for your own actions. If we all put forth just a small amount of effort we can leave this planet safer and healthier for our children.

That's all. Not that difficult. Remember that saying, "yard by yard it's very hard, but inch by inch it's a cinch?" Well that's what taking responsibility for our own sustainability is all about. Now that you know better, it's time to do better.

All bets are off and all excuses removed. Grab your copy of "Real World Sustainability" today and the generations of tomorrow will thank you. We guarantee it.


About The Author
Andy MacDonald
Andy MacDonald always enjoyed weekend trips to the beach or camping with his parents, but he was seriously concerned when he started to take his young family to the favourite spots he remembered.
The beaches and the water were fouled to the point that some places were closed because of health risks. Some of the old camping spots were barren or covered in trash that had accumulated over years.
The streets of the town they lived in were almost treeless and there were few birds or other wild life in the parks.
Much of the fruit and vegetables they bought and either started to rot very quickly or seemed to last forever on the shelf (if only those had had some real taste!)
When he tried to grow his own vegetables he found many plants could not get to maturity. He was told there might be stuff in the soil and the atmosphere which was causing those problems.
Andy felt that there had to be ways to improve his environment without making it a crusade or a full-time job. He already had one and so did his wife!
Andy realized that he was not an expert in any of the sciences but felt there must be ways that he and ordinary people like him could improve their world world, starting with the area around their home.
He found much to admire and also many traps for the unwary.
He believes his ebook will save you money and help protect your health while making the World we leave to our children much better.
Contents
Introduction

A Simple Question

Your War on Waste
Reduce
The Three R's of Sustainability
Re-use
Recycle
Your Sustainable Home
Lights - Good and Bad

Appliances
Energy Ratings
Before You Buy a New Appliance
Switch off
Low-cost Options
Washing Machines and Clothes Dryers
Water Heaters
Solar Water Heating Systems
Hot Water on Demand
Cleaners
White Vinegar
Baking Soda
Citrus Oils
Cleaners to Avoid
Cosmetics and Personal Care Products

Check the ingredients of your cosmetics
Packaging
Do they Contain Animal Products or are they tested on animals?
Basis of Claims to be "Natural" or "Organic"
Long term effects
Your Garden
Your Lawn
Get the Gardening Bug
Transport
Fuel
Minimize fuel consumption in traffic
Water Wars
The Hidden Cost of Bottled Water
Reducing Our Use of Water
Using water more wisely
Sustainable Choices at Work
Power - the Choices and Challenges

What Can't be Recycled?
Egg Trays
You can't Recycle Pillows
Useful and Interesting Links

Enjoy Your Sustainable Future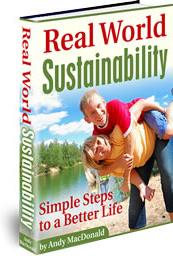 Add to Cart
Add to Wish List
P.S. What are you doing down here? Grab your copy today and start building a better world for tomorrow!
P.S. What are you doing down here? Grab your copy today and start building a better world for tomorrow!
Price: $

17.00
Ebook Type:
PDF
Rating:
Site owner:
Put the rating form on your site!
Listing wrong or need to be updated?
Modify it.
Mistake found?
Select spelling error with your mouse and press Esc