Real Life NEGOTIATING Ebook
Category:
How To
,
Self Help
Title:
Real Life NEGOTIATING
Author:
Arnold Butler
Description:
How to Become a Real Life NEGOTIATOR!

Have you ever given any thought to how often you negotiate a tough situation? Without realizing it we negotiate every day of our lives. Just imagine what it would be like if you were to negotiate intentionally and skillfully.

That's exactly what we are here to discuss today. Negotiation is an art form when used correctly. And that's the key. Yes, everyone does inherently negotiate one thing or another throughout their daily lives. But, how successful are they?

Negotiation is a powerful tool when used properly. The problem is that most people haven't got a clue that they ARE negotiating, let alone how to do it successfully. The outcome of a negotiation should provide a "win-win" for all parties concerned.

All to often someone walks away feeling like a winner while the other party feels demeaned and disappointed. Learn how to empower your negotiating and you will have the key to lifelong success no matter where your interests fall.

Sound impossible? It really isn't. You just need the right tools and training which is why you are here. Everything you need to master the art of negotiation is contained in "Real Life NEGOTIATING."

This is a very powerful training guide and you should be absolutely prepared for what you will learn. The techniques described inside are so effective that they could be used in a negative manner. You must never abuse them.

Take a look at what you will find inside:
Negotiating Tactics Here is where you find the intensely powerful tools and techniques. The principles that are guaranteed to give you license over any negotiating situation. This stuff is so revealing that we won't mention anymore about it here. You need to read it for yourself.
Negotiating Skills Learn how to present your case calmly and precisely. Also discover what you can gain by listening carefully and asking the right questions. Body language is a skill that you will couple with empathy, patience and persistence to lead you to the end result. Also learn the power of saying "No."
Before and Beginning the Negotiation Step by step instructions on what you must do prior to the negotiation. No stone is left unturned. You will be surprised how simple the steps can be.
Concluding the Negotiation Here is where you will learn how to finalize your negotiation. And, you will do so in a manner that no one loses. Each negotiation can have a "win-win" outcome.
There's only one step left for you now. Click the link below and begin right away. The steps are simple. There is no reason why you can't start your first negotiation in just a few hours.

Of course, it goes without saying that you have our risk-free, 100% money back guarantee if you are not satisfied.

So what are you waiting for? Start negotiating yourself into success right now with "Real Life NEGOTIATING!"



About The Author

Arnold Butler

Arnold Butler started as a salesman and believes the success he enjoyed was based in part on his ability to negotiate on his own behalf and as part of the sales team.

He says, "I enjoyed negotiating with clients and suppliers as part of my job and also on my own behalf when we needed a new car or any other major purchase."

His book is designed to be a help for people who want to be better negotiators but don't have the time or maybe the budget to learn through professional coaching clinics.

Arnold wants to help readers get a head start with real life negotiating by giving you some of the best tips and advice which he learned and tested in the workplace.

Keeping it simple and straight-forward without using any technical or academic terms is the way we should negotiate unless we are working in an area where technical terms are commonly used.

His desire is the hope that the book will cut through the learning curve for you if you are new to deal-making or help you improve your results if you have been doing deals for a while.

He believes that you will also find these tips helpful outside of your work. Everybody negotiates every day with their family, people in shops or other businesses and elsewhere. The book should help you in these situations too."
Contents

INTRODUCTION
Basic Rules of Negotiating
USEFUL SKILLS FOR NEGOTIATORS
Presentation Skills
Overcoming Nerves
Listening
Make a Connection with the other Person
Ask Questions
Humor
The Effect of Cultural Background and Upbringing
Body Language
Checking Your Own Body's Signals
Patience
Empathy
Persistence
Saying "No"
Using Pauses and Silence
GUARD YOUR REPUTATION
Telling Stories can Backfire
Always Treat the other People Well
TACTICS
Know the Value of each Point to each Party
Important: Don't Blame Anyone
It's Not Just about the Price
Keep a Record of the Negotiation
Give the Buyer Reassurance
Dealing with Aggression
Splitting the Difference
You need to Know their real Motivation
Don't Give without Getting
Options can Move You Closer
Focus on Benefits and Features above Price
Paint Pictures
Subject to Outside Approval
It's a Standard Practice
Timing
Little Extras
"I Like it, but my Partner ......."
Last Minute Addition
Other Tactics
BEFORE THE NEGOTIATION BEGINS
Proper Preparation is Essential
WHAT ARE YOUR PRIME OBJECTIVE AND FALLBACK OPTIONS?
Do You HAVE to Make This Deal?
YOUR MINDSET
Win-Win or Win-Lose
Keep an Open Mind
Give Them Options
Don't be Stuck on the Sticker Price
Leave Them Something
Don't Just Have One Obvious Target
Bottom Line
Don't Rush to Drop Your Price
BEGINNING THE NEGOTIATION
Build a Relationship
First Offers
Lawyers and Other Advisors
THE FINAL STEP
AFTER THE DEAL HAS CONCLUDED
THERE ARE NO LIMITS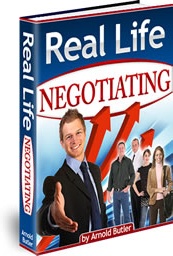 Price: $

17.00
Ebook Type:
PDF
Rating:
Site owner:
Put the rating form on your site!
Listing wrong or need to be updated?
Modify it.
Mistake found?
Select spelling error with your mouse and press Esc