Profitable Puppets Ebook
Category:
Entertainment
,
Jobs
,
Women
Title:
Profitable Puppets
Author:
John Williams
Description:
How To Start Your Own Profitable Business Performing With Puppets!
Do you like people? Is having fun a prerequisite for you? Are you interested in making money?
If you are a stay at home Mom looking for something part time, or a person who is working full time who would like to fire your boss, you've found the right solution.
If you answered with a resounding "yes" to these questions and have ever given any thought to starting your own business, you are in for a treat!
Since you are reading this online, it's a safe assumption that you may have seen some of the outrageous claims for earning an income online.
Profitable Puppets is not another one of those typical work at home schemes, mlm or affiliate programs. Not by a long shot!
In Profitable Puppets, the author teaches you everything you need to know about starting your own profitable business in this segment of the entertainment industry.
Not only will you discover how to create your own puppets, you will be taught how to build your own stage as well as the following:
Discover the "business" side of Puppetry
How to get bookings
How to set up for your shows
Give your shows maximum impact on your audiences
Free scripts to get started
Discover to make your puppets, stage and accessories
Presentation "etiquette" to impress your customers
All this and much more is available to you in Profitable Puppets.
Even if your interest in Puppetry is for your own enjoyment and not as an income generating opportunity, you will find this comprehensive manual a valuable resource.
Family get-togethers and birthday parties are two possibilities that come to mind. You may think of many more.
So do yourself a favor and grab a copy of this terrific resource right away no matter how you may use the information. You'll be glad you did.
About The Author
John Williams
Profitable Puppets is the latest addition to the Fun and Magic ebooks by John Williams.
John has the best job in the World, entertaining audiences of all kinds with Magic and Punch and Judy puppet shows all around Tasmania, Australia's smallest and best State for more than 15 years.
He has his own on-line magic shop and wrote manual sheets for many of the tricks that he sells through his online Magic shop at ezymagic.com. John also presents workshops for business and other groups on Magic and other subjects including "Successful Public Speaking" and "Reducing Stress with Laughter".
He knows you will benefit by learning to amuse and amaze with your very own professional standard puppet show.
You can enjoy entertaining and make money at the same time. John based everything in the ebook on his personal experience and packed in lots of hints to help you make a real impact with your puppet show. His newsletter, "EzyMagic" is emailed to hundreds of happy subscribers around the world. Find out how to subscribe to his newsletter for free!
Contents
Prologue
Safety First
Puppet Shows in the 21st Century
Glove Puppets
Making the Puppets
Heads

Decorating the Heads
Hands

Costumes
Your Punch and Judy Characters
Judy
Mr. Punch
Baby
Doctor
Toby the Dog
Policeman
Hangman
Scaramouche
Ghost or Devil
Mr. Punch's Horse
Clown
Crocodile
Black Man
Blind Man
Whale
Puppet Stages and Theaters
My Puppet Booth
Pictures

My Frame
Proscenium
Playboard
My Cover
Set-up and Performance
Promoting Your Shows
Your Public Address System
Scripts and Scriptwriting
Punch and Judy Script
Jack and the Beanstalk
Dealing with Real People
Your Audiences
Clients
Other People Working at the Event
Business Matters
First Aid Kit
That's Not All, Folks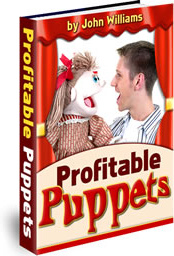 Add to Cart
Add to Wish List
P.S. Grab your copy before your next family function and prepare to be the star of the hour!
P.S. Grab your copy before your next family function and prepare to be the star of the hour!
Site owner:
Put the rating form on your site!
Listing wrong or need to be updated?
Modify it.
Mistake found?
Select spelling error with your mouse and press Esc