Practical Ways To Conquer Fear Ebook
Practical Ways To Conquer Fear
Category:
Psychology
Title:
Practical Ways To Conquer Fear
Author:
Mark Hamble
Description:
Okay, we've all heard that quote, "The only thing to fear is fear itself." And, it's all well and good to intellectualize that content. But, it's been so over used that it's become more of a cliché than words to live by.

It's pretty sad when you think about it. Here we are in the future that so many who've gone before us dreamt about. In less than 100 years we've conquered outer space as well as inner space.

We are smarter, healthier and wealthier than any society that has gone before us. But. . .there it is. . .but with all of these advancements many of us are paralyzed by fear.

Someone once said that fear is merely "False Evidence Appearing Real" (FEAR). Well that works - as long as you aren't the one who is experiencing the fear. Not everyone can be a Tony Robbins.

If you are reading this letter, it's a good bet that you suffer from one of the deep seated fears that renders you helpless to forge ahead to try and shove that fear out of your reality. What are some of your fears? Are they:
Fear of rejection
Fear of failure
Fear of loss
Fear of crowds
Fear of pain
Fear of being alone
Fear of being ignored
Fear of being in the spotlight
If you recognize yourself in any of those fears, then you are ready for the first step in learning how to overcome them. Not only is it possible to overcome those fears, you can do it without spending a ton of money on counseling!

What better way to learn than from someone who has done it! Our author has done just that. He has learned to face his most deep seated fears and overcome each of them. The good news is that you can do it too!

"Practical Ways To Conquer Fear" is written in easy to understand language. Remember, Mark has been right where you are now. He will guide you step by step through what it took for him ton overcome those fears and begin to experience success in his life.

One of the first things he will teach you is how to analyze your fears. Then he will teach you how to take action and understand how to reap the consequences, good or bad.

Once you have accomplished those tasks you will discover how to build your confidence. Most of us who have those paralyzing fears have absolutely no idea of how to build self-confidence because we never had any to begin with!

Well, those days are over.

Listen, the only way you can truly understand how life-changing this guide can be is to buy it. It's a fraction of the cost you would pay for a shrink. In fact, it's probably not priced high enough for all the life-changing lessons you are going to get.

Regardless, don't pass it up because it is so inexpensive. Conquer YOUR FEARS today. It's priceless!
About The Author
Mark Hamble's early life was about as average as anyone could wish. His parents gave him every help they could. But, they moved around the country as his father followed his dreams of new opportunities. Mark found it difficult to connect with them or those around him.
It was a bumpy road from his lackluster childhood to his present happy situation with a steady job which pays enough to support his new family. But, Mark says it was worth it a thousand times over.
He put into his book the simple methods and tips which he believes almost anyone can use to turn their lives around.
Mark says they're simple and straight-forward but he cannot guarantee everything will be easy, just much easier than it was for him.
Mark also stresses that readers will not need a degree in psychology or a lot of money to use his suggestions. But, they will need a strong desire to reduce the effects of fear and related conditions like shyness.
His book is focused on sharing the ways that you could choose from to build a brighter future and reduce the chance of further damage to their lives, relationships and even, to some extent, their health.
Contents
Introduction
The Epidemic of Fear
Start where You Are
Analyze Your Fears
The Antidote to Fear
Make a List
Action and Consequences
Building Your Confidence
Talk Yourself Up, Not Down
You, the Programmer
Would You Recommend Yourself?
Be Your Own P.R. Person
Avoid Negativity
Encourage Good Responses from Others
Conversational Cues
Make Networking Work for You
Networking on the Internet
Networking Face to Face
Always Be Positive and Strive for Accuracy
Emails
Avoid Arguments
Stop Telephone Trembles
Making Calls
Telephone Tips
When Someone Calls You
Selling without Fear
Make WATER your favorite drink
Body Language - Good and Bad
Avoid Negative Body Language
Leave Your Worries at This Door
Afterword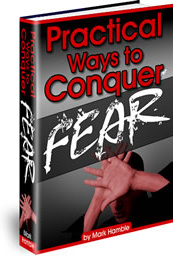 Price: $

17.00
Ebook Type:
PDF
Rating:
Site owner:
Put the rating form on your site!
Listing wrong or need to be updated?
Modify it.
Mistake found?
Select spelling error with your mouse and press Esc