Power to Pedal Ebook
Category:
Fitness
,
Sports
Title:
Power to Pedal
Author:
Robin Robertson
Description:
BROKEN DOWN ATHLETE DISCOVERS HOW TO USE CYCLING TO INCREASE FITNESS, STRENGTH, AND STAMINA WITHOUT DESTROYING YOUR BODY AND YOUR JOINTS IN THE PROCESS.

HOW ABOUT YOU?
Do you miss the feeling of euphoria of physical accomplishment – or maybe want to find out what it is all about?
Are you bummed that you can't compete (or push yourself) at the level that you used to? …Because too many things hurt or you are too out of shape?
Are you searching for something to make you feel more vibrant, stronger, and give you more energy…..
Maybe you haven't ridden your bike since you were a kid and are worried about joining a spinning® class because it just looks too intense (don't worry, I'll show you how to do it, at your own level).
Or you are just tired and discouraged by always working hard but not seeing improvement or real results?
Have you had an adventure thinking that you could easily ride 10, 20, or even 30 miles and found that you were in a world of hurt and seriously wishing that you could hop a ride with the next truck that drove by?
Or was it that the last time you were on a bike you were working hard but found your knees, your back, your hiney were screaming at you by the time you finished. There was nothing fun about that…(and I will show you how to avoid all of those problems)
Maybe you already know the benefits of cycling and how it is easy on your joints and can improve your cardio, burn fat, boost your metabolism and tone your entire body…
Think back to the last time you were riding up a hill on your bike…were you climbing with strength and confidence or wishing you were done because you were sucking wind, miserable and getting left behind?
Do you just go exercise without a plan and hope that is good enough? Well, clearly it isn't.
If that is you, then keep reading because you're going to discover the Power to Pedal Indoor Cycling series that will get you on the bike, in comfort, with a progressive series of workouts to give you more stamina, strength, and zest for life.

CYCLING CAN BE YOUR EASY SOLUTION!
I take the mystery out of so many things, provide planned progressive workouts, and give you results:
How to pedal (yes, there is more to it than just pushing down)
How to set up your bike for the most comfort and to prevent knee and back pain
How to improve strength in both of your legs (even your weaker one)
Mental toughness – how to be your own best cheerleader
Breathing techniques to expand your capacity
Standing on the pedals with ease and grace
Power intervals to make you stronger
Speed work to make you faster
Climbing with confidence for every hill
Workouts to boost your metabolism
How hard to work and for how long
…there are just too many secrets to list!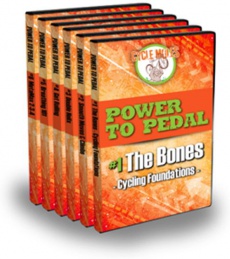 Rating:
Site owner:
Put the rating form on your site!
Listing wrong or need to be updated?
Modify it.
Mistake found?
Select spelling error with your mouse and press Esc