Plant & Grow Your Money Tree Ebook
Plant & Grow Your Money Tree
Category:
E-Business
Title:
Plant & Grow Your Money Tree
Author:
Allen Cummings
Description:
Discover How To Have Your Very Own "Green & Growing" Money Tree
Winner of the e-Book Excellence Award 2003!

Dear Friend,

If you could finally have your very own profitable internet business quickly and on a budget you can actually afford, would you be interested?

Now there's a way you can start a real online business that sells a real product and makes you real money.

How is this any different from the thousands of other 'get rich fast' offers?

Basically, you're not going to get any hype or 'bull stuff' thrown at you. This is not one of those "business opportunities" that claim easy riches. It's practical information on how market your own business online -- whatever that may be! -- and on a beginner's budget.

I'm not going to tell you that you'll make $1,000 a day, $15,000 a month, or anything of that sort.

I won't tell you that starting a business doesn't take work. Because it does. Anyone with a successful business that makes a lot of money has had to work toward what they've achieved. And you will, too.

But you can start making money on the internet much faster and much easier if you know exactly what to do (and what not to do).

Here's your chance to save hundreds of hours of time and energy (just imagine what you could do with that much extra time in your life). And to cut through the confusion and frustration you face starting an internet business.

Because now you can follow a blueprint that guides you, in an easy to understand way, toward your goal:

Make money (a little extra cash, or even a full time income... it's up to you) on the internet with a real business of your own.

The blueprint you'll follow is an electronic manual called "Online Business Basics" (that you can download instantly and start using what you learn to help you make money faster).

It's written by Angela Wu, someone who's been through everything you face now and pushed through to finally have a successful business of her own.

She knows her stuff, because she's lived it first hand. And now she wants to pass on her experience to you...so you can get where she is faster and easier than ever before.


Take a look at what you'll discover inside...
Make doing business on the web as worry free as possible by choosing a good company to host your web site: Find out the 14 crucial things to look for when choosing your host.
Exactly what you must do to get your business started fast, laid out in an easy to follow step-by-step format.
What four marketing methods you must use if you want to be successful on the internet.
Save time and money. How to easily track all your advertising efforts, and interpret the data you gather to make sure your efforts pay off.
How to suck visitors into your site (and turn those visitors into money in your pocket) without spending a single penny on advertising!
How to give you and your business an instant dose of credibility and boost profits by doing one simple thing (and it'll only take a few minutes to do).
Where to find a hot product to sell if you don't want to create your own...and keep 100% of the profits!
Convert more visitors into sales. Discover the little-known secrets of persuading visitors to buy your product.
How to start your own newsletter and how you can use it to explode your profits with only a few minutes of work!
Get more people to buy from you. How you can accept credit cards without having an expensive merchant account.
7 ways you can increase profits and automate your business (which means less work for you) at the same time!
Easy ways to create your own e-book, even if you don't have a clue about writing.
Increase sales
"Online Business Basics" will only take an investment of $14.95. And that's what it is, an investment. Except this investment has potential returns far greater than any stock, bond, or mutual fund.

So, you can use that money to go for a dinner...or invest it in your future and be amazed at the return you get! The right choice seems pretty obvious, doesn't it?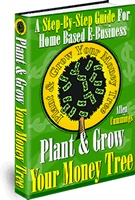 Add to Cart
Add to Wish List
P.S. Don't Order this product if you're looking for the "same old same old." Not just a treatise of "re-hashed" material, what you will get is a guideline written by a successful offline and online marketer. Don't delay!
P.S. Don't Order this product if you're looking for the "same old same old." Not just a treatise of "re-hashed" material, what you will get is a guideline written by a successful offline and online marketer. Don't delay!
Grow Tomato Plants
Category: Garden
Price: $19.98
Investment Money For Your Internet Marketing Business
Category: E-Business, E-Marketing, Investing
Price: $7.00
Bonsai Trees: Growing, Trimming, Pruning, and Sculpting
Category: Garden, Hobbies, Home
Price: $7.00
How to Make Money in the Home Based Salvage and Recycling Business
Author: Michael R. Meuser
Category: Affiliates, Business, Home Business
Price: $27.00
How to Grow Hair Long
Author: Engy Khalil
Category: Beauty, Health, Women
Price: $15.00
The REAL Money Secrets
Author: Angela Treat Lyon
Category: Entertainment
Price: $12.99
97 Marketing Secrets To Make More Money
Author: Sandy Barris
Category: Business
Price: $27.00
Learn How to Attract Money
Category: Self Help
Price: $27.00
Site owner:
Put the rating form on your site!
Listing wrong or need to be updated?
Modify it.
Mistake found?
Select spelling error with your mouse and press Esc