Plain Cookin', Recipes From The Heartland! v1 Ebook
Category:
Cooking
,
Food
Title:
Plain Cookin', Recipes From The Heartland! v1
Author:
Patty Baldwin, Kathy Quackenbush
Description:
Volume 1
Guaranteed To Tantalize Your Taste Buds!

Just Finger Lickin,' Lip Smackin' Good Food!
If you are looking for the latest haute cuisine or "fad" diet, you are in the wrong place.

What you will find here is Plain Cookin' Volume 1. The kind of "stick to your ribs" home cooking that helped build this country and make it great.

When our forefathers took off from St. Louis, Missouri those many years ago, for the most part they were looking for farmland.

Did they find it? You bet they did and the recipes you will find here are representative of their blood, sweat, tears and the kind of food that kept them going from dawn 'til dusk.

We have taken some liberties, updated the units of measure and adapted for some modern ingredients, but the result is the same. . . Plain Cookin' that you are sure to enjoy.

We'll warn you up front that, if you are on the latest fad diet, you probably won't find most of these recipes on your "recommended list" of diet foods. Just as the title says, it's Plain Cookin' Volume 1 and the carbohydrates, fat content and so on reflect that.

However, should you care to, you can convert these recipes to 21st Century standards. We just can't tell you whether the taste will be affected.

You probably won't find these recipes compiled into any other cookbooks. Many of the recipes we feature have been handed down from generation to generation. Even the newer selections are passed along from friends and family.

What you will find are great holiday dishes as well as every day treats. You'll find everything from rib warming Percolator Punch to an old-fashioned Plum Pudding, sure to warm up those cold winter days and nights.

Golden Punch is great any time of year. The recipe makes a generous amount - nice one to use for occasions like a Golden Wedding Anniversary and can be made well in advance of use.

Mom's Waffles are melt-in-your-mouth scrumptious and terrific any time of day!

There are lots of cakes, pies, desserts and candy that will surely satisfy a "sweet tooth." From Great Grandmother's Angel Food Cake to the Eggless, Butterless & Milkless Cake that you just won't believe could be so luscious!

Learn "something old" and "something new," but one thing is for certain, you'll definitely find over 100 recipes of "something good and tasty!"

Priced to please, Plain Cookin' - Volume 1 would also make a great gift for that someone special.

Presented in digital format for immediate download, order "Plain Cookin' - Volume 1" today and whip up one of these tasty delights tonight!
About The Authors
Kathy Quackenbush
The recipes in "Plain Cookin' - Volume 1" are inspired by Kathy's family. In fact, Kathy has painstakingly transcribed many of the recipes from yellowed, dog-eared pages of her "great-grandmother, grandmother and her Mom.
Kathy hails from southwestern Kansas where she was born and raised on the family homestead in a huge white farmhouse. She remembers driving the old 1930's vintage truck to haul the crops as a very young girl and fishing in the pond on the property.
Kathy grew up on that farm, went away to college, married, raised four sons and started her own successful floral business. She never forgot the values that were instilled in her as a child.
Preparing these recipes to share, and more to come in future volumes, was a labor of love. It brought back many happy memories of lazy summer days and cold winter nights.
Kathy's Mom recently went to join her other ancestors and it is with pride and fond memories that we dedicate this ebook in her honor. Thanks, Margaret, you were really a "class act!"
Patty Baldwin
Patty Baldwin is the co-author of two very popular e-books, the award-winning "Autoresponder Secret Courses," "Wise Women Win" and author of "About Niches - A 6 Step System" all about how to market to niches.
She is a successful ghostwriter, manages the support desk for a well known internet marketer as well as several successful online businesses including About Niches, a site where members can receive ongoing sales training.
Her experience serves as a testimonial to anyone who chooses to transition from the standard corporate world to working at home.
Patty and Kathy have been friends for almost two decades. Patty credits Kathy with the development of "Plain Cookin' Volume 1" affirming that all she provided was the concept and a bit of technical expertise.
You may reach Kathy at: kathy@plaincookin.com
You may reach Patty at: patty@allbizservices.com
If you would like to hear about future volumes just drop them a line!
Contents
INTRODUCTION
BEVERAGES
Cranberry Lemonade
Cranberry Punch
Golden Punch
Spiced Tea
Percolator Punch
Spiced Tea
Hot Mulled Wine
BREADS
Banana Nut Bread
Banana Bread
Apricot-Date-Nut Bread
Delicious White Bread
Blueberry Zucchini Bread
Pinwheel Biscuits
Mom's Waffles
Funnel Cakes
Poppy Seed Bread
Orange Marmalade Bread
Date Nut Bread
Mincemeat - Apricot Bread
CAKES
Pecan Upside - Down Cake
Hummingbird Cake
Great Grandmother's Angel Food Cake
Eggless, Butterless & Milkless Cake
Raisin Cup Cakes
. Strawberry Pecan Cake
Date Cake
Poor Man's Cake
Poppy Seed Cake
Mississippi Mud Cake
Wine Cake
Cherry Chocolate Cake
Sour Cream Cake
A Chocolate Lovers Cake
Mom's Apple Cake
Banana Nut Cake
One Egg Cake
Pecan Upside-down Cake
Olive's Fruit Cake
White Cake With Grandmother's Swiss Nut Cake Filling
Fruit Cake
FROSTINGS
Maxine's No Bake - Jiffy Fruit Cake
Broiled Coconut Frosting
Hard Sauce
Caramel Fudge Icing
CANDY
Microwave Divinity
Divinity
Seafoam (brown sugar divinity)
Peanut Brittle
Pecan Divinity
Microwave Peanut Brittle
Cheese Fudge
Chocolate Fudge
Cocoa Fudge
No Cook Fudge
Marshmallow Fudge
Penoche (brown sugar fudge)
Mints
COOKIES
Gumdrop Cookies
Raisin Bars
Ginger Drop Cookies
Grandmother's Sugar Cookies
Molasses Sugar Cookies
Crisco™ Cookies
Chocolate Haystacks
Peppernuts
Pecan Balls
Sugar Cookies 2
Sugar Cookies 1
Snowflake Christmas Cookies
Chinese Chews
Chocolate Peanut Butter Cookies
Filled Cookies
DESSERTS
Homemade Ice Cream
Rhubarb Pineapple Crunch
Heavenly Hash
Cheese Cake
Cherry Dessert
Christmas Pudding
Plum Pudding Sauce:
Date Pudding
English Plum Pudding
Cathedral Window
Mom's Date Pudding
Mincemeat Graham Roll
Date Roll
MEATS
Roasted Turkey
Pineapple Holiday Ham
Turkey Gravy
Sage Dressing for Turkey
Oyster Dressing for Turkey
Left Over Turkey Hash
PIES
Pecan Pie
Butterscotch Pie
Pumpkin Pie
Cherry Brandy Pie
Janelle's Pecan Pie
Coconut Blender Pie (makes its own crust)
Cream Pie Filling for banana, coconut or pineapple fillings
Sour Cream Raisin Pie
Pie Crust (1 double or 2 shells)
Meringue
Meringue Crust
Never Fail Meringue
SALADS
Heyen Salad
Christmas Jello™
Frozen Strawberry Salad
Cranberry/Pineapple Relish
Apricot Salad
12 Hour Salad
Cranberry Waldorf Salad
Cranberry Salad
Frozen Cranberry Salad
Grandma's Cranberry Salad
Cranberry & Chicken Salad
Pretzel Salad
Lime Jello™ Salad
Cherry Salad
Cucumbers
Broccoli Salad
Harvard Beets
SCENTS
Pomander Balls
Simmering Po pourri
Simple Scents
SNACKS & DIPS
Cracker Spread
Cereal Snacks
Shrimp Spread
Swedish Nuts
Porcupine Treats
Cinnamon Nuts
DIPS
Toasted Pecans
Avocado Dip
Vegetable Dip
Spinach Dip
Baked Reuben Dip
Coconut Fruit Dip
VEGGIES
Broccoli Casserole
Candied Yams
Potatoes With Onions
Green Rice
Scalloped Cabbage
Green Bean Casserole
Scalloped Corn with Cheese
Corn Delight
WEIGHTS AND MEASURES
LIQUID AND DRY MEASURE EQUIVALENCIES *
DRY MEASURE EQUIVALENCIES *
OVEN TEMPERATURE EQUIVALENCIES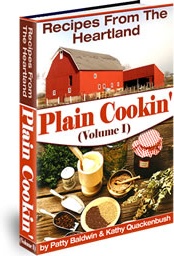 Add to Cart
Add to Wish List
P.S. Remember, if you are looking for fancy, low-carb, non-fat recipes - steer clear! But, if you are looking for something old, something new and finger lickin' "Plain Cookin'," Grab your copy now!
P.S. Remember, if you are looking for fancy, low-carb, non-fat recipes - steer clear! But, if you are looking for something old, something new and finger lickin' "Plain Cookin'," Grab your copy now!
Site owner:
Put the rating form on your site!
Listing wrong or need to be updated?
Modify it.
Mistake found?
Select spelling error with your mouse and press Esc