Photography ebooks
Page 3 of 3
Category:
Cats, Photography, Poetry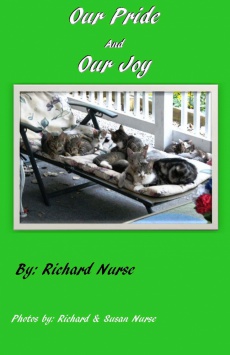 Buy this ebook here
Add to Wish List
+$1
Title:
Our Pride & Our Joy
Author:
Richard Nurse
Description:
Our Pride & Our Joy, is a story in verse, accompanied by numerious candid photographs about the feral cat community that had adopted us, as we have adopted them in return.  A true two-way street story, as we provide them with food and shoulder, and in return, they have given us back hours of joy, laughter, and from some love returned.
Led by an Alpha male, who looked more like a small lion than a domestic cat, and his primary mate of over 4 years, simply known as Mommy. The community suddenly blossomed in size last year, as every one of the cats from Mommy's litters the year before were female.  
The story begins in April of 2014, as we were treated to the first two of at least six different litters of at least 5 kittens each. It was like we had been transported from a normal surban US location onto the site of wild kingdom.  The pride's interactions were almost exactly like a pride of lions in the wild.  
Read the story to experience the workings of this pride of feral cats, and their leader. Street Fighter, a battle scared vetren, and his band of girls, who truly cared for him, treating him when wounded in a fight, and greeting him when he approached or lounged close to me on my porch.  
A pride of cats, that I call my children, many of whom are more interested in being petted by me in the morning than diving into the food bowl that I have brought them.  I consider my home a cat ranch now, with 7 living... Click here to read the full description!

Rating:
Photography Package!
8 Photography ebooks Click here to see the full list of these ebooks
(total value $69.75)
Buy Now
just for $14.95
$54
off
Mistake found?
Select spelling error with your mouse and press Esc