POWER Up Your People Skills Ebook
POWER Up Your People Skills
Category:
How To
,
Self Help
Title:
POWER Up Your People Skills
Author:
Jane Foreman
Description:
How to Win Friends and Influence. . .Well, You Know the Rest

Talk about exercising people skills, Andrew Carnegie is probably the most well-known of all self-help heroes. Ever since he penned those words, countless numbers of people have read them and really tried to use them as a mantra in their daily lives.

While the words and the meanings are timeless, adapting them to our frantic lifestyle today requires some tweaking so the meaning isn't lost in translation.

If you have a belief system that is anchored in the knowledge that most people would "do better" if they "knew better" then you are off to a good start. Now it's time to fine tune and hone your people skills so you really can "do better" at getting along with others.

That's a worthy goal, especially now in the midst of the financial crisis. While hundreds of people are losing their jobs and scores of others are walking a tightrope of uneasiness, you couldn't ask for a better reason to "Power Up Your People Skills."

Sure, some of the people who are losing their jobs are losing them as a result of budget cuts. However, when your name and a co-workers name are on a list and only one will be cut, how can you be sure it isn't you? It doesn't take a rocket scientist to figure out that your people skills have a HUGE affect on their decision.

How long has it been since you brushed up on your communication skills? Do you have any clue how people talk about you when you aren't around? Do they say, "oh yeah Joe is a good guy he goes with the flow."

WRONG! If that's what you are relying on, think again. "Power Up Your People Skills" gives you an entire chapter devoted to "just getting along" and why it's just isn't good enough!

How do you deal with negative situations? Do you just ignore bad behavior in your co-workers hoping it will go away? Do you argue with a protagonist? Whatever you are doing now probably isn't good enough either.

You don't have a minute to waste!

Let's just cut to the chase here. Do you want to keep your job and avoid the chopping block? If so, you have got to set yourself apart from the masses and you need to do it NOW, before the cut comes along.

Take a look at the following list. It's a sample of the arsenal you can put to work to help you KEEP that job:
Develop your telephone techniques
Learn how to have better meetings
Discover assertive skills
And learn how to take criticism as well
Find out how to give constructive criticism
How to be objective
Learn how to delegate
Asking and getting cooperation
Can "Power Up Your People Skills" guarantee you can improve your people skills or even keep your job? Of course not. But it sure can give you an edge. We do guarantee that you will walk away from reading it better prepared for all your relationships personal and professional.

It's priced attractively and considering the alternatives it's a "must have" no matter what your motivation. We'll see you on the inside!



About The Author


Jane Foreman
Jane Foreman's first job was part-time work in a fast-food outlet while she was in college.
Since then, Jane has worked in a variety of different industries and three countries at various levels, including factory jobs and, later, in a couple of executive positions.
She has been semi-retired for the last few years after a serious car accident.
Jane has mainly focused on the importance of good people skills in your work environment, but also shows how to use them to improve the harmony and understanding you have with the most important people in your life, your family and friends.
"
Power Up Your People Skills
" is her first book and based largely on her own experience as well as feedback from friends and the many former colleagues that have kept in touch with her since her retirement.
Jane intends to write more books based on her own experiences and then venture into other areas when she has the time for more research.
Jane believes that almost anyone can learn from her book to improve their personal and business interactions.
She said that this is the book she would have liked to have had when she started her first job. Jane believes that it can help people in almost any industry and may also be invaluable for those who aspire to improve their current employment prospects.
Contents

Introduction
The Importance of Personal Skills in the Technological Age
Just Getting Along Is Not Good Enough
When You are Asking
Saying No
When they Say No
4 Steps To Better Negotiation
People are Very Different

Conversation Clues
Using Humor
Ask Open Questions
Get Their Details
Dealing with People Problems
Don't Judge
Don't Ignore Negative Behaviour
Try to Help
Don't Argue
Avoid the Blame Game
Better Meetings
Set an Agenda
Aim for Agreement, not Victory
Improve Your Telephone Techniques
Calling to Resolve a Problem
Making Phone Calls
Handling Conflict or a Complaint
E-mail
Valuable People Skills
Assertiveness
Self Expression
Constructive Criticism
A Little (Positive) Influence
Accept Criticism
Accepting Praise
Cooperation
Facing the Fire
Delegation
Reliability
Objectivity
Making an Impact at Interviews
Organize
Prepare
The Interview
Body Language

People Skills Power Up Your Life

Families: for Better and Worse
Introducing a New Baby
Competition
Introducing a New Partner
Demanding Relatives
Difficult Relatives
Too Busy to Care

Conclusion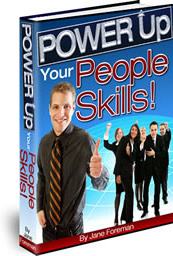 Add to Cart
Add to Wish List
P.S. Hey, what are you doing down here? Grab your copy now and put the principles to work right away!
P.S. Hey, what are you doing down here? Grab your copy now and put the principles to work right away!
Price: $

17.00
Ebook Type:
PDF
Rating:
Site owner:
Put the rating form on your site!
Listing wrong or need to be updated?
Modify it.
Mistake found?
Select spelling error with your mouse and press Esc