Organize Your Life - Find Your Missing Piece Ebook
Organize Your Life - Find Your Missing Piece
Category:
Mind
,
Self Help
Title:
Organize Your Life - Find Your Missing Piece
Author:
Claire McFee
Description:
End The Frustration De-Clutter Your Life TODAY!
Is your house so cluttered it's threatening your marriage?
Does lack of organization have you totally stressed?
Are you looking for a way to end the clutter and stress?
How many times have you reached for your car keys only to find that they aren't where you thought they were? Odds are you were on your way to an important meeting and didn't have the extra minutes it took to rifle through the clutter on the counter to find them!

Or, how about those important receipts you needed for the insurance company? Maybe it's something as simple as remembering where you left the hammer when you hung the new picture last week.

No matter what your situation no one is properly organized. It's really a shame because taking the time to do it just once can be a life-changing experience!

When you are looking at the overall mess, however, the clutter can appear as daunting as climbing Mt. Everest.

What would you say if we could show you how to easily tackle the clutter and deal with it once and for all?

Lucky you! You're in the right place at the right time. We can do just that. "Organize Your Life" is written for YOU! No matter who you are or what your circumstances you need this book. Why? Take a look:
Setting Goals - Discover why setting goals is so daunting
Getting Started - Learn how to turn your words into action
Learn How to Get The Family Involved - Your chances of success are greater when the whole family is involved.
How to Organize Every Area of Your Life - Sound impossible? Well it isn't and we show you how to do it.
That last one sounds pretty intimidating doesn't it? Well it really isn't. The biggest obstacle is just getting started. That's why our first point above is so important.

"Organize Your Life" leads you step by step not only through the physical process but the psychological aspects as well. Learn why things become unorganized and the principles behind establishing new habits.

Discover how to define your home routine and how to take a realistic approach to your space limitations.

If you operate a home business the situation is even more critical. One of the worse things that can happen in a home-based business is constant interruption. Learn how to manage interruptions once and for all.

It's a good bet that if your home is disorganized, then your finances probably are as well. If this is true in your situation, you will appreciate the section on finances and how to set a budget in motion.

Procrastination is probably your enemy if you are facing disorganization in your life. Learn how to deal with it and take it off the table permanently!

We could talk all day long about why you need to be organized. We've more than likely not introduced anything new to you here. You know if you are disorganized. And, if that's the case in your situation, get your copy of "Organize Your Life" right now.

You get all the benefit, and we take all the risk. That's right. If you aren't 100% satisfied we'll give you your money back. No questions asked. But, you will be so pleased with the changes in your life it won't be necessary.

So, grab your copy today and set your plan in motion tomorrow!
About The Authors
Claire McFee
Claire has been a guest on television talk-shows, her writings have been featured in national publications including the Herald Sun and The Age, as well as mainstream magazines like House & Garden, Cosmo, Marie Claire and Practical Parenting to name just a few.
Claire was recently a Finalist at the Melbourne Section International Marketing Awards presented by Dianna Ferrari business creator John Kirkhope. Claire believes that tackling the draining forces in her life (house and head clutter) has been instrumental in the Success of Organize Your Life.
Deb Wilson
Deb is used to adapting to new environments, having moved no less than nine times. Mom of a pigeon pair, she is used to juggling career and family. She has worked since the kids were very young. She actively applies her organizational techniques to both home and work, doing a terrific job of maintaining more than sanity, but all-round health and well-being for herself and all those she cares about.
Julie McRitchie
With four children of her own, all within a four-year span, Julie knows all about the need to be organized and stay sane. With the kids growing up now, Julie is enjoying the opportunity to advance her business skills and shift focus back to her professional dreams. She turned a childhood dream into reality when running her own florist business, and now wants to venture further forth with other endeavours, including Organize Your Life.
Contents
Introduction
Do You Rule Your Life, or Does it Rule You?
Welcome and Congratulations!
Why this Book?
What this book is intended to do
Why be Organized?
Who Can Do This?
Where to Start?
How to Influence Your Motivation, Discipline and Procrastination
An Organizational Metaphor for You
Motivation
Procrastination
Discipline
Turning Words into Actions
There's No Time Like the Present
Goals and Strategies
Why setting Goals can be Daunting
A recap of what we've learned
Goal-setting Tips to Use any Time, any Place
How to Approach Setting Goals and Strategies
Being Realistic to Avoid Disappointment
Remember the Main Objective: Yourself
A Record Keeping System
List-making that Makes Sense
Calendar/Diary/Planner/Organizer
Organizing the Areas of Your Life
Get the Family Onboard
Establishing the Home Routine
You're about to Discover Your Space Limitations
The Destination Usually Reveals Itself
Taking Home Organization to the Next Level
What About the One-of-a-kind Oddities?
Remember to Mind Your Maintenance
Take Advantage of those Little Moments
Tricks and Tools

A Word on Sentimental Value
Putting Spring Cleaning in its Place
The Classic Closet Conundrum
Health and Fitness
Work
Disorganization and Job Satisifaction
Approach your Boss
Home Businesses
Managing Interruptions
Finances
Getting it Done
Don't be Afraid to Ask for Help
Get it Done the First Time
Utilize your Downtime
Give yourself a break
Customize Your Approach
The 'Just for Me' Section
The Holidays: Friend or Foe?
Overcome the Guilt Factor
Help Elderly Relatives De-clutter their Lives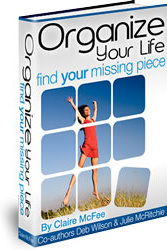 Add to Cart
Add to Wish List
P.S. Please Don't Order this product if you're looking for a fat ebook full of fluff. What you'll get is a mini guide of high quality information that is written by experienced, successful and organized people who put all these methods into practice. Claire McFee has successfully guided many people to adopt her methods.
P.S. Please Don't Order this product if you're looking for a fat ebook full of fluff. What you'll get is a mini guide of high quality information that is written by experienced, successful and organized people who put all these methods into practice. Claire McFee has successfully guided many people to adopt her methods.
Price: $

17.00
Ebook Type:
PDF
Rating:
Site owner:
Put the rating form on your site!
Listing wrong or need to be updated?
Modify it.
Mistake found?
Select spelling error with your mouse and press Esc