Off The Floor: A Manual For Deadlift Domination Ebook
Off The Floor: A Manual For Deadlift Domination
Category:
Sports
Title:
Off The Floor: A Manual For Deadlift Domination
Author:
David Dellanave
Description:
Discover How A Skinny Computer Nerd From Minnesota Uncovered A Little-Known Secret That Skyrocketed His Deadlift From 245 Pounds to Over 600 Pounds – While Forcing His Body To Pack Slabs Of Rock-Hard Muscle Onto His Shoulders, Traps, Back, And Arms...
Manual with almost a hundred pages of content that readers have called "the most they've learned about the deadlift in one sitting" and "flew threw it in one sitting because it flowed so well." Be warned though, you're going to want to immediately go to the gym or garage and train when you start reading.

Here are some of the secrets revealed in the program:
What type of deadlift will widen your back, blow up your traps, and give you erectors like tree trunks.
How the common mantra of "core training" is costing you pounds and risking your back health.
Not doing these lesser-known variations is easily costing you 25 to 50 pounds on your best deadlift.
Deadlifting for high volumes – the piece you're missing.
The truth about lifting straps – and it's probably not what you expect it to be.
The one cheap thing you should add to your gym bag to nearly instantly give you jacked forearms.
The weird-looking deadlift that might be exactly what you need to unlock greater strength.
The deadlift variation you least expect is the one most likely to help your back pain.
The key to perfect form that multiple world champion and freak of nature Dimitry Klokov knows, and you think is wrong.
How to deadlift more often – and put on more muscle – than you ever thought possible.
Why you must change your form when you progress from beginner to a more advanced deadlifter.
The manual is as comprehensive as they come, and includes information on:
Deadlift Training Guide: Lessons I've learned on my quest to become a human crane – and coaching hundreds of people along the way.
Biofeedback Training 101: Everything you need to know to start implementing Biofeedback Training for yourself.
Deadlift Exercise Library: Every critical deadlift variation you need to know. Think the deadlift is as simple as conventional or Romanian? Think again. These variants of the deadlift are the key to unlocking faster gains and unlimited progress.
Accessory Exercise Library: I would sign up for a program that involved nothing but deadlifting, but unfortunately you'd be shortchanging your results. Carefully chosen accessory lifts will round out your strength and speed up your deadlift progress.
The Off The Floor Program: I'm going to be honest, in the end I want you to use Biofeedback Training to become the master of your own programming, but before you're ready to do that you need a stopgap.
Special Topics Section: Want to know how to destroy the competition at your first (or next) meet? Have a nagging weak spot in your pull? Curious about the core controversy? This section will finally answer these questions for you once and for all.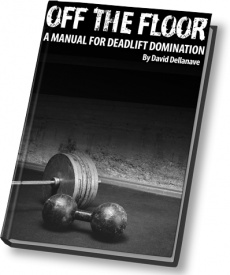 Rating:
Site owner:
Put the rating form on your site!
Listing wrong or need to be updated?
Modify it.
Mistake found?
Select spelling error with your mouse and press Esc