Nurturing Creative Children Ebook
Nurturing Creative Children
Category:
Children
,
Parenting
Title:
Nurturing Creative Children
Author:
Dr. Yew Kam Keong
Description:
How to Increase Your Child's Creativity
Every child is a creative being. The challenge we have as parents, teachers and caregivers is to tap that creativity and maximize a child's potential.
This is no small responsibility. The closer we come to nurturing that creativity in our children the greater the potential for raising a global network of happy adults.

Once children reach the age where they are launched into the world via public education they are suddenly burdened with the pressure to succeed.

Parents and teachers alike turn their focus on getting good grades rather than succeeding as a human being. This focus on academic excellence is extremely damaging to children.

Of course, academics are important. But not important enough to bring tremendous pressure to bear on our children. Especially when the cost affects the goal of happy, well-rounded kids.

Parents would never intentionally apply harmful behaviors upon their children. Usually the parent is following the mold begun by his or her own parents, thereby creating a self-fulfilling prophecy.

Is academic success the most important element to a child's development? Or, is it better to expose children to an environment where children are allowed to play and explore the world around them?

How can you introduce the element of creativity to your child-rearing process? Glad you asked. "Nurturing Creative Children" is the perfect guide to helping you identify and develop creativity in your child.

In addition to learning why nurturing creative children is so important, "Nurturing Creative Children" take a peek at what's inside:
Choosing the right toys
Why nurturing creative children is so important
Developing a love for music
Why a father's involvement is so important
Having fun with empty boxes
Jigsaw puzzles
Brain food
Having fun with coins
Animal magic
21 other tips to nurturing creativity in your child!
The chapter on creative mischief is priceless as is the chapter in praise of "black sheep!"

If you have a child with learning challenges the information on high achievers with learning problems is a must read.

Unless you are willing to turn your children over to the "community" to raise, having a copy of "Nurturing Creative Children" is an absolute must for your home library.

With our 100% money back guarantee you have absolutely no risk at giving it a try. We are certain you will find important tools to add to your arsenal of child-rearing activities. Get your copy now and put it to work right away. Your kids will thank you!
About The Author

Dr. Yew Kam Keong, (Dr. YKK) is the father of four wonderful and lovely children, two girls and two boys.

He was one of the eight international creativity advisers to the famous toy company Lego, Denmark to spearhead a global non-profit project The Next Generation Forum to promote creativity to the children of the world.

Dr. YKK has created many programs for parents, teachers and children to promote creativity and inventions, among which are:
Students Invention Workshops
Creative Parenting Workshops
Young Inventors Camp
He was:
Founder member of Malaysian Mensa
The founder president of the Invention and Design Association of Sarawak (IDEAS).
Founder member of the Malaysian Invention and Design Society (MINDS) and
based in Geneva, Switzerland.
Former adviser to the president of the International Federation of Invention Associations (IFI
Contents:
Unesco on Creativity
Why Nurturing Creative Children is So Important
Preface
Tips for Nurturing Creative and Happy Children
Choosing the Right Toys
Music
Affirmations
A Trip to the Supermarket
Take a walk in the garden
Swimming Underwater:
Creative Art
Fun with empty boxes
Fantasy Play
The Map of the World
What Are They Selling?
Watching Clouds
Benefits of Father's Involvement
Paper Fantasy
Jig-saw Puzzles
Stacking Cans
Fun with coins
Singing
Brain Food
Telling Fairy Tales
Concentrate on Strengths not Weaknesses
Juggling
Milk-powder scoop
The Orange Experience
Brainteasers
Animal Magic
Visits to Science Centers and Museums
Playing with Dough
Collage
Fun with Shadows
The Creative Mischiefs of Little Kamal
Feline Helpers
Invisible Art - "Germ Warfare"
Balanced Meal
Education
A Little Boy and the Sea
In Praise of Black Sheep
The Edison Trait
High Achievers with Learning Problems
If I Had My Child to Raise Over Again
YKK Quotes on Nurturing Creativity in Children
Artists
Boredom
Brain
Breast-feeding
Childhood
Community
Computers
Creativity
Education
Environment
Examinations
Fairy Tales
Family
Games
Genius
Gifted
Grown-ups
Home
Homework
Imagination
Inspiration
Judgement
Learning
Mind
Music
Parents
Play
Playfulness
Reflection
Schools
Swimming
Teachers
Technology
Television
Theatre
Thinkers
Toys
Recommended Websites
Feedback from a Parent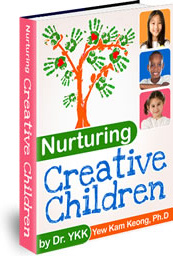 Add to Cart
Add to Wish List
P.S. Turn your child around today! Tap their creativity. Some day they will thank you!
P.S. Turn your child around today! Tap their creativity. Some day they will thank you!
Price: $

17.00
Ebook Type:
PDF
Rating:
Site owner:
Put the rating form on your site!
Listing wrong or need to be updated?
Modify it.
Mistake found?
Select spelling error with your mouse and press Esc