North, Far North of Gethsemane, God Spared a Tear for the Promised Land – The Second Book of Evlampia Ebook
North, Far North of Gethsemane, God Spared a Tear for the Promised Land
Category:
Fiction
,
History
Title:
North, Far North of Gethsemane, God Spared a Tear for the Promised Land – The Second Book of Evlampia
Author:
Demetrios S. Theodoropoulos, MD, DSc
Description:
Short description: Discussions between an emperor and a heresiarch run predictable courses: the one's curiosity will slowly but surely give way to suspicion, the other's audacity will eventually grow uninhibited to outright encroachment. Bit when it becomes evident to both of them that the reasons for their encounter are not simple and that the outcome of their deliberations is not for them to decide, they resort to extraordinary measures: one puts on a disguise to find facts, the other reveals secrets in order to better serve a secret faith.
About the series: North, Far North of Gethsemane, God Spared a Tear for the Promised Land - The Second Book of Evlampia is the second book in the tetralogy of Evlampia. The tetralogy of Evlampia is based on the tetradic idea of the four basic elements of the natural space - air, earth, water, and fire.
This e-book is available for purchase for $4.00 in PDF, EPUB (iBooks, Kobo, Nook, Android, Sony, and other eReaders), and MOBI (Amazon Kindle Devices) format.
Short excerpt from Chapter 1: It must have been Hippocrates who first recorded, centuries ago, the influence that external conditions exert on character and breeding, and how significantly they contribute to the long and arduous shaping of a political conscience. (a) Having lived too early, the famed physician did not enjoy the opportunity, amply afforded to our generation, to appreciate this simple fact: that the exceptional constituents of a given place's fortunate makings, the ones which are conducive to a generous and free spirit, are not accidents of geography any more than they are accidents of history, and that, in fact, they are no accidents at all, because there is logic in the dispensation of space, and such logic is actually even more evident and open to study than the logic of time. Hippocrates also knew - but would not write of - other places, where unrelieved melancholy, petty animosity and essential malice are bred daily; again, not by some kind of coincidence but because such is the demon that holds on to them, and he does so with the resolute tenacity that characterizes their species. Perhaps this is what the Latins tried to express by that strangely pedantic tautology of theirs; the so often quoted, rarely heard, and never fully appreciated "cuius regio, eius religio." (b)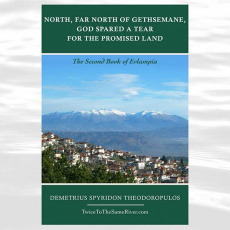 Ebook Type: PDF
Rating:
Site owner:
Put the rating form on your site!
Listing wrong or need to be updated?
Modify it.
Mistake found?
Select spelling error with your mouse and press Esc