Natural Pain Management Ebook
Category:
Health
,
Self Help
Title:
Natural Pain Management
Author:
Teresa King
Description:
How to Conquer Pain Once and For All by Attacking the Source and Do It
- A Practical Handbook For Self-Help
Chances are, you may have heard the story about the guy who goes to his doctor and tells him, "Doc, it hurts when I lift my arm this way," as he twists his arm in an awkward position.
The doctor responds, "then don't move your arm that way," and hands the guy a bill for $100!
Plenty of people have laughed at that joke, but if you suffer from acute or chronic pain it's no laughing matter!
It's all in your head?
Have you heard that one before? Maybe it's a backache, or a headache or a throbbing joint or muscle. You go to your doctor and he can't find anything wrong. He writes you a prescription for pain medication and suggests you see a neurologist.
The neurologist does an exam and tells you that you need to see a specialist and writes you another prescription for pain medication.
The specialist tells you that all you need is physical therapy, writes you another prescription for pain medication and sends you off to see a physical therapist.
Am I crazy?
By this time you probably feel like the doctors are right and maybe you are nuts! No, you aren't crazy but you do need help.
If you have ever been on a medical merry-go-round like this you understand the frustration. Pretty soon, instead of feeling better all the aggravation has just contributed to the original problem.
Okay, I'm not crazy, so what's next?
First, what you need is an understanding of what pain is and what it is not. Once you understand that, you can begin to manage your pain instead of fighting it.
Here is where the handbook, Natural Pain Management comes in. Once you understand what causes your pain you can explore some of the alternative methods for dealing with your pain.
Learn treatments for conditions like:
Back pain
Arthritis
Chronic headaches
Aching joints
Irritable bowel syndrome
Menopause
Muscle pain
Migraines
There are alternative therapies that are very effective for specific conditions. If you have ever wondered about the efficacy of alternative therapies, this is another area that is explored in Natural Pain Management. Some of these therapies are:
Homeopathy
Acupuncture and acupressure
Chiropractic
Tai Chi
Massage Therapy
Herbal Therapies
Magnetic Therapy
Biofeedback
Yoga
When it comes to you pain, there is no such thing as "one size fits all." No one reacts to pain in the same way, just as no one reacts to any type of illness identically.
There are thousands of people who have made the decision and learned how to manage their healthcare with alternative therapies.
Instead of popping another pill, isn't it about time that you investigated alternative methods to dealing with your pain? You can do that with Natural Pain Management.
Whether for yourself or a loved one, don't hesitate. Take control and discover how to deal with your pain today!
Medical information obtained in this e-book is not intended as a substitute for professional care. If you have or suspect you have a medical problem, you should consult a healthcare professional before trying different natural remedies for your pain. About The Author Teresa King
Teresa King writes on many subjects and after many years of writing and spending long hours on the Internet, she ruptured a disk in her neck.

It was not easy at first, and she went through physical therapy, which is very expensive and most insurance companies do not cover very much of the bill, she thought that if she self-healed, all would be well.

After almost two years of pain and misery she decided to discover more about pain and how to soothe pain, and discover to live with pain. Her success with her own pain made her determined to write a ebook to help others understand that there are many ways to help with pain, and to not give up hope.
Contents
1. Natural Pain Management - An Introduction
2. What is Pain?
3. Describing Your Pain
4. Pain Theory - The Mechanism of Chronic Pain
Loesser's 'Onion'
Gate Control
5. Causes, Affects and Symptoms of Pain
6. Fear, Anxiety, and Pain
7. Natural Pain Modulation
Natural beneficial agents present in vegetables and fruits
Natural Regulation through your Diet
Herbal Medicines as Painkillers
8. Arthritis
Symptoms of Arthritis
Types of Arthritis
How do Doctors diagnose your arthritis?
Prevention is better than Cure
9. Back Pain
Diagnosis of Back Pain
Causes of Back Pain
Treatment for Back Pain
10. Chronic Headache
Causes and Remedies for Chronic Headache
11. Fibromyalgia
Diagnosis of Fibromyalgia
Symptoms of Fibromyalgia
Treatment for Fibromyalgia
12. Irritable Bowel Syndrome
Diagnosis of Irritable Bowel Syndrome
Symptoms of Irritable bowel syndrome
Treatment for Irritable Bowel Syndrome
13. Joint Aches
14. Menopause
Effective management of Menopausal symptoms with natural remedies
15. Migraine
Natural Remedies for Migraine
16. Muscle Pain
17. Pain Management
18. Treatment Options for Pain
Acupressure and Acupuncture
Nutritional and Herbal therapies
Homeopathy
Chiropractic
Relaxation Techniques
Massage
19. Alternative Approaches to Pain Relief
20. Natural Alternatives to NSAIDs
21. Fifty Natural Ways to Ease Your Pain
22. Best Natural, Herbal and Nutritional Pain Therapies
23. Twelve Steps to Managing Your Pain
24. Exercises to Relieve Back Pain
25. Natural Anti-inflammatory Supplements
26. Can Music Be Effective in Pain Relief?
27. How to Lessen Your Pain in Just Six Weeks
28. Three Mind-body Techniques to Cope with Chronic Pain
29. Acupuncture Treatment
30. Affirmations for Pain Control
31. Biofeedback
32. Creative Visualization to Reduce Pain
33. How Exercise Helps Relieve Pain
34. Exercise for Pain Control
35. Electrical Nerve Stimulation
36. Journal Writing
37. Magnetic Therapy
38. Massage Therapy
39. Meditation for Relaxation and Pain Relief
40. Relaxation Therapy
41. Tai Chi for Pain Relief and Calm
42. Yoga for Back Pain Relief
43. Safe Exercises during Pregnancy to Help Minimize Back Pain
44. Healing Yourself - How to Get Yourself Pain Free
45. How to Avoid Running Injuries
46. How to Avoid Yoga Injuries
47. How to Keep Your Workouts on Track And Avoid Pain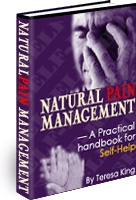 Add to Cart
Add to Wish List
P.S. If you suffer from acute or chronic pain, whatever you do, please don't pass up this opportunity to discover how to deal with your pain once and for all. Natural Pain Management is risk free. You owe it to yourself to check it out!
P.S. If you suffer from acute or chronic pain, whatever you do, please don't pass up this opportunity to discover how to deal with your pain once and for all. Natural Pain Management is risk free. You owe it to yourself to check it out!
Site owner:
Put the rating form on your site!
Listing wrong or need to be updated?
Modify it.
Mistake found?
Select spelling error with your mouse and press Esc