My Ice Fishing Tips Ebook
Category:
Fish and Fishing
Title:
My Ice Fishing Tips
Description:
When you crack open this eBook you'll discover ice fishing Tips which will teach you to:
Lean how to find the fish under the ice and seduce them to bite
Know the special tricks to catch Bows, Burbot, Bluegill, Crappie, Lakers, Panfish, Perch, Pickerel, Rainbows, Trophy Northern Pike, and Whitefish
How artificial baits such as Berkeley's Gulp can be a better choice over live bait such as wax worms, grubs, maggots or minnows (This is crucial when selecting lures. Most lures are a complete waste or money but chosen correctly can double your catch chances!)
How to use your auger noise to magnetically draw the fish to you
Soak your minnows in this "secret sauce" and you'll catch walleyes by the bucket full
How never to jig up a tip-up incorrectly ever again (you will love how simple this one technique makes it)
Learn the ways to produce fish even during the hard times of a mid-winter slowdown
Fish lose their teeth constantly. How you can capitalize on this anatomical fact and win
Discover to secret to setting the hook (Timing is everything!)
The secret to making jigging with live bait using tip-ups more effective than with artificial bait
How to use spring bobbers to dramatically increase your bite sensitivity
Why knowing which hook and line size to use will make your fish bucket overflow. (What you find out will surprise you)
You could be the Jacques Cousteau of ice fishing. Using the best fish locator makes all the difference
Learn the technique for proper tip-up selection for your favorite spot's conditions
Learn why cheaper mono filament is more suitable for the rigors of ice fishing (Expensive lines are for amateurs)
How long your leader should be to get the most strikes
Learn the best times to ice fish... THEIR FEEDING TIMES... Plus, learn how to catch them even outside their feeding times! (It's a secret you must follow or you'll get nothing.)
Learn the best knot tying technique (Get the boy scout advantage)
How to adjust your bait depth to maximize your chances of catching your favorite type of fish (Crappies, Perch, Pickerel, Rainbows, Trophy Northern Pike, and Walleye all swim at different levels) (If you go too deep you'll never catch anything!)
How to whip the fish up into a feeding frenzy (Here's a hint: Meow!)
The choicest secret fishing holes from around world. They could be in your backyard
The importance of scent to catching a fish on a calm, frozen lank and how fast it disperses. The relatively unknown tip of scenting lures to help attract fish. (Yes, smell is possible under water. It travels very well as water-soluble particles.)
Learn the correct line color to choose for maximum success (Fish are not color blind!) The right color and finish of the lure you select. (It depends on the brightness of the day and the clarity of the water.)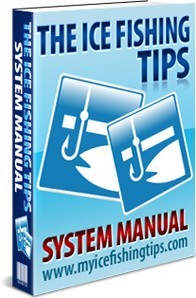 Rating:
Site owner:
Put the rating form on your site!
Listing wrong or need to be updated?
Modify it.
Mistake found?
Select spelling error with your mouse and press Esc