Muscle Explosion! 28 Days to Maximum Mass Ebook
Muscle Explosion! 28 Days to Maximum Mass
Category:
Body
,
Fitness
Title:
Muscle Explosion! 28 Days to Maximum Mass
Description:
"How To Break All The 'Rules' In Your Training and Totally SHATTER Your Genetic Barriers to Maximum Mass NOW!..."
Because here's the deal...your muscle-building limitations aren't necessarily all genetic! They could be just caused by the way you train and eat...and the best part is...THESE LIMITATIONS CAN BE FIXED!
So here's what you're going to do when you're on the "Muscle Explosion" program...
You'll perform specific training techniques that develop more efficient and dense circulation to your muscle cells so that they get ALL THE NUTRIENTS THEY NEED to grow like weeds and recover FASTER.
You'll use an INCREDIBLE training technique that, in five days, will BLOW YOUR MIND, delivering the results you would normally see from 5 MONTHS of training.
You'll do specific training that targets your connective tissue to increase your frame and foundation strength to give your body the THICK FRAMEWORK to hang GOBS of new muscle on.
You'll do exercises that focus like LASERBEAMS on expanding your fascia so your muscles have the ROOM TO GROW that they NEED.
You'll follow a specially-designed, highly-tuned "Nutritional Slingshot" eating program that works in harmony with and allows you to take FULL advantage of EVERY SINGLE TRAINING TECHNIQUE in the program. It will literally FORCE muscle onto your body.
And remember when I said you were going to do almost EVERYTHING "WRONG" to shatter your genetic limitations?
Here's a quick list of a few of the things you're going to do "wrong" in this program that go DIRECTLY against conventional muscle-building wisdom...
you're going to REDUCE your caloric intake to well below maintenance levels (relax...it's only temporary and it's all in HOW you do it...and most importantly WHY)
you're going to do VERY high rep sets (30 to 50+ reps per set)
you'll also be doing very LOW rep sets (3 reps per set)
you're NOT going to stuff yourself full of food constantly...just strategically
you're going to train the same EXERCISE 5 days in a row (sounds even crazier but the results are just mind-blowing!...)
you'll going to learn how to train using heavy weight for high reps (in fact, I'll show you how to take a weight you can normally do for 5 reps and do it for 50!)
you're going to train the same bodypart 5 days in a row (yep, I know it sounds crazy...)
you'll eliminate protein from your diet completely (but in a very specific way and for a VERY specific purpose)
you're going to get VERY little rest in between those low rep sets
you're going to set out SPECIFICALLY to overtrain as a MAJOR GOAL - you get REAL results by training ON THE EDGE, not hanging back with the crowd (when done right, it's one of THE most powerful training concepts in existence...done wrong, it'll stop your progress COLD).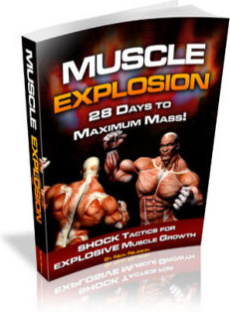 Rating:
Site owner:
Put the rating form on your site!
Listing wrong or need to be updated?
Modify it.
Mistake found?
Select spelling error with your mouse and press Esc