Mortgage Secrets Ebook
Category:
Entertainment
,
Finance
Title:
Mortgage Secrets
Author:
Susan Lassiter-Lyons
Description:
"You're About to Learn Secrets That Most Real Estate Investors Will Never Know About How to Finance Any Deal In Any Market."
Here Are the Secrets
This is the *actual* list of secrets from the Mortgage Secrets for Real Estate Investors package:
Hard Money Loan Secrets - What is hard money and where can I get those great rehab loans?
Credit Score Secrets - Find out what score you need, how can you raise it and WHY the lender's score is always lower than the score you monitor online.
Deferred Maintenance - This SHOULD be a Secret! - What is deferred maintenance and how it can kill your deal fast!
Seller Concession Secrets - Learn how you can get the seller to legally pay your closing costs OR get you a lower rate.
Rural Property Secrets - Properties in the boonies are harder to finance. Find out the rules for rural properties.
Cross Collateralization Secrets - Discover a secret technique that can get you 100% financing AND get questionable deals done fast.
Loan Application Secrets - One phrase in one section of a loan application can mean automatic DENIAL for you. Find out what it is.
Appraisal Secrets - It's All in the Approach - The 3 different appraisal approaches and how to get your own (accurate) comps.
The Biggest Secret of All - Yield Spread Premium - YSP is the biggest secret in mortgage finance. This is where you find out WHO has been ripping you off all these years and how to END it.
100% Loan Secrets - They can still be done - you just have to know the secret.
Your Secret Ratio - This ratio is a green light/red light for undersriters. Find out what your ratio is.
Your Secrets - What You Do May Cost You - Real Estate Investor = Drug Dealer. That's what underwriters think - find out why.
The MLS Listed Refinance Secret - Trying to refinance a house that's listed for sale on the MLS? You are in for a shockingly rude awakening.
Loan Product Secrets - The secret to great financing is all in the loan product you choose. Find out which is best for you.
Non Recourse Loan Secrets - Non-recourse means they can't come after you if the bank forecloses. I show you how to get non-recourse financing.
Loan Underwriting Secrets - Ahhh, the Great and Powerful Oz. I take you behind the curtain and let you know EXACTLY what happens when the underwriter approves (or declines) your loan.
Mobile Home Secrets - If you can drive it away, they don't like it. Learn how a secret "tag" located on the mobile home will determine whether you can get financing or not!
If you're self-employed, lenders are especially cautious. Find out what they look for and how to outsmart them.
Rate Lock Secrets - All rates have to be "locked in." Find out the best time to lock and how closing a week earlier can save you $1,000's over the life of your loan.
Reserve Secrets - Find out to the penny what you need in the bank to qualify for any loan.
Hazard Insurance Secrets - Learn how to save $1,000's here, too!
The Problem with Those Investment Gurus - Gurus can get you into trouble. I go to the same seminars that you go to and I HATE it when they tell you "if the deal is good enough, the financing will apear." Bull!
Pre-Approval Secrets - Learn the difference between a pre-approval and a pre-qualification.
The Secret Agencies - Find out more about Fannie and Freddie and the "agencies" that make all the rules.
Industry Secrets - Almost all mortgages made by any lender in the US are sold off into the secondary market to Wall Street investors and Fannie and Freddie. They make all the rules.
Rate Secrets - Learn about the 3 mortgage "channels" - wholesale, correspondent and retail - and who really has the best rates.
Property Type Secrets - It may surprise you to learn that there are more than 50 property types. Find out which ones lenders love... and which ones they hate!
Double Close Secrets - Find out what it is, why lenders hate them AND how to find a title company to do one.
Mortgage Rate Secrets - why do they go up and down? - Learn what economic indicators cause interest rates tomove so you can time the market like a pro.
Secrets of As-Is vs. Subject-To - Learn the difference between the as is value and the ARV.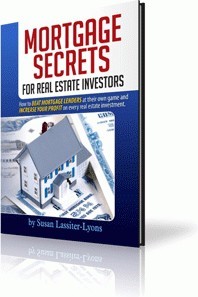 Rating:
Site owner:
Put the rating form on your site!
Listing wrong or need to be updated?
Modify it.
Mistake found?
Select spelling error with your mouse and press Esc