More Craft Recipes Ebook
Category:
Entertainment
Title:
More Craft Recipes
Description:
1243 Craft Recipes
427 Pages
Samples:
CLAY ORNAMENTS
4 c. all-purpose flour
1 c. salt
1 1/2 c. cold water
Christmas cookie cutters
Shellac
Ribbons for hangers
Mix flour and salt together. Slowly add water while stirring with a fork until soft dough forms. Turn out on lightly floured surface and knead until smooth, adding a small amount of water or flour, if needed. Roll dough on a floured surface to 1/4 inch thickness. Cut with cookie cutters. Place ornaments 1 inch apart on ungreased baking sheet. Punch "hanging holes" with a drinking straw. Bake in a preheated 300 degree oven for 30 to 45 minutes. Baking time will vary with size of ornaments. When completely cool, you may paint ornaments with Tempra paints or leave natural. Coat with shellac. Note: Dough will keep indefinately if stored in an airtight container in the refrigerator.
FUNNY PUTTY
1/4 c. Elmer's glue
2 tsp. Sta-Flo liquid starch
Combine glue and starch; mix well and allow to dry slightly until workable. Store in airtight containers.
SOAP PAINT
1 c. powdered detergent
4 tbsp. liquid starch
1 tbsp. powdered Tempra
Beat detergent and starch with mixer until peaks form. Add Tempra and mix well. Apply with hands, brushes or sticks.
PAINTBRUSH COOKIES
3/4 c. butter
1 c. sugar
2 eggs
1 tsp. vanilla
2 1/2 c. flour
1 tsp. baking powder
1 tsp. salt
Mix shortening, sugar, eggs and vanilla. Mix flour, baking powder and salt. Stir together and chill 1 hour. Heat oven to 400 degrees. Roll out 1/8 inch thick. Cut in desired shapes. Place on ungreased baking sheets. Paint with egg yolk paint. Bake 6 to 8 minutes. --EGG YOLK PAINT:--
1 egg yolk
1/4 tsp. water
Divide mixture and add food coloring. Paint designs on cookies with paint brush. If paint thickens, add few drops of water.
PAINTBRUSH COOKIES
1 egg yolk
1/4 tsp. water
Food color
Divide 1 egg yolk and 1/4 teaspoon water among several cups. Color each with a food color. Paint onto sugar cookies prior to being baked with paintbrush. If "paint" thickens, just add a few drops of water.
See Free Sample E-book More Craft Recipes free .pdf
(165 kB)
Table of Contents:
CLAY ORNAMENTS
FUNNY PUTTY
SOAP PAINT
PAINTBRUSH COOKIES
PAINTBRUSH COOKIES
COOKIE DOUGH ORNAMENTS
PAINTBRUSH COOKIES
PAINT BRUSH COOKIES
PAINTBRUSH COOKIES
PAINTBRUSH COOKIES
BUBBLE RECIPE
BUBBLES
CINNAMON CHRISTMAS ORNAMENTS
APPLE POTPOURRI
SIMMERING POTPOURRI
WATERPROOF - GLASS GLUE
SILLY PUTTY
PLAYDOUGH (No - Cooking)
PEANUT BUTTER PLAYDOUGH - Edible
BEST PLAYDOUGH EVER!
SAWDUST DOUGH
SALT & FLOUR CLAY - BREAD DOUGH
COFFEE GROUND DOUGH
SCENTED CINNAMON CUTOUTS
DOUGH ORNAMENTS
PLAYDOUGH
SAND SCULPTURE CLAY
FACE PAINT
FEED THE BIRDS - SUET SEED CAKES
BUBBLES
GIANT CHALK STICK
FINGER PAINT
PERFECT HUG
CRAFT TIP
STICKERS
PLA-DOUGH
FAVORITE PLAYDOUGH
RECIPE FOR FINGER PAINT
CARD HOLDER
WRAPPING PAPER
SANTA BROWN BAG
JINGLE BELL
FARMHAND PUPPETS
CHIMES
HUMMER KAZOO
TIN-CAN STILTS
FUN FANS
BUG BOOKMARK
PICTURE PUZZLE
TOOTHPICK AND PEA CONSTRUCTIONS
MACARONI JEWELRY
SODA POP BANKS
SPICY POMANDERS
PASTE
DRIED APPLE WREATH
LAVENDER POWDER SACHET
HOMEMADE CANDLES
HOMEMADE SOUP WITH BLEACH
QUILT FRAME
FRUIT LEATHER
CAMOMILE SHAMPOO
PUFF BLOCKS TO MAKE A PILLOW OR QUILT
SMALL PLASTIC CANVAS RAINBOW
STRINGING DRY MACARONI
SEWING CARDS
JAR LID COVERS
PLAY DOUGH
SOAP BUBBLES
NO COOK PASTE
SHAVING-SOAP FINGER PAINTS
FLOUR AND WATER FINGER PAINT
CLAY
SPOOL KNITTER
KNITTER PICK
SPRING POTPOURRI
A BIBLICAL RECIPE FOR EFFECTIVE CHILD TRAINING
HOMEMADE MODELING CLAY
CHRISTMAS SPONGE ART
STATIONARY OR CARDS
ROSE WATER
GELATIN CRITTERS
CHOCOLATE FINGER PAINT
BUBBLE BATH
HOMEMADE PASTE
FINGER PAINT
SILLY PUTTY
FUNNY FACE MAKE-UP
SOAP CRAYONS
HOMEMADE PLAYDOUGH
BAKERS DOUGH
MY FIRST TERRARIUM
PLAY DOUGH
DECORATOR BAGS
FINGER PAINTS
FACE PAINTS
BATH SALTS
SOAP FLAKE SCULPTURES
GIANT SOAP BUBBLES
EGG YOLK PAINT
EGG CARTON CREATIONS
PLAY DOUGH
EMERGENCY SUBSTITUTIONS
CINNAMON ORNAMENTS
JOURNALS
CHORE CHART
EASY SPLASH PLACE
TOOTHPICK ACT
BEAN - CRACKER ART
NANNY'S EMERGENCY KIT
SNOW PAINTING
PAINTING
BAKER'S CLAY
SOAP CRAYONS
MUFFIN PAN CRAYONS
FINGER PAINT
EDIBLE FINGER PAINTS
FACE PAINT
SOAP BUBBLES
GLURCH (HOMEMADE SILLY PUDDY)
COOKED PLAY DOUGH
PLAY DOUGH
PEANUT BUTTER PLAY DOUGH
DINOSAUR FOOD
STONE SOUP
DUMP CAKE
YUMMY PEANUT BUTTER BALLS
BUTTER
FROZEN YOGURT DESSERT
ORANGE YOGURT FROZEN DREAMS
YOGIE PEAR POPS
BABOON BUTTER
CUT OUT COOKIES
CREMEDOODLES
SPINACH OMELET
PEANUT BUTTER BANANA BALLS
PUDDING WICHES
GORP
CHERRY CAKE
JIG-TIME TARTS
YOU CAN EAT IT DOUGH
EDIBLE DOUGH
PAINTED TOAST
COOKIE PAINTS
PUMPKIN PIE
TURKEY
TURKEY
TURKEY
MASHED POTATOES
TURKEY
GREEN PEAS
PUMPKIN PIE
PUMPKIN PIE
PUMPKIN PIE
GIANT CHALK STICK
SQUEEZE BOTTLE PAINT
SOAP POWDER FINGERPAINT
SALT DRIP PAINT
CORNSTARCH FINGERPAINT
SHINY PAINT
'WASHABLE' EASEL PAINT
UNCOOKED PLAYDOUGH
COOKED PLAYDOUGH
COOKED PLAYDOUGH
HARDENING SALT CLAY
RUBBERY PLAYDOUGH
SOAP SCULPTING STUFF
CLAY JEWELRY MIX
DRYER LINT "PAPER MACHE"
BOOKBINDER'S PASTE
PAPER PASTE
GLARCH (GOOP)
BRIGHTLY DYED PASTA
MAGIC CRYSTAL GARDEN
BIG BEAUTIFUL BUBBLES
TEDDY BEAR SUNDAES
ICE CREAM CLOWNS
ICE CREAM PIE
BANANA SURPRISE
ERIC'S QUICK GRILLED CHEESE SANDWICH
YUMMY COOKIES FOR KIDS TO COOK
ARTIST'S PUNCH
BANANA SHAKE
GHOUL-AID
BIRDS NESTS
DIRT CUPS
PLAYMATE PIZZAS
ELEPHANT STEW
GRANDPARENT'S DAY SURPRISE
SNIFF EBOOKS
RAIN/SNOW CATCHER
CRYSTAL GARDEN
3-D REINDEER
GOURD GOBBLERS
ROLY-POLY SANTA
SAWDUST MODELING MATERIAL
CREPE PAPER MODELING PLASTER
YUMMY BIRD FEEDERS
DOGGIE BISCUITS
NONHARDENING CLAY
BAKER'S CLAY
DYEING MATERIAL
MAKING NATURAL DYES
NATURAL EGG DYES
MAGIC WRITING SURFACE
NEWSPRINT TRANSFER
COLORED SAND
INSTANT ERASE INK
INVISIBLE INK
DESIGNS YOU KNEAD FOR SPECIAL OCCASIONS
SILLY PET SPIDERS
HOMEMADE SOAP BUBBLES
CINNAMON ORNAMENTS
FOOD COLORING FIREWORKS
VEGETABLE PRINTING
POSTER PAINT
SOAP FLAKES PLASTER OR FINGER PAINT
EFFERVESCENT BATH SALTS
MODELING CLAY
LAUNDRY STARCH FINGER PAINT
SODA AND CORNSTARCH DOUGH
PLAY DOUGH
PEANUT BUTTER PLAY DOUGH
POPSICLES FOR CHILDREN
SILLY PUTTY
NANCY'S PLAY DOUGH
SMELLY PLAY DOUGH
MISS RUTH'S PLAY DOUGH
APPLE FRITTERS
MALT'S SPECIAL RECIPE
BIRD SEED
S.'S SANDWICHES
MINI PIZZAS
PIZZA BUNS
GREG'S PIZZA SLICES
KITTY FOOD OR PUPPY CHOW
PEOPLE PUPPY CHOW
POPCORN BALLS
MICROWAVE "CARAMEL" CORN
CARAMEL CORN
CHOCOLATE - CHIPPED NUTS
PEANUT OR RAISIN CLUSTERS
PEANUT BUTTER APPLES
CHAD'S AFTERSCHOOL TREAT
DANE'S FAVORITE CRUNCHY PEANUT BUTTER COOKIES
S'MORES
GOLD DROPS
SWEET SNACK MIX
CRISPIX HOLIDAY SNACK
TOASTED PUMPKIN SEEDS
CUPCONES
FINGER JELLO
HOT CHOCOLATE MIX
SNOW CREAM
DEBBIE & GARY'S SNOW ICE CREAM
FINGER PAINT
PLAYDOUGH
OOBLICK
SUPER SOAP BUBBLES
HOLIDAY ELEPHANT STEW
ICE CREAM CONE CUPCAKES
ORANGE JULIUS TYPE DRINK
DIRT CUP
SKILLET PIZZA-WICH
HAM ROLLS
ICE CREAM CONE CUPCAKES
MATT'S PLAY DOUGH
KIDS STUFF
CARAMEL CORN
SILLY PUTTY
SLIME
LIQUID BUBBLES
FINGER PAINT
INVISIBLE INK
PAPER MACHE
AMANDA'S PIZZA MUFFINS
RACHEL'S SOFT PRETZELS
PLAY DOUGH
PUPPY CHOW
SHAKE
PEANUT BUTTER BALLS
RAGGEDY ANN SALAD
OYSTER CRACKERS
DRIPLESS POPSICLES
SHIRLEY TEMPLE COCKTAIL
PUPPY CHOW
BISCUIT PIZZAS
POTATO CHIP CHICKEN
HAMBURGER COOKIES
VERY EASY FRENCH TOAST
CARAMEL DIP FOR FRUITS
GRAMS SPAGHETTI
NO BAKE CHOCOLATE OATMEAL COOKIES
APPLE SURPRISE
PLAY DOUGH
COOKED DOUGH AND CLAY
SASSY SANTA DESSERT
BASIC BUBBLES
IRIDESCENT SOAP BUBBLES
PLAY DOUGH
PLAY DOUGH
COOKED PLAY DOUGH
NONHARDENING NO-COOK PLAY DOUGH
PLAY DOUGH
PLAY DOUGH
CLOUD DOUGH
BOOKBINDER'S PASTE
SUGAR FLOUR PASTE
SOAP PAINT
FINGER PAINT
SALT PAINT
CORNSTARCH PAINT
SAND PAINT
P.'S CLAY
CRUNCHY DOUGH
WATER WINDOW
MARSHMALLOW SNOWMAN
NEW WAY TO COLOR EASTER EGGS
BAKED FRENCH TOAST WITH NUT TOPPING
BANANA BREAD
CHERRY COFFEE CAKE
CHRISTMAS BREAD
CRANBERRY BREAD
IRISH SODA BREAD
LEMON BREAD
PUMPKIN BREAD
ITALIAN SAUSAGE BREAD
HOT 'N' SPICY BERRY CIDER
HOT COCOA MIX
AUTUMN FROST PUNCH
HOT MULLED CRANBERRY ORANGE CUP
ROASTED & SALTED NUTS
MOCK CHAMPAGNE
PEANUT BUTTER SANDWICH
WITCHES BREW PUNCH
WILLIAMSBURG FRUIT PUNCH
THE CAT'S WHISKERS PUNCH
SPICED TEA
WASSAIL
THE MAKING OF GOD'S CHILDREN
ROSE MILK SILK BATH
MARJORAM SAUSAGE PLUNGE BATH
GONE WITH THE WIND BATH
VICTORIAN POSEY BATH
A HAPPY HOME
HOMEMADE PLAY DOUGH
HOMEMADE "SILLY PUTTY"
CREATIVE CLAY
PANTRY PLANT FOOD
GLASS CLEANER
BOLONEY SANDWICH
RECIPE FOR RAISIN BREAD
HOW TO BAKE A CAKE
QUICK PIZZA
CHOCOLATE CHIP COOKIES
HUSBAND PLEASIN' STEW
STEFIE SPECIAL
WHOP BISCUITS
COOKING WITH KIDS
CANDY CLAY (EDIBLE CLAY)
PLAY DOUGH (NOT EDIBLE)
JELLO JIGGLERS GELATIN SNACK
ASHLEYS FAVORITE POPCICLES
JELLO GELATIN DIXIE LOLLIPOPS
COOKIE DUNK PUDDING
INSTANT BANANA PUDDING
INITIAL CRACKERS
NUTTY NUMBERS
MONSTER TOAST
SOFT PRETZELS
YUMMERS
HEART TO HEART PEANUT BUTTER AND JELLY COOKIES
PEANUT BUTTER BALLS
ANTS ON A LOG
EGG BOATS
TUNA TREATS
VEGGIE BITES
QUICK KABOBS
SUNSHINE SALAD
RAISIN ENERGY SNACK
YOGURT AND GRANOLA
PLAY - DOH
KOOL KLAY
FACE PAINT
SILLY PUTTY
CINNAMON ORNAMENTS
HOMEMADE FACE PAINT
MODELING DOUGH
HALLOWEEN FACE PAINT
FINGER PAINT
SILLY PUTTY
SILLY PUTTY
SILLY PUTTY
FINGER PAINTS
CINNAMON ORNAMENTS
CINNAMON ORNAMENTS
PLAY - DO
SILLY PUTTY
PEANUT BUTTER PUTTY
SILLY PUTTY
RAINBOW FINGER PAINTS
SCENTED PLAY DO
AIR FRESHENING ORNAMENTS
BUBBLE - BLOWING FUN
BUBBLE RECIPE
FINGER PAINTS (NON-EDIBLE)
FINGER PAINTS
CINNAMON ORNAMENTS
KOOL AID MODELING DOUGH
FINGER PAINTS
BUBBLE - BLOWING FUN
BUBBLE RECIPE
CINNAMON ORNAMENTS
FINGER PAINT
SILLY PUTTY
NO COOK FUN DOUGH
CINNAMON ORNAMENTS
BUBBLE SOLUTION
FINGERPAINT
PLAY GOOP
CINNAMON ORNAMENTS
ULTIMATE BUBBLE SOLUTION
HOMEMADE PAINT
CREATIVE DOUGH
SALT DOUGH
PLAY - DOUGH
FINGER PAINT
FACE PAINT
SPICE ORNAMENTS
FINGER PAINTS
FACE PAINT
FINGER PAINT
DOUGH ORNAMENTS
FRIED DOUGH
FINGER PAINT OR CRAFT COLORS
PAPER MACHE
FINGER PAINT
CINNAMON ORNAMENTS
CINNAMON ORNAMENTS
FINGER PAINTS
PLAY - DO
FUNNY FINGER PAINT
SNOWFLAKE FROSTING ORNAMENTS
FUN WITH COLOR
FINGER PAINTS
HOMEMADE FACE PAINT
CINNAMON ORNAMENTS
CINNAMON ORNAMENTS
CINNAMON ORNAMENTS (NOT EDIBLE)
HOMEMADE BUBBLE BATH
PLAYING DOUGH
PAINT AND VARNISH REMOVER
MODELING DOUGH
FINGERPAINTS
SALT DOUGH ORNAMENTS
SPICE ORNAMENTS
CLOWN FACE MAKE-UP
SALT DOUGH
FINGER PAINT
FINGER PAINTS
HOMEMADE FINGER PAINT
HOMEMADE "SILLY PUTTY:
ORNAMENTS
CLAY FOR ORNAMENTS
CINNAMON ORNAMENTS
CINNAMON ORNAMENTS
HOMEMADE GREASE PAINT
SILLY PUTTY
FINGER PAINT
FUNDOUGH (Playdough)
CINNAMON ORNAMENTS
TAYLOR AND CORY'S FABULOUS FUN DOUGH
CLASSROOM PASTE
FINGER PAINT
LONG LASTING FINGER PAINT
CINNAMON ORNAMENTS
SCENTED CINNAMON ORNAMENTS
CINNAMON ORNAMENTS
HALLOWEEN MAKEUP
HOBBY CRAFT PASTE
FLOUR PASTE
CO-OP PASTE
FINGER PAINTS
HOW TO MAKE "PERFECT PLAY-DOUGH"
CINNAMON ORNAMENTS
MODELING DOUGH
FINGERPAINTS (NO. 1)
FIRST FINGERPAINTS
FINGERPAINTS (NO. 2)
CINNAMON ORNAMENTS
FUN THINGS
SALT DOUGH
CINNAMON ORNAMENTS
CINNAMON ORNAMENTS
DOUGH-NUTS
FINGER PAINT
HOME MADE "SILLY PUTTY"
SILLY PUTTY
CINNAMON ORNAMENTS
SALT DOUGH
FINGER PAINT
DOUGH BOY
CINNAMON ORNAMENTS
CINNAMON ORNAMENTS
PLAY-DOUGH
SALT DOUGH
SQUISHY FOOD PAINTING (WITHOUT MESS)
SALT ORNAMENTS
FINGER PAINT
PLAY-DOUGH
SILLY PUTTY
CINNAMON ORNAMENTS
FLOUR/SALT DOUGH
FACE PAINT
DOUGH ART
CINNAMON ORNAMENTS
BARN PAINT
GLOPPY PAINT
CINNAMON ORNAMENTS
SUPER PUTTY
CINNAMON ORNAMENTS
DISAPPEARING PAINT
SCENTED CINNAMON ORNAMENTS (INEDIBLE)
GREASE PAINT FOR MAKE UP
CINNAMON ORNAMENTS
EASY TO MAKE FINGER PAINTS
GIANT CHALK (FOR SIDEWALK DRAWING)
FINGER PAINTS
FUNNY FACES
ALMOND PASTE
RICH KIPOLECH DOUGH
CINNAMON ORNAMENTS
FINGER PAINT
NURSERY SCHOOL FAVORITE RECIPE PLAY-DOUGH
DOUGH ART
SCENTED CINNAMON ORNAMENTS
FINGER PAINTS
DOUGH ORNAMENTS
CREAM PUFF DOUGH
FINGER PAINT
FINGER PAINTS
SILLY PUTTY
ALMOND PASTE
GREASE PAINT MAKE - UP
SQUEEZE BOTTLE PAINT
FINGER PAINT
SOAP PAINT
SILLY PUTTY
FUN DOUGH
HOMEMADE FINGER PAINTS
BUBBLE SOLUTION
DOUGH ORNAMENTS
DOUGH ORNAMENTS
COCONUT PASTELS
ALMOND PASTE
CINNAMON DOUGH ORNAMENTS
LIBRARY PASTE
PASTE
SILLY PUTTY
FINGER PAINTS
CINNAMON ORNAMENTS
HOMEMADE FINGER PAINT
SIDE DISH MADE WITH FILO DOUGH
BUBBLE BLOWING SOLUTION
SALT DOUGH ORNAMENTS
SALT DOUGH ORNAMENTS
FINGER PAINT
SALT DOUGH BEADS FOR CHILDREN
SALT DOUGH VARIATIONS
ALL PURPOSE PASTE
FINGER PAINT
BUBBLE BLOWING SOLUTION
MODELING DOUGH
CORNSTARCH FINGER PAINT
FLOUR FINGER PAINT
SILLY PUTTY
KOOL AID MODELING DOUGH
FUNNY PUTTY
FUN CONES
NON-EDIBLE CINNAMON CRAFT SHAPES
BUBBLE JOY
RAISING YEAST DOUGH
CINNAMON ORNAMENTS
FINGER PAINTS
NO BAKE CINNAMON ORNAMENTS
CINNAMON ORNAMENTS
PLAY-DOUGH
PASTE FOR CHILDREN
CRAFT DOUGH
BUBBLE SOLUTION
BUBBLE RECIPE
FACE PAINT
FINGER PAINT
CORNSTARCH ORNAMENTS
UNCOOKED ORNAMENTS
FINGER PAINT
PASTE
FUN DOUGH
PLAY - DOUGH (STOVE TOP RECIPE)
CINNAMON CUT - OUT ORNAMENTS
PASTE
FINGER PAINT
BUBBLE SOLUTION
HOMEMADE SILLY PUTTY
NO COOK PASTE
LIBRARY PASTE
FINGER PAINTS
FINGER PAINTS
SOAPY FINGER PAINTS
HOMEMADE PAINT
INVISIBLE INKS
SIDEWALK CHALK
ANNE'S DOUGH BOYS
PASTELITOS
BAKER'S DOUGH
SIMPLE BASIC YEAST DOUGH
WALNUT BUBBLE
SWEET DOUGH
BASIC SWEET DOUGH
PASTELITOS DE BODA
BASIC DOUGH
HELPERS' FUN
PASTEL PATTIES
HERMAN DOUGH STARTER
SUMMER PASTELS
COLD DOUGH
COLD DOUGH
PASTEL DE COCA
PASTELITOS DE BOMBONES
PASTEL DE ZANAHORIA
PASTEL DE PINA
BASIC DOUGH
FRIENDSHIP STARTER DOUGH
SHORTBREAD DOUGH
SOAP PAINT
FINGER PAINT
CINNAMON ORNAMENTS
SCENTED CINNAMON ORNAMENTS
GLUE OR PASTE
SCENTED CINNAMON ORNAMENTS
CHILDREN'S BUBBLE BATH
CHILDREN'S PASTE
BLENDER ALMOND PASTE
DOUGH ORNAMENTS
HOMEMADE SILLY PUTTY
FINGER PAINTS
CINNAMON TREE ORNAMENTS - NON EDIBLE
SAND DOUGH
FINGER PAINT
PAPER PASTE
FACE PAINT
FINGER PAINTS
CLASS ROOM PASTE
THIN PASTE
BUBBLE BATH
CINNAMON ORNAMENTS
DOUGH ORNAMENTS OR BAKER'S CLAY
FINGER PAINT
FINGER PAINT
BAKED DOUGH ORNAMENTS
FINGER PAINT
NO BAKE - NO EAT SCENTED ORNAMENTS
GREASEPAINT - FORMULA FOR MAKEUP
FINGER PAINT
FINGER PRINT PAINT
MODELING DOUGH
TREE ORNAMENTS
TAKE TIME FOR 10 THINGS
TOMATO PASTE
FINGER PAINT
FINGER PAINTS
PLAY DOE
CINNAMON ORNAMENTS
DISAPPEARING PAINT
CRAZY PUTTY
FINGER PAINT
FAMILY REUNION FRIED DOUGH
CINNAMON ORNAMENTS
SPICE ORNAMENTS
PASTEL PATTIES
3 SIMPLE FINGER PAINT RECIPES
FINGER PAINT
BUBBLE PAINTING
SOUR DOUGH PANCAKES
CINNAMON ORNAMENTS
CINNAMON ORNAMENTS
KOOL - AID DOUGH
BUBBLE RECIPE
PASTE FOR PAPER MACHE
STREET CHALK
DOUGH ART
FACE PAINTS
SALT DOUGH
SILLY PUTTY
FINGER PAINT
PAINT OR FINGER PAINT
PASTE
PLAY-DOH
UNCOOKED SALT DOUGH
PASTE
FINGER PAINT
SPICE ORNAMENTS
GREASEPAINT MAKEUP
FINGER PAINTS
FACE PAINT
FINGER PAINT
PAPER MACHE PASTE
SILLY PUTTY
SIDEWALK CHALK
FINGER PAINT
MODELING DOUGH
SOLUTION FOR WASHING PAINT
NON-EDIBLE DOUGH SCULPTURE
PLAY-DOUGH
PLAY-DOH
UNCOOKED DOUGH
SAND DOUGH
SAWDUST DOUGH
SALT DOUGH
SILLY PUTTY
GREASE PAINT
PASTE
EASEL BASE PAINT (EXTENDER)
COLLAGE MATERIALS
FACE PAINT
CINNAMON ORNAMENTS
APPLE ORNAMENTS
CINNAMON ORNAMENTS
CINNAMON ORNAMENTS
SILLY PUTTY
CINNAMON ORNAMENTS
APPLE - CINNAMON ORNAMENTS
BUBBLE BATH
PLAY - DO
SUNBURST GLITTER (EDIBLE GLITTER)
MAGIC MODELING DOUGH
SALT MAP DOUGH
INSTANT PASTE
SOAP PAINT
FACE PAINT
FINGER PAINT
CINNAMON ORNAMENTS
PLAY-DOUGH
APPLE CINNAMON ORNAMENTS
BUBBLE RECIPE
CINNAMON ORNAMENTS
DOUGH ART
BUBBLE SOLUTION
SAND PAINTING
FINGER PAINT
BUBBLE SOLUTION
CINNAMON ORNAMENTS
SIMPLIFIED CINNAMON ORNAMENTS
PASTE FOR PAPIER MACHE
SOAP PAINT
AIR FRESHENERS OR ORNAMENTS
FINGER PAINT
SOAP PAINT
LION FACES
FINGER PAINTS - MORE PERMANENT
SOAP - FLAKE FINGER PAINTS
SPICED ORNAMENTS
SALT DOUGH MODELING DOUGH
CLEAN PAINT
SIDEWALK CHAULK
PAINT BRUSH CLEANER
ANTIGUING FLOWERS
TOMATO PASTE
FINGER PAINTS
FINGER PAINT
FINGER PAINT
SILLY PUDDY
BUBBLE TROUBLE
KOOL AID MODELING DOUGH
MODELING DOUGH
SAWDUST DOUGH
SILLY PUDDY
PLAYDOH
CINNAMON ORNAMENTS
SALT DOUGH FOR ORNAMENTS
BUBBLE RECIPE
PASTE FOR CHILDREN'S PLAY
PLAYING DOUGH
CINNAMON ORNAMENTS
IT'S A CINCH FINGER PAINT
TREE ORNAMENTS
CINNAMON ORNAMENTS
PLAY-DOH
"COOKIE" ORNAMENTS
PLAYDOH
FOSSIL DOUGH
MODELING MATERIALS
CINNAMON SCENT ORNAMENTS
BUBBLE SOLUTION
SIMPLE STAINED GLASS TREE ORNAMENTS
FRESH FLOWERS PRESERVATIVE
PLAY - DOUGH
FLOUR & SALT DOUGH TREE ORNAMENTS
SCENTED CINNAMON ORNAMENTS
FINGER PAINT
HALLOWEEN FACE PAINT
CRAFT COLOR BASE
JIFFY FINGER PAINT
FINGER PAINT
COOKED MODELING DOUGH
UNCOOKED MODELING DOUGH
FINGER PAINT
FINGER PAINTS - DRY
SILLY PUTTY
BATHTUB FINGER PAINTS
HOMEMADE SILLY PUTTY
PASTE
PLAY-DOUGH
SILLY PUTTY
EDIBLE FINGER PAINT
CLAY RECIPE FOR ORNAMENTS
CINNAMON ORNAMENTS
GREASE PAINT FOR MAKE UP
CLAY RECIPE FOR ORNAMENTS
EDIBLE FUNDOUGHS
FACE PAINT
FINGER PAINT
DOUGH
HOMEMADE BUBBLE BATH
FACE PAINT
FINGER PAINTS
SILLY PUTTY
SALT DOUGH ORNAMENTS
DOUGH ORNAMENTS
FACE PAINT
SILLY PUTTY - NOT FOOD
FINGER PAINTS
FINGER PAINTS
BUBBLE BLOWING SOLUTION
FLORAL PRESERVATIVE
"GOOP" - SILLY PUTTY
SARAH'S BUBBLE SOLUTION
PASTE RECIPE
SCENTED CINNAMON ORNAMENTS
FACE PAINTS
FINGER PAINTS
SCHOOL PASTE
MAKE - YOUR - OWN STICKERS
PLAY - SLIME
MODELING DOUGH
FACE PAINT
FINGER PAINTS
PASTE FOR CHILDREN
GOOEY GLUE
HOMEMADE PLAY - DOUGH
PLAY-DOUGH
FINGER PAINT
DRYING FLOWERS
HOMEMADE PLAY - DOUGH
PLAY - DOUGH
DIANE'S SPICED ORNAMENTS
CORNSTARCH AND BAKING SODA ORNAMENTS
SILLY PUDDY
HOMEMADE FINGER PAINT
BUBBLE BLOWING SOLUTION
COOKED PLAY DOUGH
PLAY - DOUGH
CINNAMON ORNAMENTS
SALT DOUGH ORNAMENTS
SUPER BUBBLE SOLUTION
NUTTY PUTTY
MODELING DOUGH
GIFT BUBBLE BATH
CINNAMON ORNAMENTS
SALT DOUGH ORNAMENTS
SIDEWALK CHALK
CINNAMON ORNAMENTS
NUTTY PUTTY
FUNCLAY
BUBBLE RECIPE
SILLY PUTTY
HOMEMADE SILLY PUTTY
FINGER PAINT
FUN-I-SALAD
RICH YEAST DOUGH
HOMEMADE PLAY - DO
AGGRESSION COOKIES
DIRT PIE
MONSTER TOAST
ANTS ON A LOG
BANANA ROLLS
MICROWAVE CARAMEL POPCORN
POTATO CANDY
FONDANT
FACE MAKE UP
CLOUD DOUGH
PEANUT BUTTER PLAYDOUGH
SAFE PLAYDOUGH
PLAYDOUGH
MODELING GOOP
SILLY PUTTY
MODELING CLAY
BUBBLES
EDIBLE FINGERPAINT
FINGER PAINT
SOAP PAINT
DO-IT-YOURSELF SNOW
CRYSTAL GARDENS
A RECIPE FOR HAPPY DAYS
FINGER PAINT
PLAY DOUGH
MODELING DOUGH
CLAY
BASIC BREADDOUGH CRAFT RECIPE
ALPHABET PRETZELS
CHEESE CRISPIES
FINGER JELLO
JELLO IN MUFFIN CUPS
NO BAKE CHOCOLATE OATMEAL COOKIES
NO BAKE CHOCOLATE OATMEAL COOKIES
PEANUT BUTTER CREAMS
PEANUT BUTTER DOUGH
PEANUT SNACK
MARTHA'S PLAY DOUGH
PUPPY CHOW AND KITTEN CHOW
SALT DOUGH
SILLY PUTTY
SUGAR BEAR SQUARES
YABBA-DABBA-DO SQUARES
TAFFY CRUNCH POPCORN
BUTTERMILK CORNBREAD
GOLDEN HUSH PUPPIES
BUTTERMILK HUSH PUPPIES
HUSH PUPPIES
PUMPKIN BREAD
REFRIGERATOR BRAN MUFFINS
ZUCCHINI BREAD
PUMPKIN ROLLS
INDIAN FRY BREAD (POW WOW SPECIAL--TACOS)
BUTTER PECAN ROLLS
KENTUCKY SPOON BREAD
POTATO REFRIGERATOR ROLLS
DATE NUT BREAD
DILL BREAD
HOMEMADE BISCUIT MIX
BANANA BREAD
MEXICAN SPOON BREAD
WHOLE WHEAT HONEY BREAD
ORANGE BREAD
APRICOT-WALNUT TEA BREAD
BUTTERMILK BISCUITS
INDIAN FRIED BREAD
HOT BLUEBERRY BREAD
MUFFINS
PULL APART BREAD
ZUCCHINI BREAD
PINEAPPLE BREAKFAST BREAD
PUMPKIN BREAD
GRAMMA'S PUMPKIN BREAD
ZUCCHINI MUFFINS
BUBBLE BREAD
PORK AND BEAN BREAD
APPLESAUCE LOAF
SWEDISH RYE LOAVES
FABULOUS FLEXNER BREAD
ZUCCHINI BREAD
PUMPKIN BREAD LOAF
PUMPKIN BREAD
FRENCH BREAKFAST PUFFS
CHEESE LOAF
CINNAMON ROLLS
SARA'S DOUGHNUTS
SWEDISH RYE BREAD
BLUEBERRY COFFEE CAKE
EGG YOLK PAINT
STAINED GLASS BLOCK CANDLE
SCRIBBLE COOKIES
HOUSEPLANT FOOD CONCENTRATE
SALT DOUGH
COFFEE SAND
BUBBLE STUFF
PLAY CLAY
FINGER PAINT
SALT PAINTING
PLAY DOUGH
JEWELRY FOOLERY
HOW TO COOK A HUSBAND
ALPHABET PRETZELS
BON BONS DE COCO
PETITE PIZZAS
PEANUT BUTTER BANANA
BAKED APPLES
HAY STACKS
JACOB'S FAVORITE SUGAR COOKIES
APPLESAUCE
JUMPING RAISINS
LOLLYPOPS
BOILED EGG
PANCAKE ART
CANDY APPLES
EDIBLE PEANUT BUTTER PLAYDOUGH
HOMEMADE PLAYDOUGH
DOUGH ORNAMENTS
FLOPPY HATS
VALENTINE BIRD FEEDER
SOAP ART
COOKIE PAINT
GUNK
MACARONI JEWELRY
LEAF TILES
HAND PLAQUES
POPCORN ACTIVITY
PLAYDOUGH
CORNSTARCH CLAY
GOOP PAINT
POTPOURRI FOR TOP OF STOVE
DANA'S VOLCANO RECIPE
FINGER PAINTS II
PAINT BLOT PICTURES
FINGER PAINTS I
PAPER TOWEL DYING
EARLY FINGER PAINT
LIBRARY PASTE
FACE MAKE - UP
SILLY PUTTY
SCISSORS AND HOLE PUNCHES
OOBLECK
TIPSY DESIGN
MAGAZINE ART
IVORY SNOW AND WATER
DRIPPING PAINT ON WET PAPER
PAPER POCKET PUPPETS
SHADOW PUPPETS
DOG BISCUITS
BIRD TREATS
BIRD FOOD
BIRD FEEDER
WAX - PAPER ART
VEGETABLE GARDEN
PEPPER CHASE
FACE PAINTS
HARMLESS PAINT FOR CHILDREN
SWEET DOUGH
DATE FILLED CHEESE PASTERIES
PASTEL PRETTIES
DATE FILLED CHEESE PASTERIES
NANA KOLAC DOUGH
SALT DOUGH
CLOUD DOUGH
SILLY PUTTY
PLAY-DOH
SALT PAINTING
CINNAMON ORNAMENTS
EDIBLE FINGER PAINT
DETERGENT TEMPERA PAINT
NON-TOXIC FINGER PAINT
LEIGH'S PLAY-DOH
PLAY CLAY ORNAMENTS
DOUGH ORNAMENTS
SILLY PUTTY
FINGER PAINT
ALL - PURPOSE DOUGH
PASTEL CLOUDS
CARTELATA (FRIED FLOWERS)
SWEDISH CREAM DOUGH
FINGER PAINTS
FINGER PAINT
SEASONED TOMATO PASTE
CINNAMON ORNAMENTS
FINGER PAINT
FINGER PAINTS (NATURAL)
ALMOND PASTE
PLAY - DOUGH
BUBBLE & SQUEAK
SCHOOL PASTE
FINGER PAINT
SILLY PUTTY
SALT DOUGH
GIANT CHALK
PLAY EARRINGS (CRAFT)*
HOMEMADE PLAY-DOH
CINNAMON ORNAMENTS
DOUGH ORNAMENTS
FINGER PAINTS
CINNAMON-SPICE ORNAMENTS
BUBBLE SOLUTION
FUNCLAY I - AGES 2 AND UP
FINGER PAINT
SALT DOUGH ORNAMENTS
EDIBLE TEMPERA PAINT
FINGER PAINT #1
FINGER PAINT #2
CARMEN'S PASTEL PATTIES
HOMEMADE PAINT
CHEAP BARGAIN PAINT
GLURCH (SILLY PUTTY)
FACE PAINT
KOOL AID MODELING DOUGH
CINNAMON ORNAMENTS
FINGER PAINT
FINGER PAINTS (NATURAL)
BAKER'S DOUGH
FINGER PAINTS
CINNAMON APPLE ORNAMENTS
PAINT & ENAMEL WOODWORK CLEANER
FINGER PAINT
FINGER PAINT
SALT DOUGH OR ORNAMENT DOUGH
PLAY-DOUGH
CINNAMON ORNAMENTS (NOT EDIBLE)
MEEMA'S RECIPE FOR FINGER PAINTS
SILLY PUTTY
PLAY - DOUGH
FREEZE YOUR PAINTBRUSH
BUBBLE SOLUTION
GARLIC THYME PASTE
FACE PAINT
BUBBLE RECIPE
FINGER PAINT
LIBRARY PASTE
CHOCOLATE TURKISH PASTE
FUNDOUGH
FINGER PAINT
HALLOWEEN GREASE PAINT
FINGER PAINT
SAND PAINT
BUBBLE SOLUTION
CINNAMON ORNAMENTS
DOUGH ART
FINGER PAINT
ALMOND PASTE (MARZIPAN)
CINNAMON ORNAMENTS
BUBBLE LIQUID (NON-EDIBLE)
FINGER PAINT
COOL FLOWERS
CINNAMON ORNAMENTS
FINGER PAINTS
HOMEMADE PLAY-DOH
BUBBLE BATH
DRY FINGER PAINT
SILLY PUTTY
FINGER PAINT
SCULPTING DOUGH
SCENTED CINNAMON ORNAMENTS
EDIBLE TEMPERA PAINT
GREASE PAINT
BEST PLAY-DOH
FACE PAINT
DOUGH ART
ANNA JEAN'S FAVORITE PLAYDOH
JESSICA'S ART DOUGH
CINNAMON AND SPICE ORNAMENTS
FINGER PAINT
FACE PAINT
PUFF PAINT - FINGER PAINT
BUBBLE RECIPE
SUGAR PAINT ICING
CINNAMON ORNAMENTS
FINGER PAINTS
FACE PAINT
SILLY PUTTY
FACE PAINT
FINGER PAINTS
FINGER PAINT
SILLY PUTTY
SOAP - FLAKE FINGER PAINTS
FINGER PAINTS
FINGER PAINTS
PLAY-CLAY
CINNAMON HEART ORNAMENTS
DOUGH ORNAMENTS
FUN DOUGH
BUBBLE SOLUTION
MODELING DOUGH
FINGER PAINT
FINGER PAINT
PLAY DO RECIPE
HOMEMADE PLAY-DOUGH
FINGER PAINT
SALT DOUGH
CLOUD DOUGH
SILLY PUTTY
SALT DOUGH
CLOUD DOUGH
SILLY PUTTY
PLAY-DOH
SALT PAINTING
CINNAMON ORNAMENTS
EDIBLE FINGER PAINT
DETERGENT TEMPERA PAINT
NON-TOXIC FINGER PAINT
LEIGH'S PLAY-DOH
PLAY CLAY ORNAMENTS
DOUGH ORNAMENTS
SILLY PUTTY
FINGER PAINT
FUNNY FUDGSICLES
BUBBLEGUM JELLO
SILLY PUTTY
FINGER PAINT
PUMPKIN FUN
SCENTED CINNAMON ORNAMENTS
FINGER PAINTING
PASTE
MODELING DOUGH
FINGER PAINTS
CINNAMON ORNAMENTS (HEARTS) - DO NOT EAT!
FINGER PAINTS
HOMEMADE "SILLY PUTTY"
FINGER PAINTS
CINNAMON ORNAMENTS (Not Edible)
FINGER PAINTS #1
BASIC YEAST DOUGH
HOMEMADE FINGER PAINT
FINGER - LICKIN' PAINT
HOMEMADE "SILLY PUTTY"
FINGER PAINTS #2
NO COOK PASTE
CLAY FOR "COOKIE" ORNAMENTS
CINNAMON ORNAMENTS
PLAYTIME DOUGH
FINGER PAINT
MODELING DOUGH
CLOUD DOUGH (PLAYDOUGH)
FINGER PAINTS
GREASE PAINT MAKE-UP (White Formula)
CREATIVE PLAY
FACE PAINT
SILLY PUDDY
PLAYDOH
DRIED FLOWERS (Microwave)
SILLY PUTTY
FINGER PAINT
SALT PAINT
SAND PAINT
SOAP PAINT
BOOKBINDER'S PASTE
ORANGE FUN SICKLES
PLAYDOH
NON-EDIBLE CINNAMON ORNAMENTS
PASTE FOR CHILDREN'S PLAY
PLAY - DOUGH RECIPE
KRISTEN'S FINGER PAINT
FINGER PAINTS
SALT DOUGH ORNAMENTS
CINNAMON ORNAMENTS
FINGER PAINT
YAM FLOWERS
CRAFT CLAY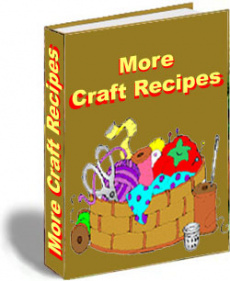 Site owner:
Put the rating form on your site!
Listing wrong or need to be updated?
Modify it.
Entertainment Package!
44 Entertainment ebooks Click here to see the full list of these ebooks
(total value $376.30)
Buy Now
just for $29.95
$346
off
Silver Package!
Any 100 ebooks from 2000+ titles Click here to see the full list of these ebooks
Buy Now
just for $29.95
Gold Package!
Get full access to 2000+ ebooks Click here to see the full list of these ebooks
Buy Now
just for $49.95
Mistake found?
Select spelling error with your mouse and press Esc