Mining Gold From Ebay Ebook
Category:
E-Business
,
E-Marketing
Title:
Mining Gold From Ebay
Author:
Michael Rasmussen, Jason Tarasi
Description:
How To Earn A Serious Income With Online Auctions
Finally Revealed: The secrets insiders use to earn the big bucks with online auctions!

Give Me 30 Minutes And I'll Have You Ready To Start Your Own eBay Empire, Sell Dozens Of Items Each Day And Claim "Superseller" Status!

Who Else Wants To Start Raking In eBay Profits With The Tips, Tricks, And Tactics Only The Pros Use?

You Don't Have To Be A Salesman To Master Selling On eBay!

Looking to get your share on the billions of dollars being passed around on eBay? After you click the button below, I'll share all my secrets for getting you started selling today. Click now or keep reading...
Dear Internet friend,
Thousands now make a full-time income from their own business who never thought they could!
Their secret isn't in who they know, a college education, or finding investors. Their secret equalizes the playing field between people just like you and big businesses who USED to have a strangle hold on the market.
The magic tool that allows anyone a chance to make a full-time income from home? eBay!
You may have heard of eBay before. But can you really make a living from online auctions? Yes, it's possible! In my report, I'll reveal...
How a commercial fisherman found a ebook in an antique shop (for $15) and quickly turned around and sold it on eBay for $198,000!
How a couple in Wyoming is raking in a whopping $600,000 a year off eBay!
How a man from South Boston turned his $25 investment into a quick and painless $700.
I'll show you how to practice insider selling techniques with things you already have lying around. Once you have some extra cash in your hands, you'll be ready to discover where to find popular items in bulk for cheap.
The magic happens when you turn around and sell these hot products one at a time for massive profits!
Do you have extra "junk" around the house that you could auction off for profits?
Start Part Time Or Full Time - unlike other business ventures, eBay makes it simple to get started without any need to quit your job or change your lifestyle.
All You Need Is Your Computer And Internet Connection to get started. You don't have to buy any inventory to get started - just search through your house!
Sell To Anyone Who Has An Internet Connection! eBay gives sellers an amazing opportunity to advertise their product around the world. Anyone who has an Internet connection can find your product on eBay!
Wait A Second, Is There Really Money To Be Made Selling Products On eBay And Other Auction Sites?
You Betcha! Just look at this...
More than 2.4 million people have made at least one purchase from one of the more than 300 Internet Auctions sites last year. Out of these more than 1.5 Million people have used eBay, and that number is growing every hour.
Sales during a recent 3-month period (second quarter 2005) alone have topped $541 million dollars from eBay alone.
There are over four million registered Internet auction users who have not bought anything yet! Get your auctions listed as soon as possible to start tapping this market!
See How Easily You Can Make Extra Cash Or Even A Full Time Income With Auction Sites...
Have you heard about the auction riches every-day people have been discovering online?
It's true, tons of regular folks are pocketing incredible amounts of money through the power of online auctions. The method to profits is the same - buy low and sell high.
The good news is - online auction sites (like eBay) have made this easier than ever before!
An ordinary gadget that would sit on the shelf at the local thrift shop for years at $1.89 amazingly flies off the auction block for $15.00 (or even higher) all day long!
But before you can become an expert on selling on eBay, you've got to start with the basics. That's what my report is all about! In just a few minutes, you'll be on your way to setting up your first auction.
Before you know it, you may too be making incredible profits on eBay!
On eBay, one of the largest Internet Auction Sites, more than 250,000 new items are listed every week. And a whopping 600 new bids are made every minute!
How To Create Successful Auctions And Profit!
You can start to discover the tips, tricks, and techniques only the pros use in just minutes from my report. Just look at what you'll find inside....
How eBay ensures that both parties, buyer and seller, walk away happy.
The number one difference between eBay auctions and the rest.
What you can and cannot sell on eBay.
The number one payment service (most all eBayers use) that acts just like a bank.
How to collect payments from your buyers automatically!
How to protect yourself from potential fraud with one word - "Escrow."
5 rules to scouting out products likely to be hot sellers!
The best way to practice selling on eBay (without the risks).
Buying strategies of the super ebay sellers!
8 types of auctions you can use on eBay. Which one is right for you?
The secret of bidding to win. 5 secret weapon tips that will ensure you come out on top.
Why eBay allows for the best market research anywhere. Last 90 days are an open ebook.
6 rules to writing great auction content.
8 tips to follow when setting up buyer rules.
What to do when an auction goes horribly wrong.
And believe me, that's far from all.
Warning: If You're Not Selling On eBay Now, You'll Hate Yourself Later!
You can get "Mining Gold From Ebay" right now (by instant download). It just takes a few minutes and it's risk-free. Let me tell you how...
Are you looking to make extra cash or even a full time income from eBay?
My report will be your dynamite battle plan to tackle the eBay market like an NFL superstar. Your success is in your hands when you click the button below to start selling on eBay. (You can have your first auction up within the next hour!)
My guarantee above proves you have nothing to lose. Just click the button below because there are a few questions for you to fill out. Click the button and I'll tell you more on the other side!
Table of Contents:
Chapter 1: Introduction to Internet Auctions
What are the methods of payment?
How do online auctions work
What are online Payment Services?
What are Online Escrow Services?
Chapter 2: Get Rich with Auctions
The trend is on your side
Chapter 3: A little more about eBay
Safety Features

Feedback
Buyer Protection
Fraud Protection

Registration on eBay
A Few Thoughts on the Power of eBay
Chapter 4: Buying Strategies
How much to buy?
What to buy?
Chapter 5: Bidding Strategies
Automatic aka "Proxy" Bidding
Bid Increments
Reserve Auction Bidding
Additional Auction Formats
Buy It Now and eBay Stores
Bidding Strategies
Chapter 6: Selling
Chapter 7: Marketing Skills
Writing for Auctions
Attention
Focus on content
Marketing tips
Chapter 8: The Rest of the Story
Shipping & Handling products
Record keeping
Shipping
Handling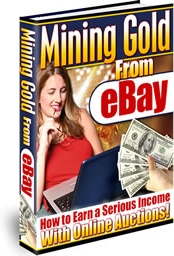 Site owner:
Put the rating form on your site!
Listing wrong or need to be updated?
Modify it.
E-Business Package!
455 E-Business ebooks Click here to see the full list of these ebooks
(total value $4723.45)
Buy Now
just for $49.95
$4673
off
E-Marketing Package!
338 E-Marketing ebooks Click here to see the full list of these ebooks
(total value $3366.90)
Buy Now
just for $49.95
$3316
off
Silver Package!
Any 100 ebooks from 2000+ titles Click here to see the full list of these ebooks
Buy Now
just for $29.95
Gold Package!
Get full access to 2000+ ebooks Click here to see the full list of these ebooks
Buy Now
just for $49.95
Mistake found?
Select spelling error with your mouse and press Esc