Milk The Web Ebook
Category:
E-Business
Title:
Milk The Web
Author:
Ryan Nguyen
Description:
Over 400 Advanced Marketing Strategies YOU CAN USE NOW to make $5,000/month or more.
Turning Dot Com Dreams into Reality ...
Table of Contents:

Introduction - About the author
Chapter One - The Giant Digital Market
How big is the market?
Consumers today
Target the market with money
Image and professionalism
Chapter Two - The Power of Net-Brains
Who am I buying from?
You cannot be all things to all people
Why people must give you their money?
Can I really sell myself?
Why people don't buy?
Strategic marketing plan
Chapter Three - The Quickest Ways to Make Millions
Choose your business model
Selling models
What do you want to sell?
Create multiple revenue streams
Buy and sell advertising space
Chapter Four - The Amazing e-Advertising Strategies
Learn the amazing 15-second strategy
Getting started!
Chat rooms & word-of-mouth marketing
Let your software do all the chores
E-zines boost traffic to thousands
Publicity
Branch stores
Search for good information
Get your site listed higher rankings on search engines
"Free" is the word
Pay-per-click search engines
Contests and sweepstakes
Autoresponders - free full-time "employees"
E-mail marketing - the digital secret weapon
Meta Tags - Get seen on the Net highway!
Mailing lists
Banners - Gateways to your sales letter
Endorsements
Link! Link! Link!
Signatures
Reciprocal links
Third-party strategic alliance network
Advertising networks
Affiliate programs
Domain names & web site hosting
Make money with affiliate programs
Chapter Five - The Profit Boosters
Customer service
Super-Boosters that close sales like Crazy!
Sense of humor
Accept credit cards
Develop relationships
Electronic checks
Trust and satisfaction
Get a merchant account
Guarantees
Pricing strategies
Testimonials
Privacy policy - Close more sales!
Disclaimer
Chapter Six - The Best Ways to Be Efficient
Start your e-business for under $65
3 important tactics
Success stories
Create irresistible headlines
A sales letter
Sell your words
Friends - Can't live without them!
Building repeat business
Package for more money
Chapter Seven - The Competition
Perceived difference
3 Crazy Twists
Turn hate mails into referrals
Spamming - good or bad?
Chapter Eight - The Necessity of Success
Time, energy, imagination
Start out small
Ask and imitate
Mistakes
Give-and-Take secret formula
Forever under constructions
Big ideas can beat big budgets
Test! Test! Test!
Invest your first paycheck
Ask, research, experiment, and pray
Chapter Nine - My Gifts for You
How to Get Free Phone Cards every Month!
How Save over $200's every week Net-shopping!
How to Download the top MP3 count-down Songs!
Chapter Ten - Bibliography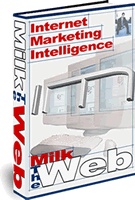 Site owner:
Put the rating form on your site!
Listing wrong or need to be updated?
Modify it.
Mistake found?
Select spelling error with your mouse and press Esc