Category:
Fitness, Men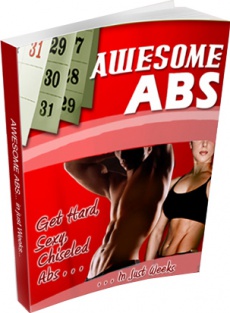 Buy this ebook here
Add to Wish List
+$5
Title:
Awesome ABS
Description:
Secrets of Creating Rock Hard Six-Pack Abs In 2 Months Or Less...
Here's your chance to create jealousy among men... and desire among women...by showing off your newly-developed lean, sexy, chiseled set of six-pack abs that stop people in their tracks!

How would you like to create hard, sexy six-pack abs in as little as 6-to-8 weeks...

The kind of abs that make men jealous and envious of you -- and seem to magnetically draw women to you...

I know it's hard to believe...and sounds too good to be true...but stick with me and I'll reveal it all to you in the next few minutes:

Most people are not happy with their lives. And, yes...most people do not have six-pack abs that stop other in their tracks!

The first reaction people have when I tell them they can build six-pack abs in just 4 to 8 weeks is that of disbelief.

I don't blame them. And, I won't blame you either if you're still having trouble believing it completely.

I have helped create six-pack abs for many friends, as well as for myself, obviously. (Most of my friends were only willing to give my program a try after they saw my chiseled abs. After all, visual proof is quite powerful.)

I can promise you the same results I promised them... six-pack abs in as little as 4 to 8 weeks.
Bonus to the "Chest Chiseler System"

Rating:
Category:
Relationships, Men, Romance

Open ebook.
Add to Wish List
+$1
Title:
The Female Mind Control Hand Book - Learn How To hack into any woman brain and make her yours forever
Author:
Katty Spring
Description:
This book would teach men how to hack into the minds of women and make them to like, lust and desire them.
This is a perfect read for any man that want to learn how to attract any girl or woman of their dream.
Woman are psychologically wired, and any man that master the mind of woman would not find it hard to attract any women they wish to date or have a relationship with.
The Female Mind Control Hand Book also contain in it a Secret body language that make you turn girl on instantly without saying a word, ''YES'' We would teach you a simple dating strategy to make women lust for you, desire you and instantly wants to be with you even if that woman has a boy friend, so make sure to check the video in this book as you read.
So if as a man, you have been akward in dating, trying to get any girl to like you, date you, have an affair with you, attracting females, then make sure you read this guide today and watch the video in the book as well to start dating as an alpha male.

Ebook Type: Video Included,
Rating:
Category:
Men, Relationships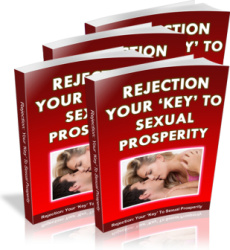 Buy this ebook here
Add to Wish List
+$5
Title:
Rejection - Your Key to Sexual Prosperity
Description:
You are "scared" of women for one reason only: You are afraid of the pain and humiliation you'll feel if she rejects you.

If she says "no", you'll think that you'll never get a woman, that you're not good enough, and that there's something fundamentally wrong with you.

Each rejection makes you more terrified of initiating anything with a woman again, which makes the next time you actually do initiate something seem even more important and significant to you. It will be extra-important to you that you not get rejected again, which will make you seem weird to the woman, who will then reject you.

Women are not stupid; they can sense hesitation in a man. They don't want to be the source of you becoming depressed if they are not interested in dating you.

The Master Seducer sees things completely differently. Rather than seeing rejection as a reflection of his value as a man, the Highly Effective Seducer has one rule about rejection: "Rejection is the key to sexual prosperity." You'll learn all about it inside this revolutionary ebook.
Bonus to the "Rapport and Sexual Escalation Secrets"

Rating:
Men Package!
9 Men ebooks Click here to see the full list of these ebooks
(total value $77.80)
Buy Now
just for $18.95
$58
off
Mistake found?
Select spelling error with your mouse and press Esc