Maximum Memory Power Ebook
Category:
Mind
,
Psychology
Title:
Maximum Memory Power
Author:
John Williams
Description:
Maximize Your Potential With the Maximum Memory Power Systems!
Have you ever lost your car keys? Maybe you've misplaced an important file or, heaven forbid, missed an important meeting. We may try and pass it off as a joke but it really isn't a laughing matter.
Forgetting the name of your boss's wife at the company picnic could be hazardous to your wealth!
If you listen very carefully we'll show you how you can improve your memory. Much of our memory losses are merely absentmindedness. This usually occurs when we are distracted and do not place enough focus on the task at hand. In other words, we just don't pay attention.
Anyone can get relief!
It doesn't matter whether you are young or old, you can improve your memory. What you need is something to help manual you along, answer your questions and point you in the right direction so you can get some answers.
The good news is that we have the best source on the Internet to answer your questions in a clear and concise manner. "Maximum Memory Power" is a manual that introduces you to what you need to know to improve your memory.
Take a quick look at an abbreviated list of content and see what you will discover:
How to eliminate the "Did I?" dilemma
Break through the fog and discover how to focus
"Power Pegging" for positive results
Mind mapping
How to link them and never lose them
Memory games
Locating your memories
. . . and much more
You must experience "Maximum Memory Power" in order to really get a hold of the answers you need.
Research on diseases of aging, such as Alzheimer's and other forms of dementia, has indicated that keeping our minds active and positive may delay the onset of those diseases in some people.
If you have ever wondered about whether you can improve your memory, you owe it to yourself to grab a copy of "Maximum Memory Power."
With our money back guarantee you have nothing to lose and everything to gain!
You'll be glad you didn't wait!
About The Author John Williams
John Williams is a professional magician and author of several e-books.
He uses many of the simple and effective techniques in "Maximum Memory Power" for entertainment, but has also proved their power and effectiveness in business and social situations.
John says, "It's not rocket science. The basics were laid down long ago. I've just tested and tweaked everything so that it's easier than ever to remember where you left your keys, your entire shopping list and even your Mother-in-law's birthday!"
Almost anyone of reasonable health, whatever their age and other circumstances, can improve how they use the powerful record and recall system which they were born with. Like so many things that we get for free, we never value it properly or take the time (about three half-hours a week) to get anything like the best use of it.
He says, "'If people realized how easy it is to discover how to remember names and the powerful, positive impression it makes - socially and in business - then maybe we'd have Memory Skills as part of every school's curriculum!"
"And better recall will reduce the stress in your life and give you more time to do what you want to do because you won't be wasting time looking for things!"
Contents
You CAN Improve Your Memory
Looking and Seeing
Positive Input and Expectation
Ancient Wisdom
Get in Shape
Tips and Short-cuts.
Break Through the Fog
Better Focus Gives Better Results
The "Did I ... ?" Dilemma!
Repetition
Physical Reminders
Bunching
Sleep Learning and Hypnosis.
Helping Others to Remember YOU
Powerful Introductions
Help the M.C. Promote You
Don't Mess Up Your Message.
Overview of the Systems
Link Them & Never Lose Them
Locate Your Memories
Power Pegs
Word Pegs.
Numerical Pegs
Combination Pegs
How to Remember Speeches
Pegging Your Speech
Mapping Your Path
Linking Your Speech
Insure Your Success
Remembering Names
Link Names to Significant Facial Features
Listening Tips
Paper and Electronic Systems
Memory Games and Stunts
Tray Trouble
Day for Any Date
Peg Every Page
Pick ANY Card
The Giant Memory.
More Memory Joggers.
Bonus: Audio Version of "Maximum Memory Power"!
Running Sheet for the "Maximum Memory Power" Audio version.
MP01 10:46
MP02 8:51
MP03 17:22
MP04 7:59
MP05 10:55
MP06 13:34
MP07 10:41
MP08 12:19
There's No End!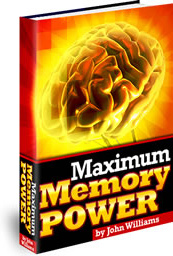 Site owner:
Put the rating form on your site!
Listing wrong or need to be updated?
Modify it.
Mistake found?
Select spelling error with your mouse and press Esc