Manifestation And Healing Ebook
Manifestation And Healing
Category:
Psychology
,
Spirituality
Title:
Manifestation And Healing
Author:
Robert Bruce
Description:
"Who Else Wants An In-Depth, Behind-The-Scenes, Fast-Track Education In Manifestation And Healing... COMBINED With An Intensive "$10,000 Value" Training With Step-By-Step Techniques For Overcoming Physical Illness, And Getting Optimal Health And Wellness..."
Here are just a few of the other things you'll learn:
Why healing TOO MANY clients is a bad thing... and how to double your chances of success by picking and choosing
An awesome way to stimulate your chakras that gets them healing your body FOR you
The special signal nearly all chakras give you that tells you exactly when they are in overdrive and kicked into the "next gear".
How to completely reprogram your subconscious and turn yourself into a "machine" that manifests healing in any body... anytime... in ANY situation... without even thinking about it
How to INSTANTLY have a different affect on you energy body than any other healer ever has... so you're energy body learns to react to your INTENT faster...
The real "genetic" reasons almost all practitioners are clueless about energy work (When you know what they are, it is almost too easy to dispel this ignorance FOR EVER.)
The "universal signal" ALL Higher Selves give off when they are ready to communicate to their Lower Selves (a surefire way to know when it's "ON")
A silly way to "play" with your energy that makes your meditation fun and exciting, rather than "routine".
A fun and easy exercise that increases your ability to feel your energy tenfold in just 7 days...
The 10 things that PREVENT you from successful healing - broken down and explained (I had to deal with each one of these 10 things personally... if you're having problems doing energy work I GUARANTEE one of them is on this list... AND that I can show you a quick and easy way to ELIMINATE IT.)
A lesson from early humanity that will help you completely destroy your fears of failure for GOOD
The single attitude that works best when approaching meditation (I'll also show you how to install it in your personality. This alone can TRIPLE your chances of getting a positive healing response.)
A surefire way to completely eliminate that sinking feeling you get when you have an energy problem you can't solve (Use this one "in the field" to get yourself back on track FAST.)
The exact specific locations of your chakras and where to begin targeting your healing "laser beam"
The specific steps "naturals" take when recharging their chakras... and why they almost NEVER fail (I'll show you how to use their natural "success formula" and energize your chakras in a way you've NEVER felt before...)
An excellent technique to use while sitting in your car at a red light, or hanging out in a waiting room that gives you the BOOST you need to finish off the day
The one word to say in your affirmations for healing that DOUBLES your chances of being successful
A reliable, never-fail way to remove "stuck" energy from the aura
Why using feelings rather than imagination actually has a far more powerful impact on your energy work (When you hear this you're going to be relieved and EXCITED... because you'll know how to heal yourself and awaken your energy body with ZERO visualization skills on your part...)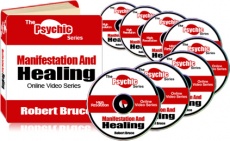 Audio Included, Video Included,
Rating:
Site owner:
Put the rating form on your site!
Listing wrong or need to be updated?
Modify it.
Mistake found?
Select spelling error with your mouse and press Esc