List Management Secrets Ebook
Category:
E-Business
Title:
List Management Secrets
Author:
David Zohar
Description:
40 Snippets Of Proven Knowledge That Will Keep Your Customers Buying From You Over And Over Again Whenever You Ask Them To Do So...
Profitable List Building & Effective Management Methods Will Show You How To Generate More Customers And Profit From Your Number One Promotion Resource
Here's a little test that you might like to take part in. (It takes no longer than 30 seconds, I assure you). Stop for a moment and think about your business. What would be the ideal situation that you could wake up tomorrow morning and find yourself in? (Feel free to pull out that calculator and have fun with the numbers, I don't know any marketer that doesn't secretly do that one).
More specifically: How big do you believe your list would have to be to reach that goal?
Next, think about how your business is performing right now, as you read this. Is it pulling in as much profit as you'd like? (Calculator time again). Keep those two pictures right at the front of your mind. Now you've done that little exercise I have some good news, and some bad news for you.
The Bad News First
The bad news is, that the difference between what you first imagined your business to be like and what it's actually like, if you think about it, is probably pretty huge. To the tune of 10, 20 even 30,000 subscribers I'd bet. Was I close? Those are big numbers indeed, big numbers which could no doubt take you years to build.
And now for the good news.
You can throw out your pre-conceptions about list building and how big your list needs to be for you to be a success. It doesn't matter if you've got a list of zero right now or how big the differences between what your business is looking like now and what you visualized as success. Let me explain how you can pull in a list of subscribers that will outperform and out respond a list 7 times the size. It's easy when you know how. Oh.. did I mention it can be done from scratch within just 10 days too?
Profitable List Building & Effective Management How To Profit From Your Number One Promotion Resource -
Your Mailing List!!!
5 little known facts about the e-zine that you probably didn't know, that when put together, (unknown to the majority of marketers) actually make it one of the least responsive list management types available to your business. This is contrary to what many are teaching, however it is fact. I'll show you why.
Learn in detail about the five methods of list management that will ultimately determine the outcome of your business. Selecting the correct one from the very beginning is essential, otherwise, like myself in earlier years, you may find yourself swapping from one to the other, costing you tens of thousands of dollars, not to mention thousands of hours of your precious time.
2 clear cut techniques that allow the pushed for time marketer to manage a huge list of customers, ready and waiting to buy your products without the hassle of having to write and send out content every week. There's far more important (not to mention profitable) ways you could be spending your time on your business.
Why are you subscribed to other marketers lists? I'll demonstrate exactly why lists maintained in a specific way that do not actually provide huge amounts of regular useful content are often more responsive than those with full time editors. In fact, I'll make you a bet now that you're on someone's list for one of these reasons without even knowing it.
Why simple ads for your own products draw far more of a response than running a content driven e-zine. I'll show you 3 additional reasons that subscribers will stay on your list that do not relate to written content in any way. It's a massive time saver, not to mention response booster.
A comprehensive review system that talks through the pro's and con's of 5 separate list management types so that you can avoid the detrimental effects of having to change part way through, eliminating the worry of alienating subscribers accustomed to your methods. (This is where I've seen others lose up to six years! of work, just because they got it wrong in the first place)
Dissecting the ad list. There are 3 separate methods of running a successful list that doesn't provide regular content. If you're using any of them but one, you're throwing money away right now. We need to stop that dead in it's tracks.
Keep your list responding. The competition is fierce, and if you want to stay ahead of everyone else, you need to keep your customers responding to you. We'll discuss 15 separate methods that alleviate this problem. Remember, these are all proven methods and I'll be giving you real life examples of where these are occurring today.
The number one rule of list management. The moment this rule is broken, even before any subscribers land on your list, the future of your business is ruined, and you may find yourself starting from scratch in several years time when the effects become obvious. What a huge waste of your time. I'll show you how to avoid this common mistake.
Discover how you can be making 5 times your current income simply by dividing your lists up into separate categories, even if the they contain the same number of subscribers as your one large list.
Dissecting the personal lists. Low content lists that provide consistent through the roof response rates are easy to achieve. There's three ways of doing this however, and only one has consistently provided top results, the other two fail miserably. Learn the difference today before you pick the wrong option.
PLUS: Quick-fast List Building Methods For The Marketer In A Rush
The number one mistake I see a high percentage of marketers making every single day that is dooming them to be in exactly the same financial and lifestyle position in years to come. The worst thing is, it's a conscious decision they're making. Let's make sure that you're not doing the same.
1 reason why my list of 15,000 subscribers outsells lists of ten times that amount with ease. Learn the proven list building tactics to push your response rates and your profits through the roof without wasting time on a useless list of e-mail addresses (As so many are doing nowadays)
5 reasons to look beyond profit. Did you know many marketers make more money by promoting their own products but taking no profit at all from them compared to those who are all out profit seekers? Seems hard to believe I bet, but when you see this, you'll understand exactly what I mean and why so many are having a rough time building their lists, where others make it look easy. (For the record, it actually is really easy).
Learn how to build your list correctly, without interrupting your sales process through specific product roles laid out before you even launch anything. The ultimate tried and tested list builder.
Discover where your most effective list comes from. You may be surprised to find out that setting up websites with lead capture pages is far from the correct answer. In fact, these will be your weakest leads compared to what I want to show you here.
You might well be wondering: what if it doesn't work for my business? What if I already know all of this? What if I'm not 100% happy with the course and it's another poor excuse to make a quick buck out of me?
Here's my answer. If you take this course away and give it a shot, and find for any reason you are not satisfied that the results push you towards a very profitable future indeed, fire me an e-mail and show me you've put the information into action, and if it really doesn't work for you (I've not found a business that it doesn't work for to date) I'm going to send your money right back to you, plus you get to keep your whole download package free of charge to say thanks for giving us a try. The risk is all mine.
Contents
1 Introduction
2 Goals Of This Section
3 Understanding List Management 1.
The Rile Of Your List: Always At The Front Of Your Mind
Always Be Truthful
Listen To Your List, Reap The Rewards
4. The Rating System
Personal List, Mixed Content
E-zines And Newsletters
5. Summary.
6. Goals Of This Section
7. Personal List, Affiliate And Ad Content
8. The Ad List
9. Divide And Conquer
All Done, Now It's Your Turn
The Personal Touch
10. Summary
11. Goals Of This Section
12. List Building Methods
Getting Started
Quality Over Quantity
Throwing Out Prospects Doesn't Get Your Organized
Professionalism Revisited
Am I Building My List While Doing This?
Where your Most Effective List Comes From
Be Careful Not To Interrupt Your Sales Process
The Ultimate Tried And Tested List Builder
Maximizing Subs Without Losing Sales
A Few Last Words
Non Profit Resource Building
13. Summary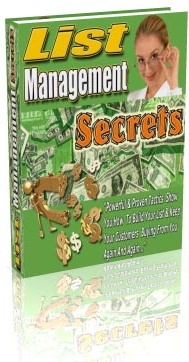 Add to Cart
Add to Wish List
P.S. Everything you're about to read is tried and tested material. This will apply to your business not just once, but for many years to come. It's an investment not just for today, but far into the future.
P.S. Everything you're about to read is tried and tested material. This will apply to your business not just once, but for many years to come. It's an investment not just for today, but far into the future.
Site owner:
Put the rating form on your site!
Listing wrong or need to be updated?
Modify it.
E-Business Package!
455 E-Business ebooks Click here to see the full list of these ebooks
(total value $4723.45)
Buy Now
just for $49.95
$4673
off
Silver Package!
Any 100 ebooks from 2000+ titles Click here to see the full list of these ebooks
Buy Now
just for $29.95
Gold Package!
Get full access to 2000+ ebooks Click here to see the full list of these ebooks
Buy Now
just for $49.95
Mistake found?
Select spelling error with your mouse and press Esc