Karate Made Easy Ebook
Category:
Self Defense
Title:
Karate Made Easy
Author:
Philip Watkins
Description:
"How To Quickly And Easily Take Out Vicious Attackers Using Long-Lost Bare Hand Fighting Secrets"
As you read the ebook, you realise traditional karate is the foundation on which ALL other fighting styles, systems and fads are built. Just that realisation alone is all the inspiration you need to get started right now.
Here Are Some Of The Things You'll Discover Inside 'Karate Made Easy" …
A quick, decisive and effective attacking technique often used when you want to render your opponent temporarily helpless. Use this with CAUTION!
The one strike that can be mastered quicker than any other Karate offensive move. And the best bit is -- it can be used in three different ways to completely baffle your opponent!
A swiftly delivered strike that's especially effective on the forearm, neck and ribs. It can cause your opponent stinging, excruciating pain. And there's nothing better to bring a smile to your face!
Master one of the earliest striking methods in the art of Karate, dating back many centuries. Use this blow when attacking the ribs or blocking an opponent's punch or thrust!
How to "kiss" your opponent with this blow. Be prepared to deliver it in a corkscrew motion—digging its way into the stomach, cheek or eyes!
How to immobilize your opponent's arms and hands. Learn two ways you can temporarily "paralyse" those vital organs and you'll come out on top every time!
Use this 'special' forward thrust kick to finish off your enemy. But use it with extreme caution because it can seriously injure your opponent, perhaps permanently. That'll teach him to mess with you!
How to execute a certain knee attack to temporarily disable a foe. It's so acutely painful; your opponent may double up in extreme agony, then collapse!
Learn blocks and counter attacks to the pressure points and major nerve centers of your opponent's face, body and legs!
How to defend yourself against knife, club and gun attacks. Using nothing but your bare hands, you CAN get the upper hand and give the assailant a good pounding!
Here's what to do if someone pokes or pushes you in the chest. Two great ways to cure them of their bad habit!
Eight effective techniques any woman can use to get out of a threatening situation and dish out some pain on the way!
How to warm up, stretch, condition and warm down the body when training. Do this the correct way and you'll be as fast as lightning in a real fight!
The correct way to use karate training aids to toughen hands, feet, toes, knuckles, elbows and fingers. These are your lethal weapons!
The importance of good health and correct diet. Follow these guidelines and you'll always be fitter, stronger and quicker than your opponent!
All you need to know about PRESSURE points and VITAL NERVE CENTERS. Clear diagrams show you where they are all over the body, so you can attack them and end the conflict in the quickest possible time!
Plus lots, lots more!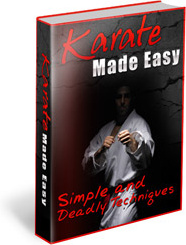 Rating:
Site owner:
Put the rating form on your site!
Listing wrong or need to be updated?
Modify it.
Mistake found?
Select spelling error with your mouse and press Esc