Judgment Recovery Ebook
Category:
Finance
,
Self Help
Title:
Judgment Recovery
Description:
Undervalued Home Business Huge BERSERK Potential!
If the defendant loses the case, he or she is ordered to pay the plaintiff a particular amount of money.
In a lawsuit, there are two parties involved: the plaintiff, which is the person(s) or entity bringing the case to court. Typically, the plaintiff brings charges against the defendant in an attempt to collect damages. Financial, property, and emotional damages are assessed and the plaintiff sues for that amount.
The court system offers no recourse; once the judge makes a decision, the court has no further responsibility. Some creditors turn to attorneys, but very few lawyers are in the business of judgment recovery.
A fee of 50% of the judgment is standard. You get 50% of the judgment for every assignment, plus charge for accured interest + all expenses. Realistically, you'll be able to collect about 50%- 60% of those cases. Where can you make profits like this?
When a debtor ignores a judgment, the creditor must take steps to claim the money. So what can judgment creditors do?
Make up to $75 An Hour Working Working From Home as a Small Claims Judgment Recovery Processor
(... more if you scale your judgment recovery business or work more efficiently)
Start From Scratch ... No Special Skills Required ... Can be built into a multi-hundred thousand dollar empire in as little as 6 months
Professional Judgment Recovery & Small Claims Processing Course Overview
Contacts, Agreements And Assignments (Filings)
Asset Recovery Methods
Getting Work Marketing Plan
Business Aspects Of Judgment Recovery
Glossary of Terms and Tools
Your Research For Locating Assets
Organizing Your Research
Summary Small Claims Court vs. Civil Judgments
Collection Technicalities, Recovering Assignment Costs
Researching Case Files At The Courthouse
Post-Judgment Recovery of Interest and Expenses For Extra Earnings
Selecting a Case For That Extra Edge You Need To Win
Managing Your Cases - Client Interaction and Negotiations
Your Research For Locating People
Your Research For Locating People
Your Marketing Letters And Forms To Stand Out
Fee Negotiation, Contracts, Agreements And Assignments (Forms)
Understanding Negotiations with the Debtor
Locating Assets And People
Judgment recovery courses differ in tuition. Some charge in the tens of thousands of dollars for weekend seminars and are more expensive than college courses. Many bloviate, stretch it out with CD's, DVD's, three-ring binders and cost dearly.
High Quality at an Affordable Price - No One Matches That
As a judgment recovery investigator you'll find more cases than you could ever possibly handle and exceptional full-time income. Once trained in judgment recovery, you can expect to earn $5,000 a month working part-time and in the neighborhood of $9,000 - $10,000 per month or more full-time with no employees.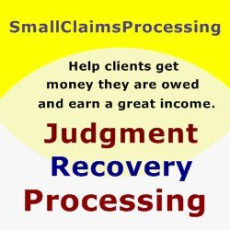 Rating:
Site owner:
Put the rating form on your site!
Listing wrong or need to be updated?
Modify it.
Mistake found?
Select spelling error with your mouse and press Esc