Internet Strategies Of The MASTER REALTOR Ebook
Internet Strategies Of The MASTER REALTOR
Category:
E-Marketing
,
Home
Title:
Internet Strategies Of The MASTER REALTOR
Author:
Stan Smith
Description:
Discover The 4 Step Secret To Becoming A Master Real Estate Professional
You are about to become one of the elite real estate professionals who are quietly making a fortune. But first, ask yourself this question. . .what do you like best about your real estate career. . .is it:
The "feast to famine" income cycles?
Is it wasted weekends sitting in someone else's home making sure strangers don't muddy the carpet?
How about the boring sessions working the floor - answering phone calls for other Realtors?
Okay, it was a trick question. You obviously answered with a resounding "NO" to all of the above. So what is it that sets certain realtors apart from all the others?
This master class of professionals are recognized by the tell-tale signs of success. These Top Producers:
Never work weekends
Never sit an Open House
Never do floor-time
Make selling real estate look easy
Are consistently #1 producers. . .and
These realtors work less and make more because they have hired the world's most relentless, methodical, tireless, home selling tool ever devised - the Internet.
But, hold-on a second! Don't be fooled. They don't just throw up a brochure and dabble with the web. No, they have gambled big on the Internet and they are winning! The good news is, so can you.
Finally, all the secrets are revealed in a 4 Step Program you can begin using immediately. Once you've finished reading Internet Strategies of the Master Realtor, you will know ALL of their secrets.
These 4 Steps, when done properly, create a continuous feedback loop that grows by feeding on itself. This means that once you set the system into motion, it continues to grow.
Are you ready? Get started now!
CONTENTS
Introduction
Why You Just Saved $6,000 by Buying This Ebook
The Internet Lead Generator Regimen
Building Your Listing Inventory
Maintaining Good Listing Hygiene
Creating a Steady Flow of Visitors to Your Site
How to Handle Email
The Magic Word:
Sample press release
Converting Handraisers into Buyers and Listings
What is valuable information?
Stay in contact with valuable information
FSBO Myths
Always be closing - Ask for the call in every online contact
Generate Referrals
The Last Word
Bonuses
35 Proven Advertising Headlines
7 Keys to A Killer Sales Presentation
7 Secrets of the Marketing Investor
My $125,000 Survival Kit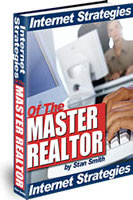 Site owner:
Put the rating form on your site!
Listing wrong or need to be updated?
Modify it.
Mistake found?
Select spelling error with your mouse and press Esc