Internet Profits The Quick Way Ebook
Internet Profits The Quick Way
Category:
Internet
Title:
Internet Profits The Quick Way
Description:
How ANYONE can quickly find a unique product and sell it with a simple one page web site.
Dear Internet friend,
In March 2001 a product called "Internet Profits the Quickway" was born.
A system that cut though the the myths about making money on the Internet and revealed the FASTEST way to create a product and sell it from a simple web site was made available.
If you've not snapped up your copy and you're not making a serious living from the Internet then you need to see this letter VERY CAREFULLY.
Why?
Because thousands of would be entrepreneurs are giving up on their dreams every day because following the advice of most experts is just too hard and takes way too long.
While I don't believe in the 'get rich quick' nonesense that's thrown about the Internet, there is a secret way to to create a product quickly and easily (just a few hours) and get it on the web and pulling in the orders.
You're not going to write an ebook - that takes way too long.
You're not going to waste time selling other peoples products through affiliate programs.
You won't bother wasting your time trying to get your site ranked high on the major search engines - that takes months and if your site isn't built right it won't do you the slightest bit of good anyway.
Here's the deal...
If you're like most of us, you don't have an unlimited amount of time or plenty of hard cash to invest, so writing a 60-400 page ebook and marketing it just isn't for you.
Ebooks are OK, but most people don't have the motivation or the time to get a ebook finished let alone get it online and sell it.
That's why you need a system that enables you to get things done quickly using just a couple of hours a day of your spare time.
Here's what you need to know...
There's a way of putting a product together in a few hours flat, quickly create a simple web site (1 to 3 pages) and start profiting from it quickly.
Ten things you won't have to do when you follow this blueprint.
You won't be buying rights to products that no one wants or that the market has been saturated with already.
You won't write an ebook. That takes far too long. Most people start writing a ebook with the best intention and after four weeks have only got half way through writing and lose interest.
You won't need a ton of free content for your web site. Again that takes a massive amount of time.
You don't even need an idea! I'll show you how to come up with a winning one even if you've currently not got a clue what to sell.
You don't need to know how to design a web page! You'll be given an incredible 15 minute system for creating a web page that will do the job more than nicely.
You won't need a bank account full of money to spend advertising and promoting your site. Instead you'll get the inside track on low-cost and no-cost ways to drive traffic to your site and pull in orders.
You won't have to waste hours submitting to search engines. Those things are flooded anyway and you'd either have to spend weeks trying to fight for a half-decent position and/or spend a fortune on some software to help you do it. With this power-system you'll spend minimum time on that kind of thing, and instead use three killer steps to drive properly targeted traffic to your web site.
You won't be wasting a fortune on merchant accounts. I'll show you exactly how to get all the services you'll need without spending a dime.
You don't need any experience in writing ads or creating a sales letter. This blueprint includes what you need to know to quickly craft all the sales tools you need and get your product on the market.
And just to put the skeptical minds at rest, it isn't MLM, Networking or pyramid selling. It does not rely on spam mailing, posting ads to waste of time classified sites or FFA pages.
Introducing 'Home based online business - the quick way'.
This is a simple to see, easy to understand and easy to follow blueprint.
Here's a partial list of what is revealed in this blueprint...
How to source a product that you can buy for pennies and sell for big $$$ - this is included and fully explained for those who really won't create a product of their own. I'll show you how to sell product without taking inventory and eliminate all of the risk too.
What sells online and WHY. It seems hardly anyone fully understands this. But you will and that puts you in front.
How to create a killer digital product in record time. These are the products that bring huge profits and literally zero admin. Forget what you've been told about product creation before - this breaks the rules.
How to get powerful testimonials from respected professionals in your field. Testimonials sell - here's how to get them.
How to quickly get hundreds of other peoples web sites working for you to sell your product. Anyone and his dog can start an affiliate program - but do you know the secret to starting a SUCCESSFUL one? The heads-up is right here.
Five kinds of products that are selling online as we speak. What's more - you can EASILY create one of these kinds of products, and FAST.
The simple and direct four step system that sells your product fully explained.
How to quickly (almost instantly) become an expert in any field and gain massive credibility which only helps boost sales through the roof.
Five example sites that PROVE that this formula works. There's nothing better than learning by example and these examples are nothing short of fantastic.
Not got the web design tools you need? No problem. Don't spend hundreds of dollars buying software. I'll show you how to get exactly what you need for FREE - No kidding.
How to create your web page in fifteen minutes. Follow this and you'll be designing web pages that get the job done in record time.
Four design outlines fully explained and backed up with examples. Just pick the one that works for you and go for it.
How to write words that sell. I'm not claiming this is a definitive work on copy writing, but it'll get you started. When you've pulled in a good profit you can re-invest some of it into a more complete work on the subject if you want to.
How to build a 'catch all' system into your site. If a prospect doesn't buy this system captures their e-mail address with their permission so you can reel them in later. This simple trick is persuasive and powerful.
Learn the secrets of creating headlines that grab your readers interest and make them take action.
Everything you need to know about getting set up to take credit cards with out paying application fees, set up fees or monthly charges.
A revised and expanded version of my 'Magic Headline Creation System'. This fill in the blanks tool will have you crafting winning headlines with the minimum fuss. It's said that the headline is 90% of the ad. This system ensures you don't blow it with a weak one.
Learn how to fully automate the sales, ordering and delivery of your product. You keep pulling in the money and fulfilling orders even when you're relaxing on the beach or out taking a dip in the pool on a hot day.
Forget expensive affiliate scripts, and all that admin. Here's the no hassle, fully automatic way to have your own affiliate network.
The real secrets to running your own affiliate program. Everyone tells you to run one - hardly anyone wants to show you the insider secrets to making sure it works with the minimum of effort. That is until now.
How to get top performing affiliates to work for you and sell your product. A virtually guaranteed way of making sure they want to promote YOUR program. The top marketers know that there are some people who make a real killing selling other peoples products. Here's how to identify the winners and get them selling for you.
Many top marketers use auto-responders to pull in the orders, but many of them are still missing out on eighty percent of the sales they could be making because they don't know one dirty little secret. That secret is right here.
The only three other methods you really need to drive traffic to your site. That's right - just three! And among them you won't find a mention of classified ad web sites, FFA pages or spam mailing. These are the three most powerful and fully legitimate marketing methods. Minimum time - maximum profit stuff.
I spend less than an hour a month bothering with search engines and yet I get traffic from them. Last month I spent less than ten minutes. I have a powerful little secret - now you have it too.
Everything you need is right here.
I could go on.
But the bottom line is that EVERYTHING you need is right here.
This is a complete system in it's own right. You can take what's given here, apply it and put money in the bank.
BUT...Don't order yet!
Now before you go getting all excited and hitting the 'order' button, there's a couple of things I need to point out;
1) You can take this blueprint and use it, but you might not make any money from it at all. This blueprint has worked for me and I know it's out there working for others. It should work for you too, but I'm not making a promise that it will.
2) In order for this to work for you, you have to SEE it and APPLY it. Buying this won't make you rich, but applying what it teaches COULD.
Don't buy this, speed see it, forget all about and email me in a few months time and say it didn't work for you.
Here's the price and how you can get instant access to this exciting ebook...
Table of Contents:
Introduction
Legal Notices
What sells and what you should sell online.
Words that Sell
How to sell your product on the Internet.
Headlines
Running an affiliate program
Collecting payment
A deeper look at e-mail marketing
Testing
Driving traffic to your site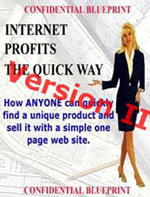 Site owner:
Put the rating form on your site!
Listing wrong or need to be updated?
Modify it.
Internet Package!
100 Internet ebooks Click here to see the full list of these ebooks
(total value $1114.40)
Buy Now
just for $49.95
$1064
off
Silver Package!
Any 100 ebooks from 2000+ titles Click here to see the full list of these ebooks
Buy Now
just for $29.95
Gold Package!
Get full access to 2000+ ebooks Click here to see the full list of these ebooks
Buy Now
just for $49.95
Mistake found?
Select spelling error with your mouse and press Esc