Internet Money Revealed Ebook
Category:
E-Business
,
E-Marketing
Title:
Internet Money Revealed
Author:
Teresa King
Description:
If You Can Click Your Mouse You Can Make At Least $900 Per Month Without Really Trying . . . and it isn't another Internet Marketing Program!
Before you give up on Internet Money and throw in the towel you need to listen up. YOU CAN make a good income online. It doesn't need to be untold riches but what if you could make an extra $900 a month?

Do you have any idea what a difference an extra $900 a month could mean in the life of the normal person currently working a 9 to 5 job? Or, the stay at home Mom? Or the wannabe stay at home Mom?

The truth is we live in pretty precarious economical times. Forget about the national debt and what is happening to the global market,

What is happening to YOU?

It's getting harder and harder to stretch that dollar when its value is shrinking day to day!
YOU CAN DO SOMETHING ABOUT IT!

Here's a question for you:

Did you know there is NO ceiling on Internet Wealth? Unlike a job where you look to the highest paid worker and you say to yourself, "that's the top, that's as far as I can go in this field, and that's the most money I can make."
You can make money sitting at home
You can turn your computer into a Sales Machine
How much you make will be up to you!
Award Winning Author and Internet Guru, Teresa King, talked with 179 people on the telephone between August and November.

She spoke with people who were brand new on the Internet. She spoke with people who are still trying to figure out how to make money on the Internet after four years!


What did she discover?

What she discovered was that most people have seen a lot of hype and most of them KNOW you have to make your first $100.00 before you are going to make zillions.

However what really intrigued her was the people she talked to really
just wanted to improve their life, feel more secure, have some extra
money and take some stress off their back.

When asked was, what would make a nice cushion of extra money each month. She got answers from $300 to $1,500.00 extra per month would be wonderful and go a long ways toward relieving the stress!

So, she thought, let's go for an average. What can a person like you
do to make an extra $900.00 per month?

What would that $900 extra per month mean to you? Would you:
Send your child to a better school
Climb out of Debt
College
Move to a better neighborhood
Upgrade your House
Eat better
Invest for your future?
They also told her that they didn't need any more marketing plans or programs. They wanted no more hype, no garbage. They wanted a plain, easy to understand guideline.

Here it is - Right Here - Right Now
And, it's what you've been waiting for!

Finally, a Complete Comprehensive Five Volume Make Money Course that will tell you what you need to know to make $900.00 Plus Per Month on the Internet.

You don't have to scrape the bottom of the barrel each month trying to make ends meet. You don't have to worry that your retirement isn't going to support you in the future.

"Hint, when you make $900.00 - You will know how to make more than $900."

It's your turn! The time is NOW!

This Five Volume Study Manual tells you how to:
Unleash the Power of the Internet. . . research your product
Tap into the Creativity in your Mind. . . brainstorm your product
Discover what the experts do to. . . develop your product
Make Internet Money. . . market your product
Put Your Sales Package Together. . . set your product up for sale
Once you have your product set up and the wheels turning, you reap the rewards of your time and investment.

In Volume One, Teresa teaches you how to tap into your own mind to find the little to big money maker inside your brain. You'll be amazed what you will learn when you apply the techniques to brainstorm your own product!

In Volume Two, Teresa King shows you how to research your ideas to see if there is a market for you to quietly sit back and open your email to the coveted "You Have Made a Sale!"

In Volume Three, Teresa shows you how to develop your product. Don't worry if you cannot write a ebook. You don't have to write your own product!

In Volume Four, Teresa shows you what you need to do
to get your product online, to accept credit cards, and be ready for your orders and the necessary sales page to make that happen.

In Volume Five, Teresa King shows you how to market your product. Yes, finally, the ebook that takes you by the hand on what "real" marketing is all about!
Invest In Yourself!

The price of this package is not all the money you will need to spend. The more skills you have on the Internet and the more work you can do yourself will save you money.

However, if you have no skills, no website, this ebook will not teach
you how to get a website up. It will recommend where you can discover
how to do that for free.

It will not make you into a writer if you are not a writer! It will teach you how to use other resources to get your ebook written!


Let's compute something for you:

If you were to go to a university to discover the skills in this ebook, you'd go to school for two years minimum. You'd pay for those classes. How much you pay would be what the going rate is in your area!

A good guess might be at least $12,000 dollars. Many of the ebooks you would need for college courses cost $100.00 or more each. It can take more than two years to get a two year degree, depending how many credits you can take at one time.

If a college professor knew the secrets in this five volume set, he'd not be standing around teaching his class, he'd be home creating his own product and selling it!

Remember, you can look at your current job. You can look at your boss, your co-workers and even your supervisor. You can look at
their potential income and know this right now. They have a CEILING on how much money they can make.

There is no ceiling when you work for yourself. You can make as much money as you want. There is no limit!

Next, if you were an investor and you decided to buy a "real" brick and mortar business that netted $900.00 per month, the rule of thumb of Monthly Net x 12 x 2.5 would require an investment of at least $27,000!

At just $17 and a money back guarantee, you have nothing to lose and a whole future to gain right now... if you just get this package, study the contents, put it to work for you, and stay focused on your goals.



Did I mention there are 17 bonuses with this package?

There are. Each one has been specifically chosen to help you toward your future.

Bonus #1 - Killer Ads (EXE Ebook)

Bonus #2 - Science of Getting Rich (EXE Ebook or PDF)

Bonus #3 - P. T. Barnum's Art of Getting Money (PDF)

Bonus #4 - Power of Concentration (PDF)

Bonus #5 - Traffic Secrets by Bryan Kumar (PDF)

Bonus #6 - Brainstorm goal setting (PDF in zip file)

Bonus #7 - Million Dollar Niches (PDF in a zip file)

Bonus #8 - Clickbank (PDF Manual)

Bonus #9 - Killer Mini Sites (EXE ebook) (music on opening)

Bonus #10 - Accomplish Anything You Want Out of Life (PDF)

Bonus #11 - Broken Business or Life? (PDF)

Bonus #12 - Emote - A fun gizmo that you can make go viral (EXE)

Bonus #13 - Keyword Mixer (EXE file) to use for pay-per-click

Bonus #14 - Money and Power - AWESOME... includes complete membership to Allen Says' Internet Warriors - Powerful! It's an Interview with Allen Says written by Bryan Kumar! You will get an email, and you must confirm that email

Bonus #15 - Martin Avis Secrets to An Ezine Fortune (PDF)

Bonus #16 - How to Sell High Priced Products (PDF)

Bonus #17 - Think and Grow Rich (PDF)

ABOUT THE AUTHOR
Teresa King is the author of several ebooks which range from marketing to self-help and even romance. She enjoys teaching and helping people to keep their minds alert and to inspire them to do the best they can in life.
Teresa has spent almost 8 years on the Internet learning what it takes to make money, develop products, and launch them. She knows what she is teaching you in her 5 volume course. Teresa has a knack with people. She can bring a smile to your face in odd moments as you see. You will appreciate her sense of humor which she throws in throughout the ebooks.
She says, "Learning should not be all work and no play."
Family is important to her. She has three sons and four grandchildren, three boys almost 6, almost 3, almost 1 and one granddaughter age 5.
She plays online bridge in her spare time and enjoys walks, nature, crossword puzzles, reading, and conversing with friends and her family and loves her
computer.
Table of Contents
Volume I - Brainstorming for Your Product
It's Your Product
Day One
Worksheet
The Easiest Way to Make Money - by Allen Says
It is called Visualization
The Passion of HOBBIES!
Day Two
Volume II - Research Your Product
Interview with Michele Miller
Finding Your Market
Another KEI Test - "Press Flowers"
Just for the Technically Minded Readers
Find Niches Yourself
Fly Catcher
Researching the Competition
Define Your Product
Taking it Niche!
Let's Recap!
Volume III - The Art of Developing Your Product
Choose Your Domain Name
Choosing your domain name is not the time to get sloppy.
Consider this small advertisement:
Finding your domain name, and testing it
Introduction to Ways to Develop Your Info-Product
Too Busy? That's Not a Problem!
What's Your Own Business Worth?
Outlining Your Product
Day 1 - Our first lesson will be on how to write an outline.
Sample Outline for a Digital Product
Elance!
How to Use your outline, once it is complete?
Research - Gathering Information - Day 3
Get Ghost Articles
Fillers
Public Domain
Gathering Information
Tips about writing items that are more than a page long.
Affiliate with Others Inside Your Product - Day 5
Interview with Bryan Kumar - Part
About Bryan Kumar's Interview
Spell Check your Product!
How to Edit Your Product
Getting Your Product into PDF
Recap
Finish What You Start!
Volume IV - Setting Up Your Site for Automatic Sales
Planning for a Direct Response Sales Page
Your Graphics
Sales Copy
Choosing a Web host and Credit Card Processor
Your Sales Page
Setting up an Affiliate Program.
"Bond With Your Reader!"
Okay, back on track!
What is a decent rate, you may ask?
Your Thank You Page
RELATIONSHIP
Getting set up for a List
Suggested Format for Your List
Getting it all Together and Ready to Go!
Work sheet for Ideas for Writing Copy and Headlines
Volume V - Let's Go Make Some Money!
The Top Three Ways to Market Your Product
First Option - Affiliate Money and Joint Ventures
Teresa King Interviews Tom Hua
Bryan Kumar's Fantastic Interview - Part 2
Customer Support
Pay Per Click Money
AdWords Advantages
More Pay-per-click Search Engines
Regular Search Engine Money
Other Ways to Market Your Product
Viral Marketing
Avoid Hype
100 Words That Have Sales Appeal
Your Own Ezine
Offline Marketing
Test, Test and Test Again!
Recap!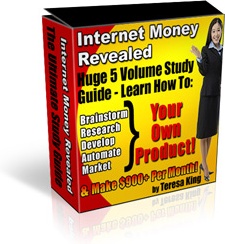 Add to Cart
Add to Wish List
P.S. You have absolutely nothing to lose and everything to gain. Get busy learning what you need to know to bring in income through the Internet to improve your life today.
P.S. You have absolutely nothing to lose and everything to gain. Get busy learning what you need to know to bring in income through the Internet to improve your life today.
Site owner:
Put the rating form on your site!
Listing wrong or need to be updated?
Modify it.
Mistake found?
Select spelling error with your mouse and press Esc