Insiders Secrets To Flea Market Profits Ebook
Insiders Secrets To Flea Market Profits
Category:
E-Marketing
Title:
Insiders Secrets To Flea Market Profits
Author:
Bud Austin
Description:
How A Frustrated School Teacher Skipped Class and Changed His Life!
One Man's Story About His Journey Pursuing The American Dream
Bud Austin started out in life by doing what "convention" dictated. He studied hard, graduated from college and entered the well respected realm of a noble profession. He became a classroom teacher.
In the early 80's Bud started to question his chosen career path. He began staring out the window daydreaming about the world outside the classroom. He wanted to travel. He wanted to broaden his horizons. He wanted to live "the good life."
And, most important, he wanted to do it before life passed him by. The problem? How was he going to accomplish it? He had no experience at making money outside of his job.
He took stock of what he liked to do. He liked to travel so he began to explore different options for earning an income while he did what he liked to do. He created a list and after checking out the pros and cons of each option, it hit him. Flea Markets!
Bud spent the next two years educating himself. He visited flea market after flea market, studying the ins and outs. What to sell. How to sell it. What not to sell and how to avoid it. He set up his first booth at a flea market close to home and used it as a training ground.
He spent weekend after weekend studying the process. He observed the successful marketers and sought them out. He picked their brains then applied what he learned. After two years of trial and error, hours and hours of on the job training, he was ready. He hasn't looked back since!
Now, you can discover all the insider secrets and tips and tricks he mastered over the years. In fact, Bud knows that some of his fellow marketers in the industry are just going to hate that he's sharing this information with you.
Why isn't he afraid of teaching this to others? Well, he fully realizes that not everyone will follow his advice despite the fact that he is a proven example of how to live "the good life."
What you can expect to discover from his years of knowledge and experience:
The reality behind "wholesale prices"
Secrets the flea market dealers don't want you to know
The 3x markup
Where to get your merchandise
Where dealers buy
What to sell
Permits
Where to set up
Five most common mistakes and how to avoid them
Why you should never "sell low" on Friday
How to make "quiet" money
Discover the lingo
Confidential sources of suppliers
and much, much more!
Bud didn't start out as a youngster by deciding one day that he was going to grow up to be a flea market vendor. As you've see it was quite the opposite. But it's the best decision he ever made.
He now dictates when he wants to work. He decides where he wants to work. He decides how much income he wants to earn. You can do it too, if you choose. You owe it to yourself to check out this lucrative opportunity and decide if it's for you.
Heck, you can cut the two year training period down to a day or two to make your decision. Check it out. Learn how you, too, CAN live "the good life." Order your copy now!
Table of Contents
Introduction
Secrets The Flea-market Dealers Don't Want You to Know!
Wholesale Prices
Settle for Less....Get More
The 3x Mark-up
Where Dealers Buy and a Few Jokes For the Road
Where To Get Your Merchandise
Other Choices
Tail-Gaters
Table Swapping
Hard Luckers
Dumpster Diving
What to Sell
Where to Get Products
After-market merchandise by the pallet
Where to Set Up
Road Side Set Ups... On Your Own
Regular Markets and How to Find Them
Parking Lots
Necessary Permits
The Big Question.
What You Will Need on the Road.
Supplies and cost
"No One Home" Campgrounds
The 5 Most Common Mistakes and How to Avoid Them
How to Deal With Jerk Vendors
Give Me the Low Road
Take the High Road
Price Wars
Have Some Fun, Start Your Own Price War With Your Partner!
How to Make Quiet Money... Dealer to Dealer
Back Door Sales
How To Stay Alive & Well On The Road
E-Z Living...No Money - No Problem!
Road Travel Note:
Part Time Work at Campgrounds
Never Sell Low on Friday
The Sales Tax Trap
Prices, Prices, Prices
Quick Trades Without Money
Stay or Leave
Rule # 1. After you finish a market, leave
Building Inventory vs. Money In Your Wallet
One-Day, Two-Day, Three-Day & All-Week Markets
Two-Day Markets
One-Day Markets:
Three-Day Markets
All Week Markets
First Monday Markets
Camping for Free
Sell Your Own Products
In Conclusion
Try to be as self-contained as you can afford.
Glossary of Terms
Confidential Sources of Supply
Businesses That Work
A Sales Ti
From a Female Point of View
What to take:
Bathroom Procedures
What not to take:
What food to take with you:
Know the prices of the merchandise:
Clothing to take:
Breakdowns
Driving:
What not to do:
Helping With the Set-up at Markets
Displays:
Odds & Ends
Table Covers:
Make your own tables:
Vendor awnings:
Tarpaulins: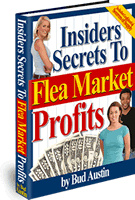 Add to Cart
Add to Wish List
P.S.
Come on. Admit it. You've wandered through the flea markets. I'll bet you've wondered just how much those vendors were making and if it was something you might like to do yourself. Well, here's your chance. Find out for yourself. Grab your copy now!
P.S.
Come on. Admit it. You've wandered through the flea markets. I'll bet you've wondered just how much those vendors were making and if it was something you might like to do yourself. Well, here's your chance. Find out for yourself. Grab your copy now!
Site owner:
Put the rating form on your site!
Listing wrong or need to be updated?
Modify it.
Mistake found?
Select spelling error with your mouse and press Esc