Ice Cream Maker Recipes Ebook
Category:
Cooking
,
Food
Title:
Ice Cream Maker Recipes
Description:
Homemade Ice Cream has not lost any of its good, old-fashioned appeal. In 131 Ice Cream Maker Recipes, there is a delicious homemade ice cream to meet every need: regular, low calorie, sugar free and non-dairy, Anyone can make a homemade ice cream to suit their need. Ice cream fills a useful place in homes throughout the country. It is a favourite for desserts or snacks incorporating an array of many flavour variations. With the recipes provided, everyone will be able to enjoy some type of this taste tempting food. So let's mix up a batch of ice cream for anyone and everyone to enjoy!

You just can't match the taste and texture of homemade ice cream. This Collection includes 131 Ice Cream Maker recipes that are sure to delight your senses.
Can you imagine the creamiest, dreamiest, yummiest frozen desserts you've ever tasted. Now try to imagine having it all for yourself whenever you want it! 131 Ice Cream Maker Recipes takes homemade ice creams, sherberts, frozen yogurts and sorbets to a new level.
Treat yourself to a frozen dessert, order your own ice cream maker recipe collection today.
Table of Contents:
ICE CREAMS AND SHERBERTS
APPLE WALNUT
ALMOND
APRICOT
BANANA
AVOCADO
BANANA PEANUT BUTTER ICE CREAM
BERRY, BERRY STRAWBERRY
BANANA WALNUT
BLUEBERRY
BURNT CARAMEL
BROWN SUGAR PECAN
BUTTER PECAN
CARAMEL ALMOND
CARAMEL
CHERRY
CHOCOLATE
CHERRY BERRY
CHOCOLATE ALMOND
CHOCOLATE BANANA
CHOCOLATE ALMOND BUTTER
CHOCOLATE CHIP COOKIE DOUGH
CHOCOLATE FLAKE
CHOCOLATE EXPRESSO
CHOCOLATE FROZEN YOGURT
CHOCOLATE MARSHMALLOW
CHOCOLATE MACADAMIA NUT ICE CREAM
CHOCOLATE MINT
CHOCOLATE PEANUT BUTTER CHIP
CHOCOLATE PEANUT BUTTER ICE CREAM
CHOCOLATE RASPBERRY
CINNAMON NUT CRUNCH
CINNAMON
COCONUT
COOKIE DOUGH
COFFEE
CRYING CAYENNE ICE CREAM
DARK FUDGE
DARK CHOCOLATE
DIABETIC ICE CREAM
DOUBLE CHOCOLATE
DILL PICKLE
EASY VANILLA
FRENCH VANILLA BEAN
EGG NOG ICE CREAM
FRESH FRUIT
FRUIT TOFU-BASED ICE CREAM
FRESH PEACH
GINGER
GRAPEFRUIT ICE CREAM
GRAPE SHERBET
GREAT PUMPKIN
GUINNESS STOUT
GREEN TEA ICE CREAM
HAZELNUT
HONEY VANILLA
HOMEMADE VANILLA
HONEY APPLE CINNAMON RAISIN WALNUT ITALIAN BANANA DREAM
LEMON
JALAPENO MINT ICE CREAM
LEMON VANILLA
LIME
LICORICE
MAPLE-BLUEBERRY
MARSHMALLOW VANILLA
MAPLE WALNUT ICE CREAM
MILK CHOCOLATE SHERBET
MOCHA MOUSSE
MINT CHOCOLATE CHIP
MOTHER LODE BUTTER BRICKLE
NON-DAIRY BANANA COCONUT
MUSCADINE GRAPE
NON-DAIRY CHOCOLATE MINT
NON-DAIRY EXPRESSO
NON-DAIRY CINNAMON RAISIN
NON-DAIRY STRAWBERRY
OLD ENGLISH TOFFEE
NON-DAIRY VANILLA
OLD FASHIONED VANILLA
OLD-FASHIONED CHOCOLATE
OLD TIME VANILLA
OLD-FASHIONED STRAWBERRY
PEANUT BUTTER CHOCOLATE CHIP
PAWPAW
PEACH
PERILS OF PRALINE
PEANUT BUTTER
PHILADELPHIA BLUE
PISTACHIO
PINEAPPLE CHERRY ICE CREAM
PRALINE
QUICK RASPBERRY
PUMPKIN ICE CREAM
RASPBERRY
RUM RAISIN
ROSE
SAFFRON
STRAWBERRY
SMOKEY CHIPOTLE ICE CREAM
SUGAR-FREE CAPPUCCINO
SUGAR-FREE FRUITY
SUGAR-FREE CHOCOLATE
SUGAR-FREE ICE CREAM BASE
SWEET BANANA PEPPER ICE CREAM
SUGAR-FREE VANILLA
TROPICAL COCONUT
ULTIMATE BUTTER PECAN
TROPICAL ORANGE
VANILLA GINGER PECAN
VANILLA
VANILLA LIMEADE SHERBET
VANILLA VELVET
WHITE CHOCOLATE
WHAT A PEAR! ICE CREAM
SORBETS AND ICES
APRICOT SORBET
APPLE SORBET
BLACKBERRY ICE
CAMPARI-ORANGE ICE
CALVADOS SORBET
CAPPUCCINO ICE
CHERRY SORBET
CHAMPAGNE SORBET
CHOCOLATE ICE
CRANBERRY SORBET
CHOCOLATE SORBET
EXOTIC FRUIT ICE
ICED COFFEE
GRAPEFRUIT SORBET
KIWI SORBET
LILIKOI AND PINEAPPLE ICE
LEMON ICE LEMON SORBET
MANDARIN ORANGE SORBET
MILK CHOCOLATE SORBET
MANGO SORBET
ORANGE SORBET
PEAR SORBET
PEACH SORBET
PINEAPPLE ICE
PLUM SORBET
PINEAPPLE SORBET
RASPBERRY SORBET
STRAWBERRY SORBET
STRAWBERRY MILK SORBET
TOMATO & BASIL SORBET
VANILLA SORBET
YOGURTS
HONEY FROZEN YOGURT
FRESH STRAWBERRY FROZEN YOGURT
PEACH FROZEN YOGURT
VANILLA FROZEN YOGURT
RASPBERRY FROZEN YOGURT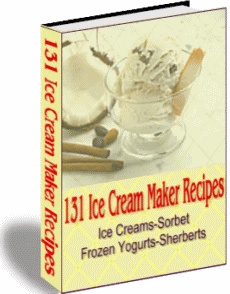 Site owner:
Put the rating form on your site!
Listing wrong or need to be updated?
Modify it.
Cooking Package!
114 Cooking ebooks Click here to see the full list of these ebooks
(total value $710.95)
Buy Now
just for $30.95
$680
off
Food Package!
41 Food ebooks Click here to see the full list of these ebooks
(total value $262.85)
Buy Now
just for $28.95
$233
off
Silver Package!
Any 100 ebooks from 2000+ titles Click here to see the full list of these ebooks
Buy Now
just for $29.95
Gold Package!
Get full access to 2000+ ebooks Click here to see the full list of these ebooks
Buy Now
just for $49.95
Mistake found?
Select spelling error with your mouse and press Esc