Category:
Adventure, Fiction, Humor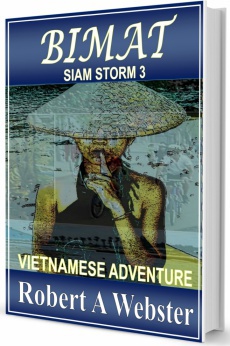 Buy this ebook here
Add to Wish List
+$1
Reviews:Reviewed by Robert A Webster on 2015-05-30
My Rate
5
Third book in the hilarious Siam Storm series. A pursuit through Vietnam to rescue a damsel in distress. . . highly recommended.
Leave a review and rating!
Title:
Bimat - Siam Storm 3
Author:
Robert A Webster
Description:
A kidnap and ransom demand lead our hapless heroes into a pursuit through Vietnam. Pon is tested to his limit, as he must choose between his faith or save the most precious thing in his life. Fortunately, Spock and Stu are there to help and bumble through yet another adventure in South-east Asia. Our heroes become trapped and held by a ruthless band of mercenaries, led by an ex-Iranian Commando with a penchant for violence, and an arrogant English con-man. The group are funded by a wealthy Sheik who is hell bent on revenge. Our little pumpkins have to find an underground hide out within the maze of the Chu Chi tunnels, escape captivity, rescue a damsel in distress, restore order, and find a good drinking place in the hustle and bustle of Hanoi.
In this, the third novel of the Siam Storm series, we find Stu Spock and Pon face their most difficult challenge yet, as they are not only facing a cunning astute adversary, but also have to wrestle their own demons within. They learn a very important lesson...don't drink Heineken.

Rating: (5 after 1 votes)
Category:
Adventure, Fiction, Humor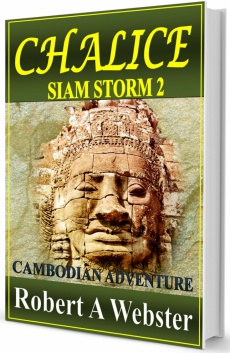 Buy this ebook here
Add to Wish List
+$1
Reviews:Reviewed by Robert A Webster on 2015-05-29
My Rate
5
Chalice is a dramatic and hilarious sequel to the Siam Storm adventure. . . highly recommended
Leave a review and rating!
Title:
Chalice - Siam Storm 2
Author:
Robert A Webster
Description:
Chalice - Siam Storm 2 - A Cambodian Adventure
Professor Norman Rumble has spent the last few years in his dark, lonely world. Life for the old professor has just been a mundane routine since his beloved wife passed away, he just dedicated himself to his research. However, thanks to his tireless work he now has a chance to get his life back. He just needs to find some way to test his theory.
In Chalice, the hilarious sequel to the Siam Storm Adventure; our hapless heroes go to Cambodia to once again recover the sacred Buddha relic.
This time they must thwart plans that could change the human race and turn Spock and Stu into fruit based drinkers.
The chase takes them from the warm sandy beaches of Sihanoukville, on the southern coast of Cambodia, to Siem Reap and the spectacular Angkor Wat temples. They encounter many obstacles along the way and face many calamity's, such as warm beer. Our team has to find an underground citadel, recover the holy box, elude some unsavoury characters, spend time chillaxing on the beach and find some decent bars in Cambodia...will they succeed?

Rating: (5 after 1 votes)
Category:
Adventure, Fiction, Humor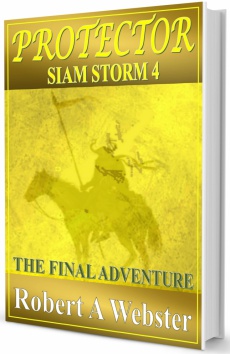 Buy this ebook here
Add to Wish List
+$1
Reviews:Reviewed by Robert A Webster on 2015-05-31
My Rate
5
Protector is the final adventure in the Siam Storm series. It follows the quest to discover who is murdering descendants of the Buddha and their age old protectors. . . Thrilling, humerous adventure
Leave a review and rating!
Title:
Protector - Siam Storm 4
Author:
Robert A Webster
Description:
Protector - Siam Storm 4 - The Final Adventure
Siddhartha Gautama, before become, the Buddha, had a family. Known by very few to exist, his descendants had been safeguarded throughout the centuries by monastic Buddhist orders, the Tinju being one.
When a descendant and his injured protector arrive at the Royal Palace in Bangkok, it is Prime Master Pon's duty to find out who is murdering the descendants. His investigations uncover a plot by a rising savage terror group, so he assembles a team of combatant monks from around the world. Each order of monks has to bring their unique fighting skills to bear to combat the deadly threat.
With Spock and Stu as usual getting underfoot, the team have to locate the terror group and stop the killings. Leaving our lovable rogues behind to cause mayhem in Bangkok, they assigned them the task of looking after the surviving descendant and his protector.
Protector follows the hazardous journey through unfamiliar terrain as the team races the clock to stop further killing of their brethren, only to discover things are not always as they seem.

Rating: (5 after 1 votes)
Category:
Entertainment, Humor, Poetry
Title:
Fringe Fantastic
Author:
Chas Stramash
Description:
Fringe Fantastic is a collection of poetry and photography about the author's experience at the Edinburgh Fringe Festival.
Humorous, satirical and irreverent, it contains 91 pages of photographic images and dozens of poems written on the ancient cobbled streets during the month-long festival.
This ebook blows holes in anyone who thinks poetry is purely for stuffy intellectuals and each one comes personally signed by the author.

Ebook Type: PDFAudio Included, Video Included,
Rating:
Category:
Fiction, Humor, Relationships
Title:
Souching Past Bethlehem
Author:
Carol Adler
Description:
Dr. Gissalayne Chondroitin (five PhDs in five useless academic disciplines)--currently employed at Hook, Line & Sinker, LLC, ("We give you the rod, you hook the fish")--has one agenda: find a man, fast. But not any man; the sugarcone.com internet match websites has already led her down the disaster trail too many times. Magically-or maybe not--on New Years Day of YK24 (2004) Jonas Foreplay sits down in the empty plastic seat next to her at the SeaTac airport on her way home from her most recent sugarcone.com failure. In this fast-reading novel, Adler neatly hides the truth of what's really happening right in your own back yard.

Ebook Type: PDF
Rating:
Category:
Humor
Title:
Action Comics
Description:
I can't believe I found this. An ebook rendition of the comic ebook that started the illustrious career of one of the most popular comic book heroes of all time, Superman. Action Comics #1, released in 1938, introduced Superman to the comic ebook industry and the rest is history.
Originally created by a couple of teenagers, Joe Shuster and Jerry Siegel, Superman went on to become a mainstay in every comic book enthusiast's collection. And get this, you won't believe a man can fly. You WILL believe a man can jump great distances. Believe it or not, Superman originally could not fly. As with so many things we are familiar with, the Superman character we know today, evolved over time.
This ebook makes a fantastic complement to my Comic Book Collecting ebook. The original comic is very illusive these days and if you do own a copy, it is worth a bundle. But for those of us that have never seen the origin of Superman, this ebook is a great history lesson and is yours if you act today.
Bonus to the "Comic Book Collection"

Rating:
Category:
Children, Dogs, Humor
Title:
Ace Adventures
Author:
Judy Walsh
Description:
This ebook will start with an introduction of what Ace, the rescued pit bull puppy, did the first few months of his life and then he starts an online diary of his adventures. It will contain drawings and photos of Ace and his family.

Ebook Type: Other
Rating:
Category:
Humor, Religion, Fiction
Title:
The Adventures of Jesus - EScreen Format
Author:
Walt Sautter
Description:
This is a rewrite of "The Adventures of Jesus" in screenplay format. Much has been added and deleted from the original making it ever funnier.
The "Adventures of Jesus" will give a whole new understanding of how The Second Coming may occur and plenty of laughes besides.
Jesus returns accompanied by his faithful companion, the Angel Gabriel and together they attempt to devise a plan to publicize his arrival. They find themselves continually plagued with problems from finding new Apostles to organizing a Sermon on the Mount rally.
Even the Savior's old miracle working skills need updating now and then. He frequently reveals the true meanings of many of his arcane sayings and parables with clear, easy to understand explanations. Additionally, He tells how some of the most dramatic events in the Bible actually unfolded. You will be shocked (and laugh your ass off!).
Warning - Reading this story will not condemn you to Hell but may require you to spend a little extra time in Purgatory. LOL

Ebook Type: Kindle
Rating:
Category:
Humor
Title:
Comic Books
Description:
The Fascinating and Informative World of Comic Books, A Collection of Articles
I decided to compile all of my musings about the comic ebook industry from the last several months. Together in one special ebook are the articles I have written on numerous comic book related issues. Among the topics are:
Stan Lee and his Hollywood woes
The thrills of comic book collecting
Happenings in Hollywood
Tips and tidbits on comic book supplies
This ebook has taken months to build, and it is not finished. As I create and/or find more articles of interest, the ebook will be updated. And you will have free access to the updates as well.
This comic book gem is worth the total price of admission, but is included here free of charge if you take action today!
Bonus to the "Comic Book Collection"

Rating:
Category:
Humor
Title:
The X-men characters
Description:
The X-men, characters and descriptions!
This ebook is a great add in that I have come across. My good friend Valerie Pooh, or Val as she likes to be called, wrote this ebook. And she gave me the privilege of offering it to you. She has created her own X-men site that you will indeed have to check out, once you download her book. She has created an extensive collection and description of every X-men character to have existed:
The thrills of learning the X-men characters in depth.
How large is the X-men team?
Can't think of that one character who eludes you?
What are the powers of each mutant?
This ebook took months to create. I was very lucky to have come across Val's site and to have gotten to know her. You will love and enjoy her and her site. It is a must see after you download her book.
Bonus to the "Comic Book Collection"

Rating:
Humor Package!
4 Humor ebooks Click here to see the full list of these ebooks
(total value $27.95)
Buy Now
just for $17.95
$10
off
Mistake found?
Select spelling error with your mouse and press Esc