How to reduce Stress Ebook
Category:
Health
Title:
How to reduce Stress
Description:
Everything your doctor didn't tell you about busting stress!
Seventy-hour work weeks. Crazy commutes. Piles of unpaid bills. Endless family demands. Freeway gridlock. Soccer games.
Feel like you want to just jump off the world and let it spin without your for awhile? Life in the fast lane often comes with a built-in speeding ticket. . .Burnout!
It's a state of mental and physical exhaustion that can lead to negative feelings about your job, your life and yourself. Reducing stress is key to dealing with burnout. Odds are pretty high that you're a ticking time bomb, ready to blow any minute.
Sadly, we are creatures of habit and as such we begin to take the bad stuff for granted as much as the good stuff. You may not even realize that stress is taking a toll on you every day and if you don't get a handle on it, you are in big trouble.
We can help. How to Reduce Stress at Work and at Home is written just for you. Not only do we help you understand what stress is all about, we give you tons of "stress busters."
Heck, a little bit of stress is actually good for you. But, when is it a problem? Take our little test and see for yourself:
SCORING
Never -score -1 (minus 1)
Rarely -score 0
Occasionally -score 1
Frequently -score 2
Always -score 3.
Do you feel like there aren't enough hours in the day?
If you are doing something important do you miss meals?
Do your days seem long and boring?
Is it a struggle to go to work each morning?
Ever have difficulty sleeping?
Do you feel like everything around you moves too fast?
When you relax do you think about work or problems?
Do you feel like everything around you moves too slow?
When you relax do you feel like you should be doing something?
Do you feel like people take advantage of you?
Did you know that 90% of doctor visits are for stress related symptoms? What is stress anyway? Do you know? We'll tell you on page 2.
Are you usually rushing around like a headless chicken?
Do you find yourself finishing other peoples sentences?
When you're driving do other driver make you impatient?
Is it common for you to lose your temper?
Do you feel like something is missing in your life?
Are you easily depressed?
Do you get frequent aches and pains in the neck and shoulders?
Have you lost your physical fitness?
Are you drinking too much alcohol?
Do you find yourself becoming easily confused?
What you need to do is relax. Huh? It can't be that simple!
Yes, it can and you can do it. We discuss that on page 7.
Do you bite your nails?
Is it sometimes difficult to make decisions?
Are you suffering from frequent indigestion?
Do you get angry frequently?
Is it difficult to make and keep friends?
Are you finding that you are breathing fast?
Do you sometimes feel unhappy even when your life is ok?
Do you sometimes feel like you'd like to hit someone?
Are avoiding contact with people as much as possible?
Do you get blinding headaches for no apparent reason?
There are some pretty powerful resources that you can put to work to help you combat stress. You'll probably be amazed at how simple some of them are.
Just about everyone has some stress in life even if they aren't aware of it. Correcting it can be as simple as understanding how the two parts of your mind work.
Do you have sexual problems that you never used to have?
Are your muscles frequently feeling tight and tense?
Are getting coughs, colds and other minor infections?
Are you secretive?
Do you have dreams that you know will never come true?
Do you wake up from sleep and still feel tired?
Are you putting things off until the last possible moment?
We can't control other people and situations. What we can do is control how we respond to people and events. The sooner you take back control of your life, the happier you will be.
Are you gobbling your food?
Do you believe you are always right?
Do you dislike many things?
Is your memory not working as well nowadays?
Are you not enjoying your food?
Do you need to be in control?
Are you getting hot or cold sweats out of the blue?
Oh, and about our little test? You'll find the answers on the last page. What we can tell you now is that you definitely need to read How to Reduce Stress at Work and at Home!
Grab your copy today your family will thank you!
TABLE OF CONTENTS
INTRODUCTION
HOW TO CONTROL STRESS
WHAT IS STRESS?
OTHER STRESS REDUCERS
SELF HYPNOSIS
TAKE A STRESS TEST
FINAL THOUGHTS
CONFIDENCE AND SELF ESTEEM
INTRODUCTION
Did you know that 90% of doctor visits are for stress related symptoms?
Stress bombards us every day from all directions. Maybe it's sitting in the midst of highway gridlock when you are already late for an important appointment. Or how about the bill you forgot to pay? It could be a phone call from the school complaining about your child's behavior.
These are just the annoying little stress triggers that we handle every day. What about the larger issues? Retirement, moving, divorce or, heaven forbid, the death of a loved one or friend can come out of the blue and here comes the stress, launching you into treading murky waters one more time.
The impression is that the feelings of stress come from outside sources when, in reality, it happens inside of us.
When we feel as though we are under pressure, our bodies react the same way that we have trained them to do with a rise in blood pressure, tightening of muscles and accelerated breathing.
These physical symptoms are generally referred to as "fight or flight" responses. This is a term left over from historical times when the choices were to flee or stand and fight.
Unfortunately, today we don't have those options. Each situation must be dealt with and that's where the stress comes in. Some stress is unavoidable and is actually good for you as we will discuss further on. But too much stress leads to troubles that can range from upset stomach to anxiety attacks and even as serious as heart attacks.
There's a whole arsenal of stress busting tools available that we will discuss here. Hopefully, the more you understand your stress, the better prepared you will be at controlling your body's response to stress and restoring a calmer state of mind.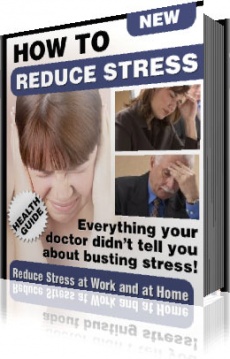 Site owner:
Put the rating form on your site!
Listing wrong or need to be updated?
Modify it.
Health Package!
184 Health ebooks Click here to see the full list of these ebooks
(total value $1671.85)
Buy Now
just for $37.95
$1633
off
Silver Package!
Any 100 ebooks from 2000+ titles Click here to see the full list of these ebooks
Buy Now
just for $29.95
Gold Package!
Get full access to 2000+ ebooks Click here to see the full list of these ebooks
Buy Now
just for $49.95
Mistake found?
Select spelling error with your mouse and press Esc