How to Write for Todays Children Ebook
Write for Today's Children
Category:
Education
,
For Authors
Title:
How to Write for Todays Children
Author:
Martine Hellyer
Description:
How YOU Can Make Money Writing for the Lucrative Children's Market

Ever wish you could write children's literature?

Well, You Can!

Dear Reader,

How would you like to begin enjoying the benefits of working at home doing a job you absolutely adore? If you answered 'Yes!' then read on.

3 Reasons Why Your Timing Is Perfect

That headline above is no joke. You couldn't have chosen a better time to learn about this great hobby. This is a great time to turn your avocation into a work at home business!


Today's children are reading earlier with an increasing demand for age appropriate material.
No special qualifications are required to become an author of children's books.
There is no lack of content.
It doesn't matter whether you have children. Nor does it matter whether you are a published author. Anyone with the desire top tell stories can become an author of children's books.

Does that mean you can just throw a few paragraphs together and become another J.K. Rowling? Of course not! That would be ridiculous.

It does mean that YOU have an incredible opportunity to get started in a hobby that is not only personally rewarding, but a fun, creative way to supplement your income.

The only thing left is to learn how to become a children's author. And, you are off to a great start. We have the information you need in one tidy, compact guide entitled "How to Write for Today's Children."


And What's Great Is . . .
It doesn't require much time to get started - You can start preparing as soon as you've read the guide.
You don't need any special education - You do it yourself with this new guide.
Cost is minimal - Once you've discovered what you need to get started you'll find it's not expensive.
Again, it doesn't take a lot of expertise - Read the guide and you'll have all the knowledge you need to get started.
We let you in on all of the secrets and more inside The "How to Write for Today's Children" and here is a peek inside:
Learn all about the different types of children's books and discover the right genre for you.
Discover how to find great plots with little or no effort.
Uncover the topics and taboos in the children's book industry.
And this is just the tip of the iceberg. We also teach you about producing your book, developing your characters, how to submit your book and much more.

It's really easy to get started. You just need to click the link below and you will have your copy in just minutes. Once you have your own copy of "How to Write for Today's Children" you are armed and ready to start your quest into the world of authoring children's books.

You know that you are acquiring knowledge that can reap benefits for years. We guarantee it! Start now! Click the link below for your copy. You'll be glad you did.


About The Author

Martine Hellyer

Martine Hellyer has written many stories for children of all ages.

She started writing as a hobby several years ago while working in an executive position with a large firm and kept her writing activities private while she was in that job by always using a series of pen names.

She found the writing more interesting than her main job and also a great stress reliever.

She believes that the benefits of writing, especially writing for children, are much more than just the money she has earned from it.

Martine has met many other writers with various levels of experience when attending conferences and workshops. That has led to some lasting friendships where she has exchanged letters tapes and email.

She has been helped by many more experienced writers and her book is a pay back to the writing community for that help and the happiness which they have brought her.

Martine also believes that writing is a better way to maintain her mental agility than the crosswords and other puzzles which she also enjoys. Writing is also a way that almost anyone can use to earn money which is very handy in these economically stressed times.

Writers don't need special training or a paper qualification. They just need to have an active imagination and a desire to entertain other people with their ideas and stories.

Martine says that her book is meant for anyone who wants to produce stories which are enjoyable and saleable as she has done for years.

Although she focuses on writing for children, there are many tips in her book which can help almost any writer to produce gain more satisfaction and possibly sales from whatever type of writing they do.
ContentsAbout the Author
Introduction
Are You Qualified?
Research

Learn about your Readers
Consult Experts
Finding Great Plots
Types of Children's Books
Topics and Taboos
Producing Your Book
Setting your Story
The Heart of Your Story
Editing Your Book
Tips

Keep in Touch
Keep Adults in their Place
Choosing your Point of View
Show and Tell

Putting Your Story Together
Three Ways to Connect with your Readers
Developing Characters
Let Your Characters Speak for Themselves
Keeping Track
Submitting Your Book

Waiting for the Publisher's Response
Proposals
Dealing with Rejection
Commercial, Vanity or Self-publishing

Vanity Publishers
Using a Regular Printer
Print-on-Demand Services
Publishing Your Book Online
Setting up your own Website
Martine's Message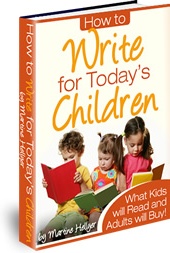 Add to Cart
Add to Wish List
P.S. Please Don't Order this product if you're looking for a fat ebook full of fluff. If you are looking for solid content to help you break into the children's ebook industry then you need to order today!
P.S. Please Don't Order this product if you're looking for a fat ebook full of fluff. If you are looking for solid content to help you break into the children's ebook industry then you need to order today!
Price: $

17.00
Ebook Type:
PDF
Rating:
Site owner:
Put the rating form on your site!
Listing wrong or need to be updated?
Modify it.
Mistake found?
Select spelling error with your mouse and press Esc