How to Make Meetings More Productive Ebook
How to Make Meetings More Productive
Category:
Psychology
,
Self Help
Title:
How to Make Meetings More Productive
Author:
Pete Harmon
Description:
How to Take Your Meetings From Snoring and Boring to Exciting and Productive

Dear Reader,

How many meetings have you attended that resembled a "free-for-all" with hardly any work accomplished? Sadly, it happens every day all over the world. Wasted time is like flushing dollars down the drain.

It makes no difference if you are the the "go to guy or gal" for a large Fortune 500 corporation or a small business owner, the principles are the same. Time is money and no business can affordto waste it.

If you really want to show a boss you've got what it takes to move ahead in the company; or, you want to take your own business to the next level, you are in the right place.

Let's cut right to the chase. If you want to continue down the same old road getting the same old results then click away now. But, if you are ready for change "How to Make Meetings More Productive" is just what you need!

It contains everything you need to know to begin conducting meeting that people will want to attend! Yes, that's what we said. They'll want to attend YOUR meetings.

Discover how to:
How to properly chair your meeting
Prepare for your meeting - the RIGHT way
Handle the tell tale time factor
How to implement brainstorming
Taking minutes
Mind mapping with a purpose
The meeting "after the meeting"
And, as if that wasn't enough, you have a sample of real minutes to follow insuring that you get it right!

We also include an entire chapter on overcoming challenges. What to do when the meeting is disrupted; how to respond to comments from the participants, how to become a better listener and how to ask questions the right way!

There is even a procedural guide and a chapter on video and teleconferencing! You just can't lose.

Listen, you could sit here and read more and more stuff but the bottom line is to try it yourself. You can do that with a 100% money back guarantee. Why don't you just give it a shot?

Leave snoring and boring behind. Get your copy now and your next meeting is sure to be exciting and productive! You'll be glad you did and we guarantee it!



About The Author

Pete Harmon

Pete Harmon has been involved with meetings in sporting, social and business areas for most of his adult life.

Pete has always been focused on making a positive contribution to the organizations of which he was a member.

Like many other members, he found this very difficult at first. But, he worked very hard to be a more effective member.

He also slowly improved his presentation and other personal skills which helped with his club activities. He also believes that his career has been helped by this effort as well.

In the depressed economy and tight job situation, it can be a real plus when someone shows they can present their self and their point of view effectively in all kinds of social and business situations.

Pete said that he is not a professional meeting organizer or a lawyer, and he has no special talent or secret.

He learned by watching and doing.

"That's the best way, but it takes a fairly long time. And, some mistakes that I've seen people make have been costly to their reputations and their ambitions, both personal and professional."

"So, I wrote my book to help others learn from their armchair in a couple of evenings what took me years."

Pete say that his book will give you the basic knowledge to get better outcomes for yourself and the organizations you support as well as give you more self-confidence in all kinds of public situations.
Contents
About the Author
Introduction
Preparing for the Meeting
Prepare Your Agenda
Support People
Chairing the Meeting

Items which Run over Time
Adding Items to the Agenda
Wrap up Each Item after the Discussion
The Time Factor
Keeping a record - the Minutes
Example of Minutes
Encourage Wide Participation
Mind Mapping
Brainstorming
Concluding the Meeting
Nothing Happens Without ACTION
Being a Good Participant
Record Yourself
Improving Your Presentation
Body Language
Problems and Remedies
Responding to Comments
Disruptions
Asking Questions the Right Way

Pointed Questions
Open and Closed Questions
Follow-up questions
Best and Worst Questions
Better Listening
Meetings Out Of Your Office
After the Meeting
Perform your own Post Mortem
Resources
Procedural Guides for Meetings
Training
Video and Teleconferencing
Running Your Video Conference or Teleconference
A Word from Pete Harmon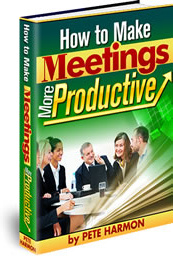 Add to Cart
Add to Wish List
P.S. Please Don't Order this product unless you are serious about conducting knockout meetings! You've got our guarantee! Grab your copy now!
P.S. Please Don't Order this product unless you are serious about conducting knockout meetings! You've got our guarantee! Grab your copy now!
Price: $

17.00
Ebook Type:
PDF
Rating:
Site owner:
Put the rating form on your site!
Listing wrong or need to be updated?
Modify it.
Mistake found?
Select spelling error with your mouse and press Esc