How to Dominate Your Market in 1 Year Ebook
How to Dominate Your Market in 1 Year
Category:
Real Estate
Title:
How to Dominate Your Market in 1 Year
Author:
Zoe Zhao
Description:
How to Own and Operate Your Own Home Staging Business and Dominate Your Market in 1 Year!

If you have ever tuned in to a real estate show on a Saturday or Sunday afternoon, you've probably observed staging in its purest form. In fact, there are a few programs on the home networks that are all about staging.

One thing you haven't seen, however, is how to become involved in this lucrative business. Well, that's about to come to a screeching halt!

Look, there's no denying the fact that the real estate market is in serious trouble with this current economic downturn. One thing to keep in mind is that homes are still selling. The difference is who is selling them?

The professional selling those homes is the one who uses every tip, trick and tool in his or her arsenal. One of those tools is home staging. This is one of the best tools available for the savvy real estate marketer. It usually pays off and pays off big!

You may be under the false impression that only an experienced designer can own and operate a success home staging business. Nothing is further from the truth. Having an eye for design is definitely helpful.


We aren't going to "spill the beans" here but let's just say you'll be pleasantly surprised inside our "How to Dominate Your Market in 1 Year" guide. It's not as difficult as you may think.

Our "How to Dominate Your Market in 1 Year" is based on "elemental lists" that will help you begin your staging business and carry you through from the very beginning to a fruitful ongoing conclusion.

You will learn what to do every day, every week, every month and every year. Learn:
How to build relationships with realtors and affiliates
What to do for every project
What to do to take your business to the next level and,
How to truly dominate the market
"How to Dominate Your Market in 1 Year" will teach you great marketing that costs almost nothing to implement. Also learn about how to acquire and keep great customers. We teach you how to limit debt, get recurring income and operate in a niche.

All told, you can even sell this business if you choose. But, don't just take our word for it. Find out for yourself. Grab your copy and see just how much fun you can have providing this lucrative service to those who need it!

See you on the inside!



About The Author
Zoe Zhao
Zoe Zhao started her home staging business on her own. She did everything herself at the very beginning; marketing, consulting, on-site staging, purchasing inventory, storage, moving and bookkeeping ... everything small business owners have to deal with.
But now, she only does marketing and delegates all of the other work. She makes more and works less.
She has 3-4 designers on her team and each of them get about 1 project every week in the busy season.
Her team has staged over 200 homes in 2 short years. One of them said that "You are the smartest designer I have ever seen."
She has written articles for major newspapers for years, and a TV program about her service is about to launch in Toronto .
Her designers always wonder how she does her marketing; that has been her biggest secret!
Since there are so many homes in the market that need help from stagers, she thinks it won't hurt if she reveals her marketing secrets to designers in other cities.
And, she wants more people to get the great help from stagers, sell their home quickly and move on with their lives.
That is why she wrote this e-book. It's not a book about how to design, but how to be a most successful Home Stager. With this guide you will receive all of the information you need to start your own business and make it succeed!
Table of ContentsIntroduction

1 Getting Started - Understanding Home Staging
What You Will Not Find In This Book:
This Book Is For Two Groups of People
2 Where to Start - Defining the Steps to Success
The Steps Defined
Following the Steps to Success
An Aside from Rob Minton
STEP 1 Find Your Niche Market
STEP 2 Design Your Company Signage
STEP 3 Setup your portfolio
STEP 4 Get Your Own Website
STEP 5 Start to Collect Realtors' Names
STEP 6 Locate all the Real Estate Offices in Your Area
STEP 7 Design and Print Postcards for Direct Mail Marketing
STEP 8 Print all the Forms You will Need
STEP 9 Use a Reliable Email Contact Management Service
STEP 10 Start Writing Articles about Home Staging
STEP 11 Talk to Newspapers and Community Organizations
STEP 12 Give Your Articles to the Media
STEP13 Prepare a Presentation for Realtors
STEP 14 Get Company Insurance
STEP 15 Post your Advertisements on Free Web Sites
3 The "Every" Lists
Understanding the "List"
The Every Day List
Why Do You Need to Follow These Steps?
Tips For Meeting with Potential Clients
The Every Project List
During the Meeting:
Work with the Neighbors
After the Staging:
The Every Week List
The Every Month List
Understanding the List
Understanding the List
Understanding the List
The Every Year List
4 Building Your Success
Reaching the Upper Level
Indicators of High-Quality Service
Building Relationships for Success
5 Choosing Great Designers
A Review of the Top 9 Qualities
Choosing Designers
Example Postcards and Referral Form
Postcard #2 Front and Back
Postcard #1 Front and Back
Postcard #3 Front and Back
Thankyou Postcard Front and Back
Referral Postcard Front and Back
Referral Form
Conclusion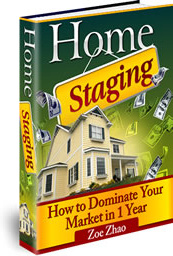 Add to Cart
Add to Wish List
P.S. Please don't order this ebook if you are looking for a ebook about design. You won't find that here. This ebooks is all about making money in the home staging business. Period!
P.S. Please don't order this ebook if you are looking for a ebook about design. You won't find that here. This ebooks is all about making money in the home staging business. Period!
Price: $

17.00
Ebook Type:
PDF
Rating:
Site owner:
Put the rating form on your site!
Listing wrong or need to be updated?
Modify it.
Mistake found?
Select spelling error with your mouse and press Esc