How to Create a Web Site in 5 Days Ebook
How to Create a Web Site in 5 Days
Category:
E-Business
,
Internet
,
Programming
Title:
How to Create a Web Site in 5 Days
Author:
Bina Omar
Description:
Foreword
A web site is essential especially if you're thinking of starting an online business. You're convinced about it. Unfortunately, you just don't have the time to discover how to create your own web site or the money to hire someone to do it for you. After all, what's the point of paying someone $1,000 when before you're even sure you're on to something.
All you need is a simple fast loading yet professional web site and you need it now. You can spend all your money to promote your web site and product. And when you start making some serious money, you can always hire a professional web designer to spice up your web site.
This ebook will teach you how to create a web site in 5 days. This is by no means the perfect way and it will definitely not turn you into a web designer but it will enable you to have your own web site up and running in the least time with the least cost.
Okay then, if we're going to finish this in 5 days we better get going.
Table of Contents
Foreword
Using this e-Book
Before You Start
The Browser Problem
Web Design Problems
The Display Problem
Conclusion
Requirements
Day 1 and 2: Planning
What's Your Objective?
Planning Your Web Site
Who's Your Target Market?
Creating A Site Map
What's Your Competitor Doing?
Choosing A Color Scheme
Web Site Sketch
Day 3: Preparation
Organizing Your Web Site Folder (M)
Listing Material You Already Have
Collecting Material
Creating Logo (M)
Background Image (M)
Navigation Buttons (M)
Optimizing Images (M)
Day 4: Creating Your Home Page
Introduction
Inserting Your Logo (M)
Preparing Your Web Page (M)
Formating Your Sales Letter (M)
Creating Your Navigation Bar (M)
Creating Links
Mailto Link (M)
Link Destination
Other Details (M)
Day 5: Creating Other Pages
Publishing Your Site (M)
Another Web Page (M)
Checking Your Links and Load Time
A Job Well Done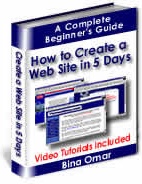 Site owner:
Put the rating form on your site!
Listing wrong or need to be updated?
Modify it.
Mistake found?
Select spelling error with your mouse and press Esc