How To Turn Your Knowledge Into Mega Profits! Ebook
Category:
E-Business
,
E-Marketing
Title:
How To Turn Your Knowledge Into Mega Profits!
Author:
Maria Vowell
Description:
Get the bids Even when bidding is bad!
If you'd like to make $400.00 + per week working from home, tell your boss good-bye and become an on-line auction seller that gets bids even when bidding is at it's worse, then click here to check out "Auction Explosion" today!


Please note that this is an updated version of this e-book.

Hi. You should find almost everything you need to become a successful eBay seller in this e-Book. I focus my attention on eBay, because based on past experiences, things sell on eBay. I've tried other on-line auctions, but if you'll browse them, you'll see that very few items get any bids, and if they do, it's such a low amount that it's really not worth your time. So relax, take a break and sit back and study this information carefully. If you do things right, you can be able to quit your day job in no time!
Please note that there are links throughout the e-Book. When you use these links, make sure you are connected to the internet as they lead to different web sites.
Sincerely,
Maria Vowell aka Lyciall
Chapter 1: About eBay
If you're an absolute newbie to eBay, then you may want to see this to get a better understanding on how eBay works.
Chapter 2: Where to get things to sell
Here I'll give details on the best places I find things to sell...and examples of some of my best sellers.
Chapter 3: Determining your prices
Your price is one of the main things that determines whether you get any bids or not. Discover how to set the right price, where you're item will sell for maximum profit.
Chapter 4: Getting ready to post
Before you post, there's a few things you need to do. From cleaning up used merchandise to scanning items, or taking pictures of your items.
Chapter 5:Just how do I post my Items anyway?
Step by step manual for posting your item, and inserting your pictures.
Chapter 6: When is the best time to start an auction?
Here I'll discuss the best times to post an auction, and how to determine the length of days it should run.
Chapter 7: I'm not getting any bids...now what?
So you've started your auction...but not getting any bids. You may need to tweak your description just a little bit. I'll show you how.
Chapter 8: OK the auction is over...how do I collect my money?
What you need to know about sending invoices via e-mail..what the shipping cost is... and how to take payment with Credit Cards, even though you don't have a merchants account.
Chapter 9: Important things you NEED to know about shipping
OK so your item is insured...but arrives broken to the seller...Oops. Insurance will pay for it, yet sometimes it takes up to 6 months!!! Tips on shipping that will keep this from happening to you.
Chapter 10: Leaving Feedback
Feedback? What is feedback? Tips on leaving appropriate feedback.
Chapetr 11: Dutch Auctions...why they can make you wealthy indeed
Here I'll explain how Dutch auctions can really make you some money on eBay if done properly.
Chapter 12: Finding the right formula that works
OK so you have 100 items to sell, but don't want to do a dutch auction? Well lets get the right formula down that sells your item with maximum profits.
Chapter 13: I see vacation certificates sell Great!! Where do I get them?
Where you can get the vacation certificates without paying a distributorship fee. (Some people require you pay them $99 to $500 just to become a distributor!!!)
Chapter 14: HTML? What is that?
What you need to know about HTML to spice up your listings.
Chapter 15: Should I set a reserve price? Or not?
To reserve or not to reserve. That is the question...
Chapter 16: What to do about those hard to please bidders.
OK I've done everything professionally, yet my buyer is not happy. What do I do?
Frequently Asked Questions
Since the first writting of this guide I have alot of people write me asking questions. I have added this section with the most freguently asked questions that I hope will be benfitial to you as well.
One final Message from Lyciall
On a final note.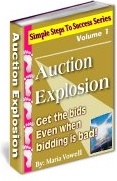 Site owner:
Put the rating form on your site!
Listing wrong or need to be updated?
Modify it.
E-Business Package!
455 E-Business ebooks Click here to see the full list of these ebooks
(total value $4723.45)
Buy Now
just for $49.95
$4673
off
E-Marketing Package!
338 E-Marketing ebooks Click here to see the full list of these ebooks
(total value $3366.90)
Buy Now
just for $49.95
$3316
off
Silver Package!
Any 100 ebooks from 2000+ titles Click here to see the full list of these ebooks
Buy Now
just for $29.95
Gold Package!
Get full access to 2000+ ebooks Click here to see the full list of these ebooks
Buy Now
just for $49.95
Mistake found?
Select spelling error with your mouse and press Esc