How To Survive in Prison or Jail Ebook
How To Survive in Prison or Jail
Category:
How To
Title:
How To Survive in Prison or Jail
Author:
Peter Maxwell
Description:
"Are You Going To Prison or Jail?
Are You Worried About How You will Survive in Prison Among the Convicted Murderers, Thieves and Rapists?"
I called it the "Fresh Fish List"
Here is my "Fish List" of what I DIDN'T WANT to happen to me while in prison:
I don't want the embarrassment of someone looking me up on an "inmate locator"
I don't want to spend time more away from my family than I was originally sentenced to
I DON'T WANT to have to look over my shoulder 24/7
I don't want to worry about my girlfriend or wife finding another lover (or if female... vice versa)
I DON'T WANT to go to sleep worrying about my cellmate
I don't want something on my record that someone might see
I DON'T WANT to get picked on, beaten up, ganged up on or sexually assaulted... ever!
I DON'T WANT to be someone's bitch...
I DON'T WANT my wife and kids to visit me in prison and see bruises on my face
As you can see, my list of "Don't Wants" is really long...
Then, I put together my list of what I DID WANT:
I WANT TO know what to do and how to handle myself BEFORE I surrender and go in!
I want to be able to go to chow, the rec room, sleep or do what I want without being harassed!
I WANT TO be able to walk onto the yard and not have to worry about anyone, ever!
I WANT TO survive mentally and physically!
I want the courts to look at my Pre-Sentence Investigation report (PSI) and be lenient
I want to do my time in peace and quiet
I WANT TO be able to talk to whoever I want without fear of a beating, stabbing or other retribution
This is one of the only prison survival training programs in the world of it's kind that is designed to do one thing and one thing only:
Teach You How to Stay Safe In Federal Prison, State Prison or even County Jail ---
You'll discover ways to shorten your stay with a good PSI or Good Time
You will realize you still have rights as a citizen You will be stronger going in than most new inmates
You will get to read firsthand what incarceration is like...
You'll still have fears about your future... but with the help of this ebook I'll silence some of those fears
Your first day of incarceration and what to expect.
You will be given full access to all my info plus the bonus material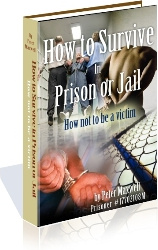 Rating:
Site owner:
Put the rating form on your site!
Listing wrong or need to be updated?
Modify it.
Mistake found?
Select spelling error with your mouse and press Esc