How To Have A Wonderful Wedding Ebook
How To Have A Wonderful Wedding
Category:
Wedding
Title:
How To Have A Wonderful Wedding
Author:
Maureen Parnell
Description:
Learn The Insider Secrets To Saving Time, Money And Stress So You Can Have A Wonderful Wedding!
Is stress beginning to take its toll on your wedding plans?

It's that horrible feeling of being overwhelmed by the planning and the expense. In fact, the stress becomes so prevalent that it totally overshadows the joy you should be experiencing at this important time in your life.

Money is but one of the all-encompassing factors that seems to taking over all of your thoughts and feelings.

Of course, you want your wedding to be the most memorable experience of your life but you just hadn't figured on how all the details would take over your life and drive the cost through the ceiling!

There are ways to overcome all the obstacles and proceed with your wedding plans with a minimum of stress. Just like everything else in life, you just need some guidance. Most people automatically think about a "wedding planner." That might not be the best route to take, at lease not right off the bat.

You see, part of what is generating all the stress is less about a wedding planner and more about having a wedding plan! It's your wedding and it should be your plan. But, what do you include? What are the questions, much less the answers?

What you need to know is "How to Have a Wonderful Wedding!" And, we have exactly what you need. This guide will not only answer the questions you have, it will also answer the questions you forgot to ask!

Questions like:


About the Maid of Honor
How to set up the bridal party
Should you have a wedding planner
Should you hire a caterer
How to select a photographer and/or videographer
Selecting just the right wedding cake
What you should avoid at all costs
Arranging the music
How to finance your wedding
Different religions - What to do
Should you include children
Rehearsal parties
Do you need a pre-nuptial agreement
About the guest list
What to do if the marriage goes down the tubes
The easiest thing to do is elope! However, that isn't the way to make friends and influence in-laws, let alone your own Mom.

Look, it is possible to have a beautiful wedding without breaking the bank. "How to Have a Wonderful Wedding" takes you by the hand and step by step shows you exactly what you need to do to insure a happy, joyous occasion.

We can't promise you that your marriage will live long and be fruitful, but we CAN guarantee that "How to Have a Wonderful Wedding" will answer your every question about how to have a wonderful wedding without breaking the bank or ending up in the loony bin!

If your wedding plans are on the horizon or someone you know and love has one to prepare for, this is the "must have" guide for you. Eliminate the stress, cut the costs and make your wedding day one you will cherish.

Order your copy today and get off on the right foot. Best of luck and we'll see you on the other side!
About The Author

Maureen Parnell was a part-time singer and musician who specialized in weddings and other functions around her home town.
She began to suffer from arthritis and had to give up her performing.
Then, she started to teach music and singing to children and adults.
This is her first book and she has used her experiences with her customers and also people she knows to provide a wide range of tips and suggestions.
She hopes "Your Wedding, Your Way" will help new brides start right and even give people that have already been through a wedding or two some tips they wished they knew before.
Contents:
The Campaign Begins
Reduce Stress Whenever Possible
A Better Wedding without Breaking Your Budget
Your Budget
Get Family and Friends to Help
Stick with Your Plan
Dollar Saving Decorations
Surviving the Engagement
Setting up the Bridal Party
Plan for Your Perfect Wedding
The Maid or Matron of Honor
Your Dress and the Rest
The Receiving Line
The Bridesmaids
Bring in the Professionals
Wedding Planner
Don't want a Professional Planner?
Photographer
Don't want a Professional Photographer?
Videographer
Don't want a Professional Videographer?
Master of Ceremonies
Don't want a Professional Master of Ceremonies?
Your Caterer
Don't want a Professional Caterer?
The Right Cake for the Occasion
Live Music or Disc Jockey
Amateur Comedians
Feeding the Horde
Things to Avoid
Frugal Food
Things to Avoid or Provide Alternatives for
Financing Your Big Day
Who Pays for What
Emphasize the Essentials
Cutting Costs Without Pain
Outfitting the Wedding Party
Insurance
Children at Your Wedding
Other People's Children
Your Children
Animals

Your Wedding Venue
Up a Tree or Below the Sea!
When You have Different Religious Backgrounds
Priming and Pruning the Guest List
It's All OFF!
Relations
Your Mother-in-law
Your Mother
Your Father
Relationships
Your Ex
Party! Party!
The Rehearsal Party
Pre-Nuptial Agreements
The "Easy Way" Out - Elope!
If You Have to Speak
Order of Toasts
Order of Speeches
Mini-note from Maureen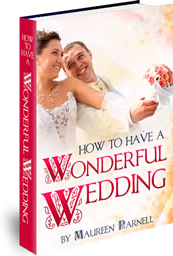 Add to Cart
Add to Wish List
P.S. Plan the wedding of your dreams with or without a wedding planner. Do it now!
P.S. Plan the wedding of your dreams with or without a wedding planner. Do it now!
Price: $

17.00
Ebook Type:
PDF
Rating:
Site owner:
Put the rating form on your site!
Listing wrong or need to be updated?
Modify it.
Mistake found?
Select spelling error with your mouse and press Esc