How To Be A Top Dog Owner Ebook
How To Be A Top Dog Owner
Category:
Dogs
Title:
How To Be A Top Dog Owner
Author:
Karl Matthews
Description:
How To Raise Well - Trained Dog Owners
NEWS FLASH: Attention all dogs seeking owners. #1 Rule - make sure you interview your potential owner extensively and make certain they are totally committed to being trained as dog owners!
All kidding aside if you really want to learn about owning a dog the first criteria is to decide why you want one and make sure it's for all the right reasons.
Once you've got that figured out then your next step is learning "How to be a "Top Dog Owner." You do that by reading this terrific manual for dog owners. You would swear that this guide is written by Karl Matthews dog.
It's jam-packed with everything your dog wishes you knew but couldn't ask you himself. Take a gander a what Karl covers:
Where to find the perfect pal for you - classified ads - breeders - what to look for when shopping around
Purebred or Heinz Variety - this goes back to the reason you want a dog in the first place
Human. . .er. . .dog training - an obedient owner is a happy owner
Making the adoption work - integrating into your family unit - who is the leader of the pack?
How to select the correct toys for your dog - some toys can actually be harmful - learn how to select the appropriate toys for your canine
House training - an important part of training - Karl includes hints on getting rid of stains - just in case
When to see the vet - vaccinations of course - but what about illness?
Feeding time - yum yum - the right food for the right stage
Who's in charge - learning the rules - your dog will grow weary of trying to teach you all the ins and outs of chewing, licking and other various habits and with any luck you'll both be trained properly
We've had a bit of fun here, but if you are thinking about adding a dog to your family you really need a copy of "How to be a "Top Dog Owner" and the time to acquire that copy is now, BEFORE you go shopping.
You need Top Dog training before you bring your new pooch home. Acclimation and training begin the moment you cross the threshold with your new pet.
We'll assume that you have acquired your canine for all the right reasons. The only thing left to do is learn "How to be a "Top Dog Owner" and you can do that right now!
About the Author
Karl Matthews
This is where I should trot out my academic qualifications, show you pictures of all the awards my dogs have won and letters from relieved owners whose dogs I've stopped from relieving themselves on the Persian carpet or the Persian cat! But, I left school when I was only a few years older than most dogs are after their obedience training. My dogs have all been low-cost mixed breeds and the only awards they got were our enthusiastic applause and the odd bit of chocolate, before I found out how bad an idea that was.
But there has always been a contented, well-fed dog curled up near my feet while I've been earning my living in my home office over three decades or so. This book is based on what worked with my dogs, many conversations with vets, until I learned they usually charge for the length of consultations, good ideas from friends and neighbors, and what I had actually seen them do - both good and bad.
I believe that you will learn things in my book that your dog wants you to know.
Contents
Hints from a Happy Owner
Before you get Your Dog
Purebred or a Happy Mixture?
Where to get the Perfect Pet
Dog Training
Toys for Your Dog
Choosing Your Dog
Fitting into Your Family
A New Arrival
Dogs and Children
Your Neighborhood
Happy and House-trained
Feeding Time
Exercise
Changing Your Dog's Diet
Your Dog's Second Best Friend - the Vet
Pet Insurance
Can I See The Vet's Assistant?
Setting the Rules
Speak the Same Language
Be consistent
Feeling Good
I See, I Chew
Don't Touch
Enjoy Your Dog
Saying Goodbye
"Where Shall I Bury My Dog?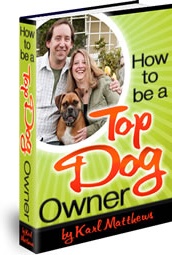 Add to Cart
Add to Wish List
P.S. Remember the time get your copy of "How to be a "Top Dog Owner" is before you bring that puppy home. Grab your own copy now!
P.S. Remember the time get your copy of "How to be a "Top Dog Owner" is before you bring that puppy home. Grab your own copy now!
Site owner:
Put the rating form on your site!
Listing wrong or need to be updated?
Modify it.
Mistake found?
Select spelling error with your mouse and press Esc