Horse Training Secrets Revealed Ebook
Horse Training Secrets Revealed
Category:
Animals
,
Horse
Title:
Horse Training Secrets Revealed
Description:
In this "How to Tame and Train Wild & Vicious Horses", you'll discover secrets such as...
How to succeed in getting the colt from pasture "as easily as the hunter drives quails into his net."
How you can use one simple fact about the awesome strength of a horse to your advantage.
How to easily saddle even the wildest colt. In the authors own words: "Any one man who has this theory, can put a saddle on the wildest colt that ever grew, without any help, and without scaring him."
How to use the horse's most important sense to empower your training techniques. (Do you know what it is? Most folks get this totally wrong!)
How to remove a horse's fear of certain objects by using this little known secret of how a horse really decides if an object is safe or dangerous.
How to "say good-bye" to disobedience - easy when you know the real reason behind it (and it doesn't have a lot to do with the horse!)
How to mount your horse and exactly where your first ride should take place - and it's probably not where you think!
The best type of halter to use, the right way to fit it, and why you should NEVER put a rope halter on an unbroken colt.
How to tame and train a wild horse naturally and gently - in plain and simple language even a child can understand!
How to eliminate balking - even when deeply ingrained!
How to tell when to finish the first ride - Have you been making that first ride too short - or too long? Your horse knows, do you? You'll also find out the optimum length of a training session.
How to use the bit to give your horse "a nice and graceful carriage - without hurting him, making him mad, or causing his mouth to get sore."
The simple and failsafe technique to break a kicking horse "without any possible danger of hurting himself or you either".
How to control a horses movements as you approach - using your own body movements. It's like 'remote control' for your horse!
How to ensure your horse won't pull or rear when haltered and exactly where you should stand when you halter a horse.
Who you should have with you in the stable with when training a horse. The answer may surprise you but when you try it you'll be shocked by how well it works.
How you can use the "Three Fundamental Principles" to get the better of any horse.
How to stable a colt without issue and even have him "go in of his own accord". No more struggling and pulling!
The sure fire key to building a deep bond or connection with your horse - from a long lost European manuscript from 1811, reprinted and improved upon in this ebook!
How a horse will learn to "read" your feelings and the two feelings a good horseman or horsewoman should never "show" their horse.
How the author was able to walk colts into a stable "in less than a minute, after men had worked for half an hour trying to pull them in."
What to do if your horse is very wild BEFORE you drive him for the first time.
How to use the reins in ways that "will stop any horse from jumping ahead, rearing up, or running away" and gently make a stubborn horse move, even "when whipping would have no effect."
The three great advantages of a simple tool that will let you mount even the wildest horse and how to tell when it is safe to mount.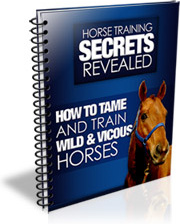 Rating:
Site owner:
Put the rating form on your site!
Listing wrong or need to be updated?
Modify it.
Mistake found?
Select spelling error with your mouse and press Esc