Help Your Child Read & Write Better Ebook
Help Your Child Read & Write Better
Category:
Children
,
Parenting
Title:
Help Your Child Read & Write Better
Author:
Marilyn Martyn
Description:
How You Can Help Your Child Read & Write Better

There isn't a parent among us who doesn't want their children to succeed. That success has a direct correlation to how well and how early they are able to read and write.

What if there were a way you could teach your child to read before he or she ever reached a classroom? Isn't that something every caring parent would wish for?

Well, you needn't wait any longer. Someone has done the work and made it available to you. "Help Your Child Read & Write Better" has just hit the digital shelves and it's waiting for you right now!

Trained as a teacher and librarian, our author has put her many years as a teacher and consultant to work and created her own set of lessons that gives her students the ability to discover very quickly. These lessons are the foundation of this ebook.

This ebook is jam-packed with all the tools you need to teach your child to read, write and spell. Marilyn outlines four important parts to improving your child's reading and spelling skills. These are:
Fluency: the ability to read quickly and naturally, recognize words automatically, and group words quickly.
Phonics: the relationships between letters and sounds.
Vocabulary knowledge: remembering new words and what they mean.
Text comprehension: processing what is being read and developing higher-order thinking skills.
"Help Your Child Read & Write Better" helps you improve all four areas. Illustrations are included because we think in pictures.

Your child will discover the sounds of English and the combinations of letters that represent them. He or she will discover how to blend sounds into words as well as how to spell them.

Recognizing words when they see them is also learned in addition to spelling patterns for English words. They will quickly discover to read simple sentences.

"Help Your Child Read & Write Better" is for the parent of children with reading challenges or who simply want to give their children extra help or an earlier start.

We can cite the benefits to be found in this ebook or you can take advantage of our 100% satisfaction or your money back guarantee. We take the risk. You get the benefit.

Don't wait another minute to help your child advance. Grab your copy now while the price is so low. You'll be glad your did and someday your child will thank you.



About The Author

Marilyn Martyn

As a child Marilyn Martyn was a passionate reader. The "Wind in the Willows" is still her favorite ebook. Reading it brings back happy memories of a childhood surrounded by ebooks.

She remembers her first day at school and the steps she took learning to read. There were easy moments and frustrating ones when a word wouldn't decode easily.

In the 'good' old days children were taught to read from a graded series of ebooks called 'readers'. By the end of second grade a student would be a fluent reader and understood how words are spelled. The readers were mastered step by step.

Marilyn has found these ebooks she learned to read with and is amazed at the depth of material they contain.

Marilyn trained as a teacher and librarian specializing in children's literature developed a career around her love of ebooks and reading.

She also spent some time as an education consultant for two publishers, visiting many schools.

She has taught children from prep grade to year nine in secondary schools.

She found opportunities to teach children who had difficulty learning to read. She taught many students in schools and still does this as a private tutor.

After sitting with many frustrated students who did not know how to decode (sound out) words, Marilyn devised a series of lessons that gave them the ability to decode quickly. These lessons are the foundation of her ebook.

Modern reading research found what her teachers already knew. Early, systematic and explicit teaching of how to hear the sounds in words and how to sound out words is vital in the early stages of learning to read.

Marilyn wrote her ebook to share her knowledge and experience to help as many people as possible to become fluent readers and writers.
Contents

Introduction
Phonics Checklist
Outline of Lessons
Lesson 1: The Alphabet
Lesson 2: Sounds

Lesson 3: The 43 Sounds of the English Language
Lesson 4: How Sounds are Spelled in Words
Lesson 5: Short Vowel Sounds
Memory Game (for one or two people)
Lesson 6: Consonant Sounds with a Single Letter
Lesson 7: Making Words with Vowel Sounds and Consonant sounds
Lesson 8: More Words with Short Vowel Sounds
Lesson 9: 3 Letter Words with the CVC Pattern
Lesson 10: ck

Lesson 11: Consonant Blends
Lesson 12: Exercise: Read and Write these Words
Lesson 13: Long Vowel Sounds
Lesson 14: Long Vowel sounds - Different spellings
Lesson 15: Vowel Sounds Spelled with 2 Letters (Digraphs)
Lesson 16: Double Vowel Rule
Lesson 17: The Other Vowel Sounds
Lesson 18: Consonant Sounds Spelled with 2 Letters (Digraphs)
Lesson 19: Review of Vowel Digraphs
Lesson 20: Consonant Digraphs with Alternate Spellings
Lesson 21: Reading Practice
Lesson 22: Syllables
Lesson 23: Read and Write these 2 Syllable Words
Activities for Reading Practice
Short Stories
Short Sentences
The Little Red Hen
A Day at the Beach
A Game of Cricket
Planet Earth
The Owl
Clever Ants
The Ant and the Grasshopper
The Wombat
English Spelling at a Glance
Two or Three Letters to Spell One Sound
One Letter to Spell One Sound
REVIEW THESE WORDS: Read and Write Them
The Most Common Words in English Writing
Basic Spelling List
Afterword by Marilyn Martyn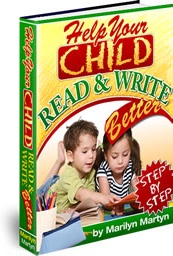 Price: $

17.00
Ebook Type:
PDF
Rating:
Site owner:
Put the rating form on your site!
Listing wrong or need to be updated?
Modify it.
Mistake found?
Select spelling error with your mouse and press Esc