Health Insurance Guide Ebook
Your Guide To Good Health Insurance
Category:
Health
Title:
Health Insurance Guide
Description:
Are You Trying To Beat The Odds?
"Are You Trying To Beat The Odds?"

Don't Back A Medical Looser. . .
The siren is howling and the ambulance is shifting back and forth weaving through the Monday morning rush hour traffic. The emergency medical technicians are checking your vital signs and
using that "doctor speak" that you hear on television.
The pain in your chest is almost unbearable, yet even through the hazy fog of pain your mind keeps shifting back to one nagging thought, "Why didn't I buy that health plan? What is Amy going to do? Even if I make it, there's no way we can afford this!"
Unfortunately, this is a scene that is played out around the country every single day. Here is one more husband and father coming face to face with reality. Instead of, "it will never happen to me," it has become, "why did this happen to me?"
Will our husband and father survive? If he does, what are the chances that he and his family will resume a normal lifestyle?
Statistically, our fellow has a 40% chance of survival depending on how long he's been abusing his body. Sadly, with no health insurance coverage and no available cash, the medical bills will likely force him into bankruptcy.
All one needs to do is turn on the TV or tune in a talk radio program and the subject of health insurance will pop up sooner rather than later.
Following up terrorism and the economy, the skyrocketing cost of health insurance is polarizing our country. Our health care system is in major need of revamping but unfortunately our leaders have made it just one more political issue.
In the meantime, the average American continues to grapple with the rising costs or, take a gamble like our friend and hope they beat the odds.
What can one person do?
The first thing you need to do is realize that you MUST have health coverage of some kind, even if only to cover the catastrophic expenses like our friend.
The second thing you can do is to get informed! It's very difficult to fight a war when you know nothing about the enemy. Yes, most insurance plans are so unwieldy and garbled that they make it almost impossible to understand.
That's where Your Guide To Good Health Insurance comes in. This guide is not just another "directory" health insurance providers who are advertising their products.
Written in plain English!
That's correct! We have prepared Your Guide To Good Health Insurance so that anyone can understand the terminology without requiring a law degree.
Take a look at what you will learn:
How does disability income insurance work
What are the different types of health insurance policies
What are the differences between individual and group policies
How do traditional insurers differ from HMOs
Learn about different types of providers
What are provisions and exclusions
How do basic and major medical policies differ
How can I be reimbursed for prescriptions
What is a PPO
How do I know what coverage best suits my needs
Answers to these and many other questions are right at your fingertips. Order your copy of "Your Guide To Good Health Insurance" now!
Don't find yourself in the same situation as our friend. Take control before it's too late. Your family will thank you and you'll be glad you did. We guarantee it!
TABLE OF CONTENTS
INTRODUCTION
DISABILITY INCOME INSURANCE
DIFFERENT TYPES OF HEALTH INSURANCE POLICIES
HEALTH INSURANCE PROVIDERS
MEDICAL INSURANCE
GROUP HEALTH INSURANCE
GLOSSARY OF TERMS
FINDING THE BEST VALUE FOR YOUR NEEDS
INTRODUCTION
If you want to spark a spirited debate at your next social gathering, just try bringing up the subject of health insurance. You will undoubtedly set off a firestorm of opinions.
Years ago, acquiring your first health coverage was almost a right of passage. You began your career and you were automatically enrolled in your employers health plan after your first 90 days of employment.
That still takes place today but the health care industry has metamorphosed into a gigantic monster gobbling up resources everywhere it travels. Rates keep going up at an astounding pace and more employers are cutting back on their plans or doing away with their health benefit packages entirely.
Naturally, no one document will tell you everything you ever wanted to know about health insurance. When it comes to health insurance there is no "one size fits all." However, what will do is provide with enough knowledge to weigh the options and make informed decisions regarding your own circumstances.
The most important tool you can have when looking for good health insurance is knowledge. Unfortunately there aren't too many places where you can obtain that knowledge without having to spend months wading through the small print.
So, before discussing the various plans that are available, we must first grasp an understanding of the complex nature of health insurance. Therefore, our first chapters are written specifically to help you understand the terminology and different components involved so that you can make those informed decisions and present it in plain English. Let's get to it!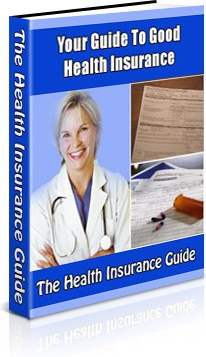 Site owner:
Put the rating form on your site!
Listing wrong or need to be updated?
Modify it.
Health Package!
184 Health ebooks Click here to see the full list of these ebooks
(total value $1671.85)
Buy Now
just for $37.95
$1633
off
Silver Package!
Any 100 ebooks from 2000+ titles Click here to see the full list of these ebooks
Buy Now
just for $29.95
Gold Package!
Get full access to 2000+ ebooks Click here to see the full list of these ebooks
Buy Now
just for $49.95
Mistake found?
Select spelling error with your mouse and press Esc