Hair Salon Owners Ebook
Category:
Business
,
Marketing
Title:
Hair Salon Owners
Description:
"How To Multiply Your Salon Profits Within 2 Weeks... And Stop Your Bored Stylists From Walking Out And Working For Your Competition Across The Street..."
Allow me to present...

Your Complete Guide To Increasing Your Salon Profits... Even On A Shoestring Budget!
So Let's Get A Little More Specific. Here's What I'll Be Sharing With You In More Detail:
Why your staff could be killing your profits, despite being the best stylists in town... and over seven ways to turn these overlooked problems around
What turns most potential customers off when it comes to your business, before they even make an appointment... and how to solve this problem with little to zero money involved (often in less than a couple of days)
How to pull your staff out of their current low mood and attitude, so you can portray a positive, professional image (this is crucial for your business and your reputation)
Why worrying about styling and book-keeping is distracting you from the real problems that YOU could be personally causing in your salon
What does it really mean to give your customer an experience, and not just a new hairstyle? Find out what it is, and how the pros do it
Is something as simple as your salon name actually killing your business cold? Find out inside...
7 proven and cheap ways to instantly boost your salon's reputation in the local community, and getting people to sell their friends on your salon
How to spread the word using the internet and business cards, the right way
How to turn your reception/waiting room into a customer seducing honey trap... using a mix of social proof, branding, comfort and style to really "lock in" your customer to become a fan of your salon... and to truly remember the whole experience at the same time (this is gold dust!)
A cheap and simple way to increase customer loyalty by giving your customers ______ when they leave the salon, which practically forces them to come back at least once more, and makes your name stick in their heads!
How to turn your under-booked services into your key selling points for any advertising you do... or simply for up-selling customers who are already sat in your salon
A simple trick for getting people to tell their friends about you, and how to use _______ to create powerful social proof and testimonials that they want to share with friends, family and even complete strangers (this really is out of the box stuff, but it works really well!)
The secret of turning bored, surplus salon staff into useful marketing assistants that create an unbeatable experience for your current customers in the salon (this really gets people talking about you!)
A fool proof and proven system for getting real, authentic and detailed testimonials from delighted customers... so you can increase your business, persuade more people to make a booking, become sought after, and even increase your chances of getting a business loan (all is explained inside)
How to create a USP (Unique Selling Proposition) that sets you apart from the competition and gives people a reason to choose your salon over theirs every time... including real examples
How to literally explode your business within a couple of months, and without a penny spent on advertising, using an automated online system that brings loyal customers back in one click (yes, it really is that simple... and companies like Maceys, Disney, Vue Cinemas, and even local butchers and book-stores are paying thousands to have this done for them, but now you can do it yourself for free!)
A simple, cheap and fast promotional method for establishing your salon as the most professional in town, as well as being the place to be for style conscious local residents... by tapping into what they care about the most (hint = it's NOT about them or their hair!)
How to create newsworthy events and then make local papers, radio stations and even local news TV stations give you thousands worth of free advertising and PR as a result (hint = you can't just have an open day and expect people to flock to your salon)
My sneaky trick for getting local newspapers to give you FREE column inches and FREE advertising
Another sneaky system for tapping into your potential customers, but through the power of children this time... (this is very untapped, and it has a double barrel promotional effect for short and long term gain)
How to find dirt cheap (or sometimes totally FREE) models for all your promotional campaigns, advertising, salon literature, website images etc.
My full portfolio boosting system... how to start, manage and promote your portfolio online for more customers. I'll even show you how to get around customers who don't want their picture taken, but you still want to show off your latest work and styles
How to get a new website up and running quickly, even if you're not technical... so that you can bring in floods of local searchers looking for their local salon
How to get your new or existing website to the top of Google, so you can get the biggest slice of internet users finding your site and making a booking (this is probably the best free source of advertising you'll ever experience)
How to run cheap, small budget ads online where you only ever pay when someone clicks and visits your site to make a booking (this is a great technique once you have the profits to play with)
Video gold: How most salon owners are totally overlooking one of the biggest websites on planet Earth (Youtube.com)... and why - when done right - it can be one of the best FREE advertising and branding methods you will ever have access to
The secret of social media online... how to tap into the websites that your customers are using every day, and get your business right under their noses without being a pest or annoying advertiser
Making flyers and distributing them for mere pennies... a simple system that works, and brings in new customers each month along with serious branding for your salon
A full system for re-opening a salon the right way... including in-store tips, local press and a unique reason for the re-open (get this wrong, and you probably won't get a second chance with this method in the future)
How to tap into a certain group of people that will literally be "walking, talking billboards" for your salon... and are not just a great demographic for representing your new styles, but also are able to reach your perfect target customers
Lucrative handshakes... how to partner up with specific local businesses that are overflowing with your potential customers... real customers who are more than likely looking for a new hairstyle today! You can even use this technique to steal customers from your biggest competitor too...
Radio ga-ga... how to get free promotions and publicity from local radio stations, and getting new customers without the usual ignored advertising methods that people tune out of their ears
How to turn your employees into a driven sales force... using incentives, competitions and prizes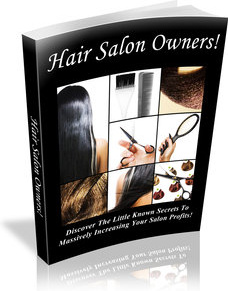 Ebook Type: PDF
Rating:
Site owner:
Put the rating form on your site!
Listing wrong or need to be updated?
Modify it.
Mistake found?
Select spelling error with your mouse and press Esc