Guitar Theory Revolution Ebook
Category:
Music
Title:
Guitar Theory Revolution
Description:
Who else wants to finally understand music theory using secrets your guitar teacher doesn't even know about?

With Guitar Theory Revolution you will...
Feel like you've discovered secrets about the guitar that have been hidden from you. It's crazy to think some of this stuff isn't more well known.
Stop feeling like you're too old or stupid to understand music theory.
Stop wasting your time and money on useless resources that only confuse you.
Will no longer feel lost or lack a sense of direction.
Stop worrying that you aren't progressing as fast as you'd like and feel relieved that you know exactly what to learn in order to get better.
Understand exactly what you need to learn in order to get better.
Understand why, contrary to popular belief the guitar is actually an excellent instrument for learning music theory.
Know what to focus on in order to get the music you hear in your head coming out of the guitar.
Train your ear to recognise all the intervals.
Feel confident about jamming with your friends or at the local jam night.
Remember everything you've learned… forever.
Have an exact roadmap that shows you what to learn in which order.
Finally have fun learning and using music theory!
In short, after just a short time reading the information and doing the exercises in Guitar Theory Revolution you'll have made more progress than in all your years of aimless noodling and trying to piece together information from the internet, magazines DVDs and online videos.
Specific topics include
The Major, Minor and Pentatonic scales.
How to figure out songs by ear using the Cycle/Circle of 4ths and 5ths.
Where and when to use 6th and 7th chords.
Learn to recognise musical intervals by ear, the key to linking theory to practice.
How to become a better improviser.
Integrated with Mike George's 'Color Music System' ™ The premier visual learning aid.
The Universal Note Pattern and how to memorise all the notes on the fretboard.
How to write songs easily using the Cycle/Circle of 4ths and 5ths.
The BEAD-GCF Pattern that shows you the key to musical theory right there on the fretboard. You won't see this on the piano, believe me.
The CAGED Chord Pattern that will allow you to play chords all over the fretboard
The Five Fret Pattern and how it allows you to play chords and scales wherever you want. It even allows you to make up your own patterns and chords on the spot.
How to communicate to other musicians what you've learned using standard music theory technology.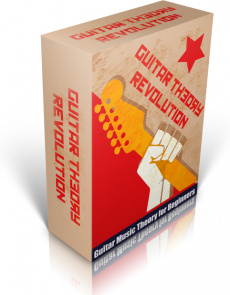 Ebook Type: PDF
Rating:
Site owner:
Put the rating form on your site!
Listing wrong or need to be updated?
Modify it.
Mistake found?
Select spelling error with your mouse and press Esc