Guide To Acing ANY Job Interview Ebook
Guide To Acing ANY Job Interview
Category:
Jobs
Title:
Guide To Acing ANY Job Interview
Description:
Question: Can you afford to make mistakes at your next job interview?

Are You Looking To Be Employed Next Week?

So are thousands of people across the country.

Do you have a job interview lined up? Do you know you are expected to bring? Are you ready to handle the nervousness? If not, honestly ask yourself this question...

How do you expect to get a job? It's too easy to not be taken seriously...

Granted, most people do not know what is expected of them when they first start going to job interviews. (Which is a good reason why it may take more than one.) If they do get hired, it's probably because no one prepared the way they were supposed to...

It's like choosing bad over worse!

Your job is your lively hood. If you absolutely NEEDED to find yourself a job, would you be willing to do what it takes to get your name on the top of a job recruiter's list?

If I told you everything that was expected of you - what to bring, what questions are going to be asked, and what questions you should know to ask....

...would you be willing to listen?

If not - good luck in the real world. If so, then I have something for you. It's called....

Your Basic Guide To Acing ANY Job Interview!

Greetings Future Employed Citizen,

If you are looking for a job, you can find your way to the top of your potential employer's list of prospects with this unfair advantage that I have stowed away for you.

Maybe you're fresh out of college... Maybe you've recently been laid off... Hey, maybe you just need a job!

No matter what the situation, there are hundreds, even thousands in the same boat as you. You need an income. The bills are piling up, there are loans to repay, credit to fix or establish...

...it'd be nice to buy something special you could never afford currently. A brand new car could finally be a reality - or maybe you'd just like to step out of the house without being strapped for cash.

If you want any of this to come true - you need to find a job!

There are so many applicants out there... I spoke of thousands of people being in the same boat as you - but I FORGOT to say that often there could be thousands of applicants applying for the very same JOB OPENING as you!

It can be tough to compete, especially when the economy is such that there is a lot of competition for employment.

With the stakes so high, you just simply cannot afford to not do your best at your job interview. Ask yourself this...

Can you really afford to be less then your best at your next job interview?

If you do not get the job, you're going to be kicking yourself for thinking a half-hearted effort would fly. You would have just waited a valuable opportunity. And based on your salary...

...it could be a mistake that costs you tens of thousands of dollars per year! Don't let this happen to you.

Listen, my report uncovers the...

"Secrets Of Changing Your Next Job Interview Into A Paying Salary!"

"Your Basic Guide To Acing ANY Job Interview" is a step by step manual to landing your own job interview and outright ACING IT! If you're someone who recognizes that every interview is the most important interview, this report is for you.

Just LOOK at some of the information you will find inside:
Understand the power of describing your weaknesses as strengths.
Learn why it is important to understand a company's application process before contacting them.
11 practice questions that interviewers are GOING to ask you.
8 questions that recruiters are NOT allowed to ask.
Understand the importance of being confident (without being cocky) and other key behaviors that can help you land a job.
10 practice questions an interviewer may ask you if you've just graduated from college.
Learn to avoid making a major mistake when faxing in your resume.
10 questions YOU may want to ask the interviewer to let them know you're serious about getting this job.
Learn which colors are best to wear to your interview - for both men and women.
Realize that staring at items on your interviewer's desk is a BAD thing to do, and why this is true.
Realize that a positive attitude and a smile are a lot more important than you may realize.
Realize that women should DEFINITELY not show too much skin when showing up for an interview.
Understand the 4 most common methods of applying for a job - and the proper etiquette for each of them
Find out how to prepare for the question, "Would you be a good addition to our company?"
Discover that "To whom it may concern" are the absolutely WRONG words to use when writing a cover letter - and how to find the right ones.
Discover a sneaky tactic for getting information out of current employees.
Learn the rules for sending your resume through email - not all companies are the same.
Discover a simple, but seldom used method of making a first impression. Hint: It's a question you should ask.
Learn the importance of being organized BEFORE your interview.
Find out when it is acceptable to wear more casual clothing to an interview.
Understand why delivering your resume in person is really a "pre-interview" and learn how to prepare for it.
Learn the fastest way to research a potential employer - including where to look and what to look for.
Discover the words to use in the subject line of your email to get your resume read.
Learn which application method skips the cover letter process.
Realize that the interviewer is not just finding out if you are skilled enough for the job, but something else that may be a crucial factor.
Find out what you should MAKE SURE to have with you when sitting down with your interviewer.
Learn the question to ask to show confidence in any interview.
Understand how to appropriately follow up with an interview.
Learn the RIGHT way to behave and the RIGHT things to say as the interview comes to a close.
7 key factors of body language that could destroy your interview - possibly before it even starts.
16 things to do to your resume that will make your recruiter furious! Note: You should NOT do these.
Understand why you can never be too polite to the person directing you to the waiting area before your interview.
Learn 9 Do's and Dont's for impressing your interviewer.
Learn the exact words to use when being interviewed on the telephone.
Learn to write a cover letter that stands out - so your resume will actually get read!
Learn the best way to use your friends to land job interviews.
Realize your bad speaking habits before your interviewer does... so you can eliminate them before you go in!
Understand the type of responses you should be giving to your interviewer for maximum benefit.
1 sample cover letter that you can refer back to again and again to make sure yours is top notch.
10 table manners to remember, just in case you've forgotten!
Understand how to act if your recruiter asks to interview you during lunch or dinner.
8 tips for making a great first impression.
A simple technique for making your resume stand out.
Learn what NEEDS to be in your resume if you are to be taken seriously.
15 areas in which your interviewer will be judging you - know them!
3 sets of skills that a potential employer will expect you to have.
And there's MUCH more - guaranteed!

"Who Else Wants To Ace Every Interview They Sit Down For!"

I'm going to ask you something I already asked you...

...Are you looking to be employed next week?

If so, pages 5-8 of my manual are going to teach you the right way to start landing job interviews. Did you know that many job recruiters often don't even look past the cover letter if it isn't up to standards? Page 23 is your source for what a successful cover letter should look like.

Why take the risk of simply not preparing enough?

A successful person will believe this, every job interview is the most important interview. There's no reason not to ace every single one of them. Why not have several employers competing for your employment?

You can outright take advantage of the fact that most people just don't know what is expected of them when showing up for interviews. But you will.

Especially when...

"I'll Give You A List Of Questions That Your Interviewer Is BOUND To Ask!"

With a list of not just potential, but likely questions in front of you - you need just think about your response beforehand to be ahead of the game.

You won't be put on the spot with our help - bottom line.

But that's not all - also included are a list of questions that YOU should ask to make yourself stand out from the pack. Asking the right questions can show you are a well-researched, enthusiastic, and sincere applicant.

That is how you get your resume to the top of the pile. By being prepared.

You may still feel nervous - but you will come across as more confident knowing that you are prepared for whatever this interview is going to throw your way.

If you read "Your Basic Guide To Acing ANY Job Interview" today, you may find yourself the top applicant at your job interview next week. (Remember, if you don't have a job interview lined up we'll show you how to get one.)

Depending on your salary, slipping up at a job interview could cost you tens of thousands of dollars EVERY SINGLE YEAR.
Table Of Contents:

Introduction
Preparing For An Interview
How To Get the Interview
Your First Impression
How Do I Act?
Your Resume
The Cover Letter
Dos and Don'ts
The Restaurant Interview
Extra Tips
Closing the Interview
Common Interview Questions
Questions You Should Ask Your Interviewer
Common Questions When Applying After College
Questions Employers Can't Ask
What Employers are Looking For
The Post Interview Follow Up
Employer Evaluation
Summary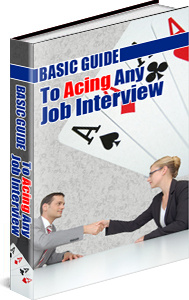 Price: $

4.95
Ebook Type:
PDF
Rating:
Site owner:
Put the rating form on your site!
Listing wrong or need to be updated?
Modify it.
Jobs Package!
39 Jobs ebooks Click here to see the full list of these ebooks
(total value $345.95)
Buy Now
just for $29.95
$316
off
Silver Package!
Any 100 ebooks from 2000+ titles Click here to see the full list of these ebooks
Buy Now
just for $29.95
Gold Package!
Get full access to 2000+ ebooks Click here to see the full list of these ebooks
Buy Now
just for $49.95
Mistake found?
Select spelling error with your mouse and press Esc